Guilin's Yangshuo in southern China becomes the most popular rock climbing destination among rock climbing lovers. It is famous for its karst landscape which offers a great opportunity for rock climbing. The county can be easily reached by coach with a one hour and a half journey from Guilin city. It is the place that suites for both rock climbing lovers and professional workers.
Due to its natural karst landscape, Yangshuo not only offers easy routes from 5.8 to 5.10 for travelers who want to experience a rock climbing journey, but also has some excellent routes for professional rock climbers. Famous rock climbers such as Todd Skinner and Chirst Sharma separately conquered a 5.13 route and a 5.14b route in beautiful Yangshuo. With a short distance from the West Street in Yangshuo, the rock climbing sites have attracted numerous climbing lovers to Yangshuo. >> Find all the top rock climbing sites in China. ©
Yangshuo Rock Climbing Festival in 2013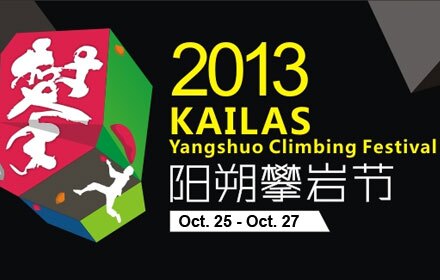 The sixth Yangshuo Rock Climbing Festival will be held in Guilin's Yangshuo County from October 25th to 27th in 2013. As the most popular climbing festival in China, it is an annual festival since 2008. The festival has attracted a large number of climbing lovers and professional rock climbers from the whole world. Rock climbing communities from the whole country will get together in Yangshuo to take part in the Yangshuo Climbing Festival.
There are a series of entertainment activities including Treasure Hunt, the Best Rock Climbing Photo contest, Rock Climbing Course, Bouldering, Onsight Competition, Climbing Beginner, and Slack-line Climbing. Every participant will get a rock climbing festival T-shirt and souvenirs. You can have a great view of the karst hills of Yangshuo and have an excellent rock climbing journey. How about trying an unforgettable rock climbing in Yangshuo now?
Official website: http://rockclimbing.cn/
Hotline: 400-0773-006
Address: The main competition area is in Yangshuo East Street with a 20-minute walk. Travelers can take an autobicycle to the site with a cost of 7 CNY.
Ticket: Booking online before Oct. 20th is 200 CNY per person and paying by cash is 250 CNY in the competition areas.
Transport: There are direct coaches to Yangshuo in Guilin Coach Station with a ticket of 18 CNY. Or travelers can take a bus in Guilin Railway Station with about 20 CNY. It takes about one and a half hours to arrive at Yangshuo.
Popular Rock Climbing Places in Yangshuo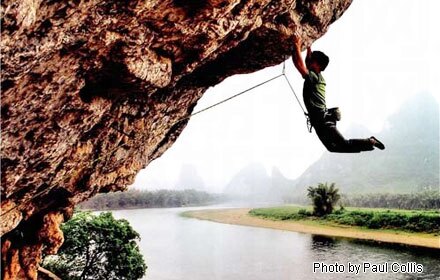 The White Mountain (白山)
The White Mountain is a great site for experienced rock climbers. With a 200 meters length and a 60 meter height, it has steeper crags in the area. Chu Kaiwai, a famous Hong Kong climber, conquered a 5.14 route at White Mountain in 2008.
With about 35 different routes, it also has easy routes for climbing beginners. Average length of the routes is about 30 meters long, so enough stamina is a must. And it is convenient to get the White Mountain by taxi from the Yangshuo center.
Add: Address: Baishandi Village, Yangshuo County, Guilin (桂林市阳朔县白山底村)
Tour Idea: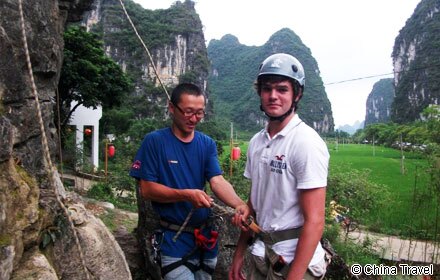 Moon Hill (月亮山)
As the most popular destination to take rock climbing in Guilin and widely known by rock climbers in China, Moon Hill is a great choice for a climbing journey for local people or tourists. The hill has the best bird view of Yangshuo County's karst landscape.
Its natural arch became the first official rock climbing site in 1990. There are 15 routes such as 8 routes on the arch wall with different levels to meet climbing lovers' needs. The climbing is held in Moon Hill Scenic Area, so travelers have to pay for the entrance fee of 25 RMB first.
Add: In Moon Hill Scenic Area, 321 National Road, Yangshuo County, Guilin(桂林市阳朔县321国道月亮山景区)
Tour Idea: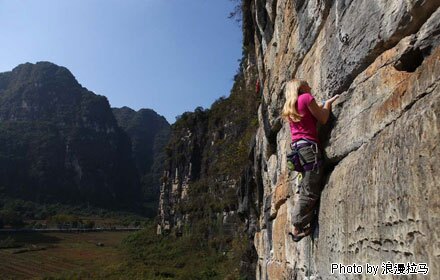 Wine Bottle (酒瓶山)
Wine Bottle got its name because its shape looks like a wine bottle. It is one of the most popular Yangshuo climbing sites offering easy and high-quality routes. It is one of the bases which hold Yangshuo Climbing Festival every year. The cliff is vertical so that the climbing needs more skills rather than stamina. Wine Bottle has routes with difficulties from 5.6d to 5.11d.
Add: In the opposite of Yangshuo Butterfly Spring(蝴蝶泉对面)
Tour Idea:
>> Find all the top rock climbing sites in China.
Tips for Rock Climbing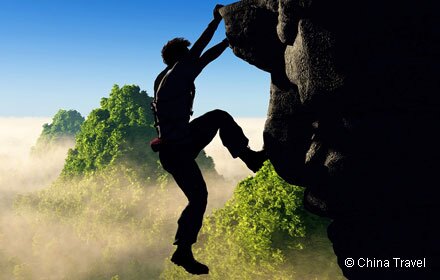 The Best Time to Climb
Autumn is the best time to take part in the rock climb activities, especially from late September to November. Comfortable weather and less rainfall in autumn offers great opportunities for your rock climbing journey.
Winter is cold and wet, however, you can also take a rock climbing if you don't mind cold weather. Showers happen quite often in Guilin during the summer time but some crags won't be wet even in the heavy rain. Hats and sun block are must when you climb the rocks in summer. Spring from mid-March to mid-May is not a good season to climb because of monsoon.
Tour Idea: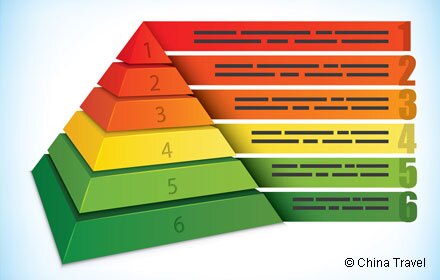 Climbing Grades (USA Yosemite Decimal System)
Level 5.0-5.7 is suitable for most rock climbing beginners.
Level 5.8-5.9 is a good choice for someone who has some climbing skills, however, it's not so difficult for experienced rock climbers.
Level 5.10 is the highest one for rock climber lovers who are not professional climbers.
Level 5.11 to 5. 15a are professional climb routes which need a lot of skills and talent.
Tour Idea: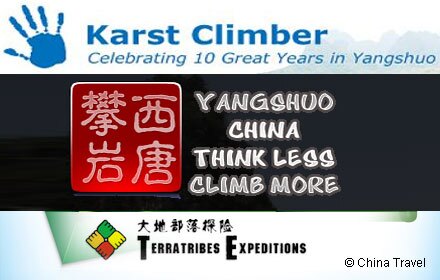 Excellent Professional Climbing Companies
How to find an excellent professional climbing company to make your climbing dream come true? Here China Travel selected the best climbing companies in Yangshuo to offer you a wonderful and safe climbing journey. The companies provide travelers with climbing guides and their own routes and equipments.
Karst Climber founded in 2000, is one of the rock climbing pioneers and one of the best climbing companies in Yangshuo. X-Climber and Terratribes with great climbing teams are great choices as well. Insight Adventures is specialized in school group climbing and Spiderman Climbing is good at half-day and day climbing tours for beginners and experienced climb lovers.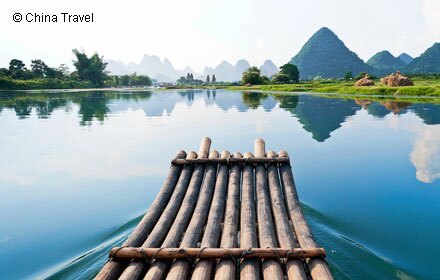 Travel in Yangshuo
Guilin has the best karst landscapes in China, however, Yangshuo's landscapes are the best in Guilin. Yulong River, Big Banyan Tree, West Street are popular places to visit. Besides, travelers can ride a bike to explore Yangshuo's countryside life to experience a quiet and peaceful journey among the karst hills. You can also learn Taichi and learn to make Chinese dishes in the West Street. West Street is the best place to stay and enjoy a night life in Yangshuo County.
China Travel specialized in group tours with solo adventure! If you want to visit Yangshuo or take part in the Yangshuo rock climbing, China Travel can tailor-make a tour for you which can save your time, money and trouble!
See Also
Tailor-make a Yangshuo Rock Climbing Trip for You
Wanna take a trip to Yangshuo and its around? China Travel can tailor-make a Yangsho Rock Climbing tour for you based on your needs and requirements which can save your time, money, and trouble. Please feel free to tell us your tour ideas! >> Tailor-make Now! 
Recommended Yangshuo Tours: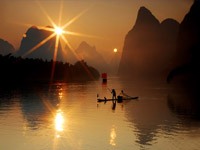 3 Day Escape to Beautiful Guilin & Yangshuo
from USD $ 469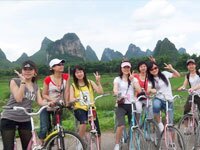 4-Day Yulong River Hiking Trip in Yangshuo
from USD $ 399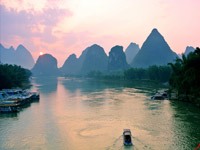 5 Day Kayaking in Yangshuo
from USD $ 549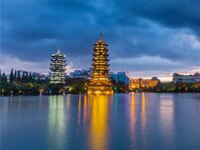 3-Day Classical Guilin Tour
from USD $ 299