Fuxin Travel Guide
Last updated by fabiowzgogo at 2016/6/5
Fuxin Overview
Fuxin is a time-honored city and one of China's important energy bases. In Fuxin, there are 24 ethnic minorities including Mongolia, Hui and Xibe. The unearthed Chahai cultural relics of the ancient human being prove that there were human footprints about 8 thousand years ago in Fuxin. Fuxin is home to agates, and it has the world's largest agate, longest agate abacus and longest agate necklace.
Fuxin is also the oriental dissemination center of Tibetan Buddhism. Its temple culture and bas-reliefs on precipices can be reputed as the treasure of Chinese Buddhist culture. For instance, the famous Ruiying Temple features Tibetan temple architectural style, grand scale and magnificent appearance, and it's also listed as the provincial-level key cultural relics protection unit. The bas-reliefs on precipices of Mount Haitang are the only preserved national treasures of oriental Tibetan Buddhism.
At present, there are 267 well-preserved Buddha statues in different shapes, which integrate history, art and appreciation. Besides, Fuxin also boasts natural beauty, such as the famous Haitangshan National Forest Park and Daqinggou scenic area famous for its sand hill, blue water and verdant forests.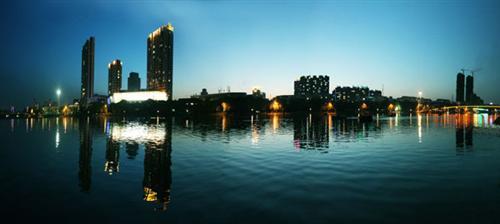 The night of Fuxin
Location
Fuxin is located in the northwest of Liaoning Province, which borders on Inner Mongolia Autonomous Region to the north and borders on Chaoyang City to the west and Jinzhou City to the south respectively. It borders on Shenyang City in the east and it's about 147.5 kilometers from Shenyang.
Weather Condition
Fuxin enjoys the North Temperate Zone continental monsoon climate with four distinct seasons and adequate sunshine. Winter is the longest season of the year which lasts from November to mid-March. The early winter is from early November to late November with the average temperature of 3℃ to -5℃. Midwinter is from December to the following late February with the average temperature of -5℃. The average temperature from winter solstice to the Beginning of Spring is lower than -10℃, which is the coldest period of the year. The late winter is from late February to late March with the average temperature of -5℃ to 3℃. Spring lasts from April to mid-June.
The average temperature is over 3℃ in early April and over 10℃ in late April and early May. Summer lasts from mid-June to early September. The midsummer is from mid-July to mid-August with abundant rainfall and scorching weather. Autumn lasts from early September to early November. The average temperature is about 20℃ in early September and it becomes windy and cool in October.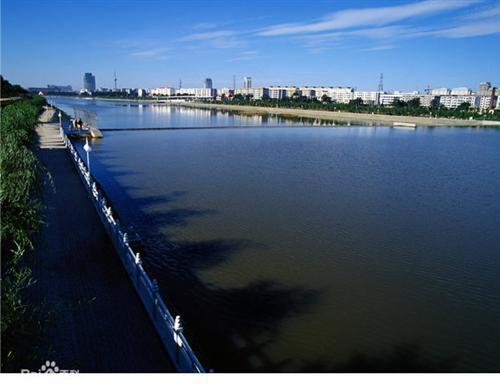 Xihe River
Famous Tourist Attractions
Shengjing Temple
It's a Mongolian Lamaism temple which can date back to late Qing Dynasty. It has three-storey pavilions with 78 glorious rooms.
Ruiying Temple
It's also called lamasery, which is located in Fumeng County, 22 kilometers southwest of Fuxin City. Ruiying Temple was built during Emperor Kangxi period of the Qing Dynasty, and it boasts the great Buddha hall and Living Buddha Hall. It's the largest Lama temple in Northeast China.
Chahai Sites
Located in Fuxin Mongolia Autonomous County, Chahai Sites can date back to about 7,600 years ago. It's the oldest site of the Neolithic Age discovered in Northeast China. There were over 30 house ruins, about 200 potteries, stone implements, jade wares, deer bones and dragon-design pottery pieces.
Tour of Revolution Scenic Area
In Fuxin, there is a "pit of ten thousand corpses" hall in memory of departed miners, which is a patriotic education base and provincial tour of revolution scenic area. It was built in 1968, consisting of 11 osseous remains halls, 1 large-scale picture exhibition hall and 1 memorial tablet. The memorial hall is the only large-scale and well-preserved group burial ruins of departed miners in China.
Shijiazi Agate Scenic Area
Fuxin is known as home to agates in China, and its agate production accounts for over 70% in China. With a history of over 1 thousand years, Fuxin agate carving is the first batch of national intangible cultural heritage. Shijiazi Agate Scenic Area is the gathering, distributing and cultural center of agates, including 7 categories, over 200 varieties and thousands of styles of agate products. China Fuxin Agate Festival held every two years attracts over 300 thousand businessmen, agate masters and tourists who come to appreciate and purchase agate crafts.
Guanshan Scenic Area
Located in Daba Town of Fumeng County, it integrates sightseeing, relaxation, entertainment and scientific research. Besides gorgeous mountain landscape, Guanshan Scenic Area has a few historical and cultural sites, such as the ancestral temple of Genghis khan of the Yuan Dynasty and the royal tombs group of the Liao Dynasty.
Zongheng Hot Spring Ski Resort
Zongheng Hot Spring Ski Resort is the only large-scale ski resort in western Liaoning Province, located in Sunjiawan International Tourist Area in Taiping District of Fuxin City, 8 kilometers from the downtown area. Covering an area of over 400 mu, it has a comprehensive skiing trail with the length of 500 meters and width of 140 meters. There are also a variety of ice-snow activities.
Fuxin People's Park
Fuxin People's Park is located in the downtown area, which is the largest comprehensive park in Fuxin. It consists of Flowers Viewing Area, Animals Viewing Area, Water Sports Area, Leisure and Entertainment Area and Parkview Sightseeing Area.
Best Time to Visit
The best period to visit Fuxin is from April to mid-June and from early September to early November, when it's neither too hot nor too cold.