The temple of Labrang which is located in Xiahe County, Gannan City of Gansu province is the palace of monks and is one of the six important temples of Tibetan Buddhism. There are more than one thousand monks and six institutes of learning in this temple. Currently more than 1,300 monks are living in the temple, with the youngest ones only 4-5 years old. This temple shoulders the important task of preserving and spreading Tibetan culture. This temple was founded about 300 years ago in Qing Dynasty. What's also worth mentioning is that the buildings' roofs are covered with a thin layer of gold that shimmers in the sunlight. The buildings of the temples are all made out of elegantly carved wood, stone and earth.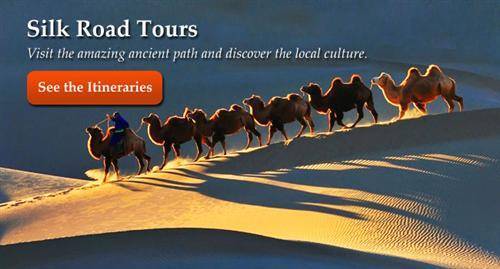 Although it's open to tourists, Labrang Temple is more of a religious place for not only, local residents, but also people from other places. And you need't go to other temples to study Buddhism if you choose to come to this temple. What's more, the monks in Labrang are distinguished.
Labrang Temple is very influential among local people. Numerous pious local residents, dressed in their best clothes, queue to pray before Buddha's statues and donate materials and money to the temple. There are as many as ten thousand Buddhist Statues in Labrang Temple and they are mainly made of gold, silver, copper, aluminum, ivory, sandalwood, jade and crystal. And some of the Buddhas were inlaid with gold and jade. All the buddha statues were exquisitely made, elegant in their shape and have mild and benevolent countenance. The tourists there really enjoy a high degree of artistic beauty and spiritual shock. What's more, the temple of Labrang is also one of the Tibetan Buddhism temples whose collection of Buddhist scriptures is numerous.
Every year, there are seven pujas on a large scale in the temple of Labrang, of which the aspiration puja in the first month of the lunar year and the speaking puja in July are the most ceremonious. The aspiration puja lasts from the third day the first month of the lunar year to the seventeenth day. During the days, all the monks read scriptures six times in the big sutra recitation hall every day and there are also activities such as the dance of His Holiness and so on. In the speaking puja in July, 8, the monks listen to the scriptures seven times and then give a performance outside the square of the big sutra recitation hall. In order to protect the historic spot, the government earmarks funds to maintain the temple of Labrang for many times.
The best tour time
It will be a most busy and active time for the local temples from 8th after Traditional Chinese Spring festival in January in Traditional Chinese Lunar Calendar to 16th. During the time a traveler will experience all kinds of religious ceremonies which will be held in the Labrang Temple. Moreover, it is usually cool and much comfortable in summer in the Autonomous Prefecture of Gan'nan Tibetan Nationality. There are endless Gesang Flower and other wild flowers on the great tableland. At that time, some local special national celebrations will be held here.
Solo Adventure Tips:
Location:

How to Get There?

A traveler can go by a long distance bus from Lanzhou, Linxia County or Hezuo County to Xiahe County first. And then he can change a taxi or other vehicles from Xiahe County to the Temple of Lableng. Everyday there are four buses from Lanzhou to Xiahe County and the time are AM7:30, AM 8:30, PM2:00 and PM3:00 separately. And the ticket fare is 18.5 RMB, which will be changed sometimes. The West Bus station of Lanzhou is the place for travelers to start off. And there are many taxies in Xiahe County and there are many rickshaws (vehicle drawn or driven by man) too, whose fare is usually one RMB. The bicycles for rent can be available at some hotels and its rent is usually 20 RMB.
Ticket Price:

Opening Hours:
AM 8:00—PM 7:00
More Tips:

Because the Autonomous Prefecture of Gan'nanis located in the edge of Qinhai-Tibet Plateau and its altitude is usually over 2000 meters the temperature is often low in spring and the weather is fluctuating. It is necessary for travelers to bring enough warm clothes and tanning-proof cosmetics.
Information accuracy:
We try to make the information on China Travel accurate when we write/edit it. If you find any outdated information, please inform us.