Tao Tao Ju Teahouse
Last updated by fabiowzgogo at 2016/1/18
Located on No. 20 of Dishipu Road in Liwan District, Tao Tao Ju Teahouse is one of the teahouses in Guangzhou that has the longest history. Tao Tao Ju Teahouse is famous for its Chinese cakes, Mid-Autumn mooncakes, tea noodles, various dishes and wine. Tao Tao Ju Teahouse enjoys great popularity in the Chinese citizens inhabiting in Southeast Asia. In Tao Tao Ju Teahouse, there is a saloon for Cantonese folk art forms. Bai Jurong, the famous King of Xiaosheng (Xiaosheng is a young man's role in Chinese opera) in Cantonese opera also perform frequently there. So, besides the refined scholars, customers there also include common people who are fans of Cantonese folk art forms. Besides, Tao Tao Ju Teahouse has spent time and energy on tea culture. It hires people specially to carry the water from Jiu Long Spring (or the Spring of Nine Dragons) in Baiyun Mountain (or the Mountain of Clouds). Tao Tao Ju Teahouse insists on using the water from Jiu Long Spring to make tea and cook it in pottery vessel' on 'pottery oven with gentle fire and heated coal.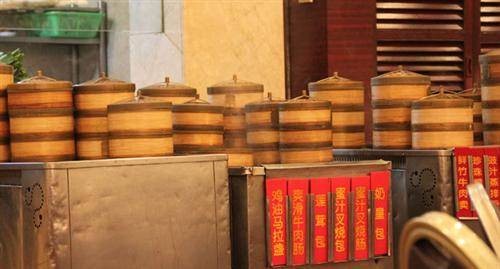 Tao Tao Ju is the earliest luxurious teahouse in Guangzhou, when many scholars and poets liked to enjoy themselves there. When Kang Youwei gave lectures in Guangzhou, he often went to Tao Tao Ju Teahouse to have a cup of tea. In addition, he wrote Tao Tao Ju three Chinese characters extemporaneously with the request of the owner at that time. His handwriting of Tan Tao Ju is now the shop sign of Tao Tao Ju Teahouse. Because of the food cultural deposits in Tao Tao Ju Teahouse, it has become the place where celebrities and scholars get together for tens of years. Noted calligraphers and Chinese painters exhibit their latest works there regularly. In 1990s, the Shuang Hua Xiao Yuan on the third floor hold calligraphy and painting exhibition many years in a row. People who love ancient stones have also established a Tao Tao Stone Room, providing ancient stones for guests free of charge. In the dinner hall, there is a Xi Guan Ancient Platform. Well-known storytelling performers in Guangzhou are invited to give performances on ancient stories to customers for free. In addition, customers in Tao Tao Ju Teahouse can also enjoy Cantonese songs and acrobatics, as well as the delicious food and fragrant tea.

In this old and famous teahouse, which has a history of over 100 years, everything looks simple and antique. On the column on both sides of the house, there carved some elegant long antithetical couplets written by the modern calligrapher Cai Esheng. Besides, the lifelike embossment on the columns shows the magnificence of this famous teahouse. There are a lot of famous dishes in Tao Tao Ju Teahouse, such as the soup of pig brain and fish, colorful fresh shrimp meat, scrambled crab meat with ginger and green onion, West lake chrysanthemum fish, baked chicken in salt, splitting roasted duck, ham with refreshing tripe, fried cab meat and shrimp meat.
Recommended Tours:
Top Things to Do in Guangzhou
Guangzhou Travel Services
Travel Confidently with Us

10,000 Satisfied Customers

50 Years in China Travel Industry

Quick Response within 24 hours

Secured Online Payment

Group Tours with Solo Adventure

No Hidden Fees and No Traps