It was said that long ago, there was a very big and thick rattan traversing the river, sinking in the daytime but floating at night for people to hold to cross. That's why the gorge is called Big Rattan Gorge. Screened alongside by high mountains stretching in an unbroken chain, the forty- kilometer gorge features zigzag watercourse, torrential river flow, spreading-all-over dangerous shoals, and beautiful scenery. In the ancient times, the gorge was the cradle and base for the Yao, Zhuang and Han Peasant Uprisings of the Ming Dynasty.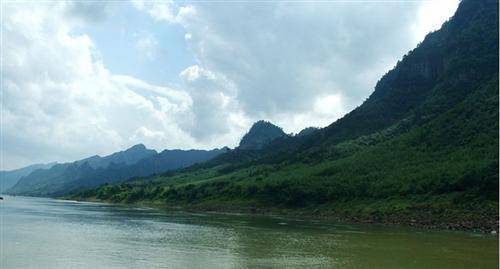 Dateng Gorge
Solo Adventure Tips:
Location:

How to Get There?
Take No.4 bus in the downtown area of Guiping City to the Wharf of Beijiang Bridge, where you can take a tourist boat. Normally the boat won't leave until it gets enough passengers.
Ticket Price:

Opening Hours:

More Tips:
1) Normally the boat sails on the river for about 3.5 hours, and the scenic-spot visiting time is about 2 hours. However, during a trip, the boat only stops for a scenic spot. So if you want to visit all the scenic spots, you'd better charter a boat. Of course, the chartering price can be bargained with the boat owner. 2) Hiking is the best way of visiting Dateng (Big Rattan) Gorge. Hiking route: the suburbs wharf (where you set off in the south direction) →Bailan Village→ (cross the river) → Yusi Cave → Longtan National Forest Park
Information accuracy:
We try to make the information on China Travel accurate when we write/edit it. If you find any outdated information, please inform us.