West Mountain, also called Siling Mountain, is located about 1.5 kilometers from the city proper of Guiping, the southeast of Guangxi Province. It is called Western Mountain because it is right in the west of Guiping City. The mountain, boasting beautiful scenery and rich cultural resources, has been a tourist destination for about 1,400 years. The saying "Guilin landscape tops those elsewhere, while Western Mountain's landscape tops South China." best describes its charm. It is well known that the mountain features age-old trees, grotesque rocks, sweetish spring, fragrant tea, and accurate Buddhist prediction.
Western Mountain is characterized by two "many"s in terms of trees. First, it has many trees. It is calculated that it has about 1,500 over-100-year-old trees, with the vegetation covering rate of 98%. Second, it has many tree species, which amount to more than 300. Of all, Dragon Scale Pine is a special species of the mountain, which does not exist elsewhere but on Huangshan Mountain in Anhui Province.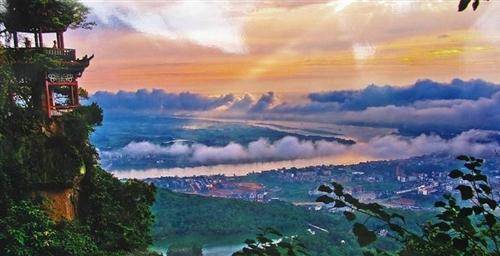 Guiping West Mountain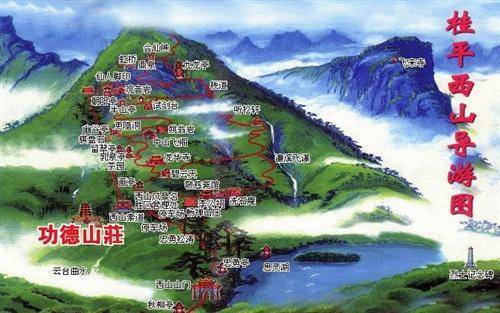 Tourist Map
On the mountain, there are all kinds of grotesque rocks which formed about 180,000,000 years ago. Some rocks are interestingly shaped like animals and objects such as a tiger, a rabbit, a chessboard, a frog, or a round platform, etc. Some rocks have naturally piled together to be doors or caves. And others have been cut into halves becoming small gorges. These rocks, strewing the mountain here and there, have formed indispensable scenery to visitors.
The spring water of Western Mountain is pleasantly sweetish and said to be able to wash away all your worries if you drink a mouthful. What is most strange is the Stalactite Spring, which is called "one of the three strangest springs under the heaven".
West Mountain is particularly fragrant. The mountain enjoys mild climate, sufficient sunlight, abundant rainfall and moderate temperature, which are quite good for the growth of tea trees. Western Mountain Tea, also called "Stalactite Spring Tea" or "Chessboard Immortal Tea", has had a history of more than 1,000 years and sold very well home and aboard even in the Ming Dynasty (1368-1644). It is said that the making of 500-gram high-grade Western Mountain Tea needs more than 60,000 tea buds. The tea, after brewed, will smell and taste as good as Longjing Tea of the West Lake, with the tea leaves and water turning freshly green.
It is said that the Buddhist prediction here is very accurate. Why? Western Mountain is the most complete sacred Buddhist place in Guangxi Province and one of the thirteen sacred Buddhist places in China. What's more, Longhua monastery and Xishi Nunnery on the mountain are respectively the biggest monastery and the most famous nunnery in Guangxi Province. No wonder the Buddhist prediction here is more accurate than elsewhere.
Solo Adventure Tips:
Location:

How to Get There?
Take a bus (2 yuan) on Guiping Square to Longtan Scenic Area and get off at the terminal, and after walking for 10 kilometers, you can finally reach the entrance of Western Mountain.
Ticket Price:

Opening Hours:
8:00-18:00
More Tips:

Information accuracy:
We try to make the information on China Travel accurate when we write/edit it. If you find any outdated information, please inform us.