Nanshan Hill, with an elevation of 70 meters, tops other 23 hills along Yujiang River. The hill features 11 caves where there are inscriptions of the Song (960-1279), Yuan (1271-1368), Ming (1368-1644) and Qing (1644-1911) dynasties. In Kwan-yin (Goddess of Mercy) Cave, there are statues of 18 Buddhist saints with different postures. Atop the hill, you can have a bird's eye view of the city proper of Guigang.
Nanshan Temple, first built in 989 in the Song Dynasty, is located on Nanshan Hill. The temple was closely associated with emperors. For example, Emperor Taizong of the Song Dynasty donated 224 imperial books to the temple, and Emperor Renzong had a plaque inscribed with "Jingyou Zen Temple" for it. Emperor Wenzong of the Yuan Dynasty visited the temple twice and wrote in Chinese "Nanshan Temple", which now can still be seen on the entrance plague. Outside the temple, there grow some banyan trees. Inside the temple, the meandering paths may lead you to somewhere. The most important are the historic cultural relics including more than 100 stone inscriptions of the Song, Yuan, Ming, and Qing dynasties as well as the Big Iron Clock made in the year 1025. The Rice Out Hole is also worth visiting. According to the folklore, in the past, some rice flew out of the hole everyday and was just enough for the temple monks to eat. No more, no less. However, the monks were so greedy that they enlarged the hole for more rice. To their deep disappointment, the rice stopped flowing and remained so from then on.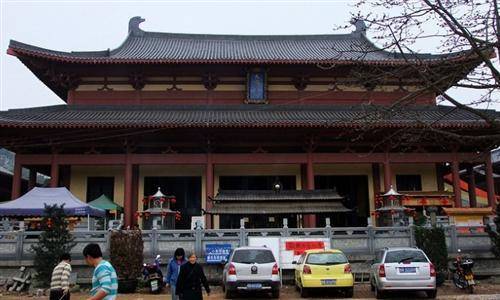 Nanshan Temple
Solo Adventure Tips:
Location:

How to Get There?
Take No.8 bus on the New Century Square of Guigang proper to Nanshan Park.
Ticket Price:

Opening Hours:

More Tips:

Information accuracy:
We try to make the information on China Travel accurate when we write/edit it. If you find any outdated information, please inform us.