The Temple of General Guanyu was first built in 1603 to commemorate General Guanyu, the famous general of the State of Shu in the period of the Three Kingdom in China. The temple had been reconstructed and renovated for several times.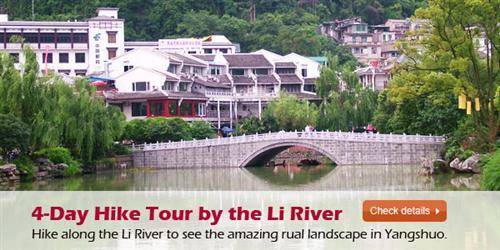 It was all built up of wood and brick walls. No front door, the entrance is at the west side. The temple ground covers an area of 2,100square meters, 1033 square meters of building occupation. Enclosed in the temple are such buildings as the stage of performance, rain pavilion, first-row gate, main-hall and rear-hall as well as annexed halls along the two sides of the temple yard.
Four golden pillars reach the roof, supporting the load of the top floor. In the middle of the stage hangs a caisson ceiling like a clock hanging upside down. The painted floor is smooth like a mirror. Under the floor of the stage was ever set 36 jars. When the drums on the stage were beaten, the sound was reflected by the inside wall of the jars and spread in all directions as far as ten li. It's the achievement of Chinese people in acoustics. The stage has red walls and yellow tiles. The eaves rise high. On the ridge of the roof, the lifelike dragon and phoenix shows prosperity. In the front and back halls, there are carved beams and painted rafters, all these make the house imposing. In the past in the three halls there were sculptures of wise men.
Solo Adventure Tips:
Location:

In Gongcheng County
How to Get There?
Take a bus from Guilin to Gongcheng at Guilin Bus Station
Ticket Price:

Opening Hours:

8:30-17:30, Tour time: one hour
More Tips:

Every year June 16 in the lunar calendar is the day to offer sacrifices to Guanyu and hold parade. You can taste cooking tea with oil, parrot cakes, Artemisia argyi cake, noodle rolls, rice crust, puffed rice, chicken cooked with tea, and cooking tea hot pot.
Information accuracy:
We try to make the information on China Travel accurate when we write/edit it. If you find any outdated information, please inform us.