Guiyang food is featured num and spicy flavor. It resembles Chuan Cuisine and Xiang Cuisine, while there are still distinctions. Numb is made from several spices and the spicy is mainly refined from the red pepper.
Guiyang Featured Food:
Changwang Noodles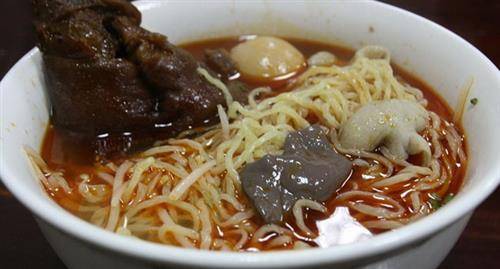 Noodles (made of eggs and wheat flour) cooked with Chang (local sausage) and Wangzi (pork blood) soup are a very popular flavor in Guiyang and its adjunct areas. A bowl of noodles is made through 12 different procedures. Added and cooked with the ingredients such as the sliced pig intestine, pork blood curd, red pepper, aniseed, ginger, chopped green scallion, crisp pork dices, chicken soup, hot pepper oil, etc, the noodles look colorful with bright red soup, yolk-yellow noodles, white intestine, tender green scallion and fresh bean sprouts. It has a lingering taste, with the fried diced meat being crisp and brittle, the intestine and blood curd soft and tender, the soup neither too hot nor oily, delicious and tasty.
Siwawa (sliced Vegetable Baby)
It gets its name because various kinds of "Shreds" are wrapped up like newborn infants in thin rice-flour pancakes. Put a handful of shreds of vegetables like kelp, radish, bean sprouts, cucumber, Zhe ergen (Houtturynia), fried soybeans and pasted chili in it. Then roll up the cake and put in some sour and hot sauce. Putting the roll into the mouth, you will find it a little bit hot, crisp, sour, tasty and refreshing.
Bijie Dumpling
Originated in Bijie County, Guizhou Province, Bijie dumpling is a popular local flavor with a history of 50 years. The white and fine flour is made of top-grade glutinous rice. And the stuffing is made of ham, sesame, peanut, rock candy, lard, etc. Characteristic of small size, thin skin with much stuffing, it tastes soft, fragrant and delicious.
Lian Ai Doufu Guo (the Bean Curd In Love)
As one of the popular snacks in Guiyang, love bean curd is a small piece of bean curd roasted on an oiled iron sheet or wire mesh over chaff fire. When roasted to be brownish, oily and swollen, it is cut open and stuffed with the sauce of hot pepper, soy sauce, vinegar, sesame oil, monosodium glutamate, chopped green scallion, mashed garlic and ginger. When eating it hot, you will find it very spicy, tender, tasty and delectable.
Page 1 of 1 First Previous 1 Next Last
You might also be interested in:
Recommended Tours:
Top Things to Do in Guiyang
Travel Confidently with Us

10,000 Satisfied Customers

50 Years in China Travel Industry

Quick Response within 24 hours

Secured Online Payment

Group Tours with Solo Adventure

No Hidden Fees and No Traps