Guiyang Local Products:
Guiyang is abundant in local specialties (ethnic-characterized arts and crafts and local products). Among them, the most famous include beef jerk, pepper, log carving, medicine herb, sliver ornament of Miao ethnic minority, cattle horn product, Dixi Mask, batik products which are praised highly as the No. one in China, and Miao Ethnic Embroidery, which is the traditional craft of Guiyang. The renowned shops selling local specialties mainly concentrate at Beijing Road.
Miao Ethnic Embroidery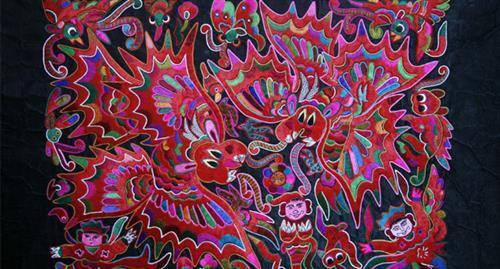 Almost all ethnic minorities of Guizhou province have their own embroidery. Among them, Miao Ethnic Embroidery is the most famous. The designs of the Miao Ethnic Embroidery are mainly natural scenery. The strong contrasts of the images make the embroidery chic and suit for decoration. There is one kind of embroidering technique called Taohua, the designs of which are mainly geometry patterns and made according to the grains of cloth. The Tiaohao produces of Miao ethnic people in Huaxi distric
Medicine Herbs
As one of the four medicinal materials production zones in China, Guizhou is rich in medicinal materials with more than 4,000 kinds of high-quality medicinal plants. In Guiyang, there are more than 170 medicinal plants. Among then, Eucommia Bark (used in traditional Chinese medicine to treat lower back pain, aching knees, and to prevent miscarriage) and Gastrodia (commonly used in China to treat hypertension, improve circulation and resolve headaches) are especially famous. More about Traditiona
Qiantao Zhaosi Green Tea
Qiantao Zhaosi Green Tea, produced in Zhaosi Village, Qiantao Town in the suburb of Guiyang, has a long history of cultivation and enjoys a good reputation. Zhaosi tea is a kind of green tea processed into neat and well-proportioned shapes in dark color. The tea water looks yellowish green and tastes refreshing. As a legend goes, during the reign of Emperor Kangxi of Qing Dynasty, an ancient central government officer Zhougong, whose hometown was Zhaosi village, contributed Zhaosi Green Tea to t
Guiyang Chili And Famous Chili Sauce
Both the flat dried chili produced in Baiyi Town and the Dangwu chili produced in Huaxi District enjoy a good reputation. In Guiyang, the food processing with chili as the main raw material is being industrialized. Some products such as Laoganma Chili Sauce, Fenglazi Chili Sauce and Lajiaowang Chili Sauce have become famous brand products.
Bonuomo Dustpan Painting
Bonuomo in Buyi language means Mount Yunwu, situated in the suburbs of Guiyang. The Buyi farmers draw pictures of animals and figures from fairy tales and their daily experience on dustpans. It is a handcraft of primitive simplicity, featured ethnic minority flavor.
Batik Products
The batik articles of Guizhou are widely noted and liked for their irresistible artistic charm. Batik is a traditional handicraft. Various designs produced on indigo-dyed cotton fabric reflect strong ethnic characteristics. Modern painting skills have also been applied to the art of batik making in recent years. More about Chinese Wax Printing
Peculiar Stones
The outstanding land formation of Guizhou has yielded numerous valuable stones and fossils such as green stone, Wujiang stone, Panjiang stone, river stone, natural-Chinese -painting stone, unique vertebrate fossils such as Hus Guizhou Dragon, and the crystal clusters of quartz named Roses on the Plateau.
Dafang Lacquer Ware
Dafang lacquer ware, first made in the reign of Hongwu in the Ming Dynasty, has been ranked as one of the five famous lacquer wares in China. See More about Chinese Lacquer Ware
Yuping Vertical Bamboo Flutes
Made of a kind of special bamboo, vertical flutes made in Yuping are minority musical instruments renowned as "one of the three treasures of Guizhou".
Guiyang Shops and Stores:
The main commercial streets of Guiyang are Zhonghua Road, Beijing Road, Zunyi Road, Ruijin Road and Zhongshan Road. Zhonghua Road fully lies grand shopping malls, which is the heaven for shopping and the place where the local people frequently do shopping. Besides, Yangming Road Birds Follows and Antiques Market is the favorite place of Guiyang people for relaxing during weekends.
You might also be interested in:
Recommended Tours:
Top Things to Do in Guiyang
Travel Confidently with Us

10,000 Satisfied Customers

50 Years in China Travel Industry

Quick Response within 24 hours

Secured Online Payment

Group Tours with Solo Adventure

No Hidden Fees and No Traps