The Hangzhou Amusement Park is a modern amusement park with a unique ecological theme. It is a great place for families with kids as it offers not just play and fun, but also a way to relax and unwind in a relaxing natural environment.
It is also a great destination for those who are interested in sports. In fact, it currently offers ten high-point sports activities and is widely known as the largest high-point sports center in the region. Currently, it is also hailed as the largest resort for leisure as far as Eastern China is concerned.
All in all, it combines tourism, leisure, entertainment, vacation, and accommodation, making it a one-stop shop for tourists in China and a great go-to destination for locals looking for a fun and relaxing time.
Things to do
Spanning a total area of 800 mu, the Hangzhou Amusement Park offers an overwhelming collection of sights and attractions for all families to enjoy. The park is divided into different parts, and visitors should make a schedule during their visit so they can see each of these parts, which include:
•Ecological Amusement Park
•Holland Village Theme Park
•The Travels of Marco Polo Theme Park
•Xianghu Green Garden
•Niton Hot Spring Resort
•Tennis Club
•Golf Club
Aside from sightseeing and visiting the various parts of the amusement park, visitors should also watch the wonderful entertaining performances, which include the indoor play entitled 'War of the Sea Rover'. It is considered as the most fascinating performance in Hangzhou Amusement Park.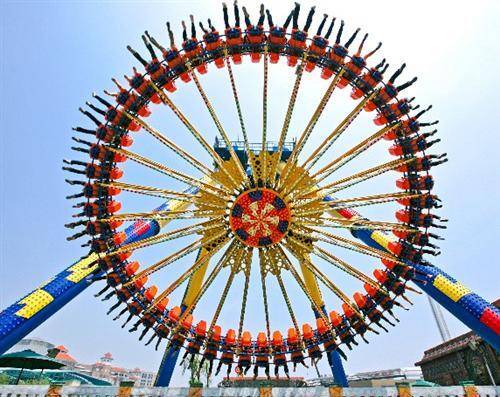 After watching the performances, guests can also explore their wild sides by trying out the extreme sports offered in the park. One example is bungee jumping, which allows adventurous visitors to jump from a 33-meter height.
The other famous and daring attractions in the amusement park include the Rocket Bungee, which moves at a speed of 60 km, the Flying Men on Tightwire, and the Outer Space Swing, which is 40 meters high. There is also a roller coaster, a looting boat in rip current, and a pirate ship, which are more popular among children. These attractions, however, may have certain regulations and restrictions to ensure the safety of guests. All the rides can be found in the Carnival Recreation Area.
Most recently, the Hangzhou Amusement Park opened its very own water park, which has helped attract even more visitors, especially families. The water park covers a total area of 6000 square meters, with 4000 square meters covered by a sector wave pool with a deepest level of 1.6 meters. The Hangzhou Amusement Park used the most advanced pneumatic wave maker for the wave pool, which can create up to 1-meter waves. This means visitors do not have to go to the beach to experience big, exciting waves. There is also a 1000-square-meter manmade beach with actual quartz sand; it is designed as a place where kids can develop their imagination by playing in the safe, clean sand. The water park opened just last July.;
The Hangzhou Amusement Park also has its own Conference Center and a residential area where a 108-meter Sightseeing Tower can also be found. A huge sailboat designed in the fashion of Prince William's boat in the seventeenth century is also another major attraction in the park, especially for couples looking for a romantic time. The boat has an astronomical telescope and an open-air bar where couples can watch the stars and drink cool beverages. On the third floor of the sailboat, there is a movie hall.
For meals, visit The World of Pirate, which is also located onboard the sailboat. The restaurant features waiters and waitresses gaily dressed in pirates and knights costumes. There is also a folk show that entertains diners, who can even rent some of the pirate costumes and accessories to attend the jamboree.
Solo Adventure Tips:
Location:

No. 92 Xianghu Road, Xiaoshan District, Hangzhou City, Zheijiang Province (12 kilometers away from West Lake)
How to Get There?

1) Take bus no. 315 to get to the Hangzhou Amusement Park.
2) Take special tourist line K315 from 464 Wulin Road. The first bus leaves at 8:00, and the last bus leaves at 16:30.
Ticket Price:

RMB 100 per person
Opening Hours:

9:30 – 17:00 on weekends; 10:00 – 17:00 on weekdays.
More Tips:

Telephone: 86-0571-86984319
Website:http://www.hazparadise.com/
Information accuracy:
We try to make the information on China Travel accurate when we write/edit it. If you find any outdated information, please inform us.