Overview
Prince Bay Park is a traditional Chinese landscaped garden located in Hangzhou. It is one of the most beautiful gardens in the Hangzhou area and is still part of the West Lake Scenic Area. Aside from its natural beauty, the park also boasts of the timeless and highly elegant western style of landscaping. It thus showcases nature's beauty but combines this with the artistic creativity of manmade structures.
Also known as Taiziwan Park, Prince Bay Park attracts a lot of visitors yearly, but it is most beautiful during the spring, when the place is bursting with blossoming flowers and when the apple and cherry trees are in full bloom. Despite its sheer natural beauty and the relaxing sight of small rivers and far-off mountains, the park is not that far from the downtown area of Hangzhou. Thus, it is like a little natural paradise in the middle of the city that even busy folks can escape to for a bit of relaxation.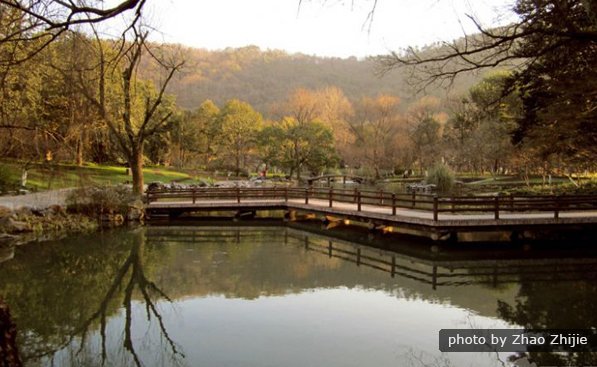 Things to do
Prince Bay Park is a top destination for those who are looking for a nice place to spend an afternoon in. Tourists and locals alike find their way to the park and spend time there just soaking in the sights and walking around. Due to its accessible location, it's very popular among tourists who are staying in the many hotels in downtown Hangzhou. However, this also means that visitors can't expect to have the park all to themselves. But since the park covers a total area of more than 197 acres, it does not get too crowded.
Aside from merely sightseeing, many people also go to Prince Bay Park to get married or hold other intimate gatherings. The park is, in fact, especially decorated with some special features to make it more suitable as a site for weddings; these include recreational items that symbolize 'unswerving allegiance' and the act of 'flying abreast of each other like birds in the sky'.
Due to the environment of the park, most weddings held there feature western style ceremonies. The typical ceremony begins with a lively wedding march, during which the bride and groom will walk through the bridge hand in hand as the bride holds a bouquet of fresh flowers in her hand. They will then make their way across the broad lawn of the garden where the church is located. In the church, the couple will position themselves on a red heart-shaped carpet.
During the ceremony, they will also release doves while holding colored ribbons in their hands. They will then take their places in a round table where the person designated as Miss Manners will provide them with a large bottle of champagne and red wedding cards. They will then perform the tradition called 'union of wine cups' or Jiaobeijiu. Following the ceremony, the bride and the groom will ride a horse-drawn carriage, which will take them through the garden; there they will share wine with their relatives and friends. The ceremony ends here, and the couple will sit on a decorated chair and will be carried to a small house located in the park as well.
Due to its reputation as a wedding location, Prince Bay Park has attracted many couples from all over the world. The park has also become associated with love and romance, and its quaint ambiance certainly helps make it an even more touching and memorable place.
Solo Adventure Tips:
Location:

Taiziwan Gate, Nanshan Road, Xihu District, Hangzhou
How to Get There?

1)
Take bus no. K4 and 504.
2)
Take tourist line 1, 2, 3, and 5.
3)
Get off at the Flower Harbor or Huagang stop.
Ticket Price:

RMB10/person
Opening Hours:

8:30-16:30
More Tips:

Information accuracy:
We try to make the information on China Travel accurate when we write/edit it. If you find any outdated information, please inform us.