With a history of more than 7000 years, Wuzhen Water Town gathers all the unique features of Jiangnan (downstream area of Yangtze River) water towns. It perfectly maintains the former styles and features of ancient water towns. On the river banks of Wuzhen, there are a large amount of ancient residential houses, workshops and stores with a total area of more than 169,600 square meters (42 acres), accounting for 82 percent of Wuzhen's total ground area. Most of the buildings were built during the Ming and Qing dynasties (1368-1912). The cultural spirit of "harmonious beauty" has also penetrated into the architectural styles of the buildings there. Tourists going there will surely be attracted by the great charm of human living peacefully with nature and the rich historical heritage. Wuzhen Water Town has been listed by UNESCO into the reserve list of world cultural heritages.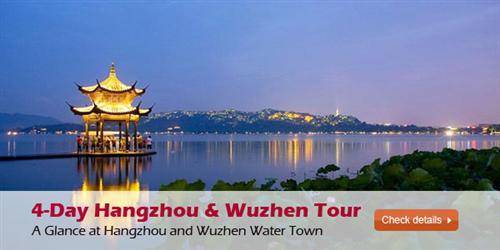 Wuzhen Water Town is located in Tongxiang of Zhejiang Province, about 80 kilometers (50 miles) from Hangzhou, and 140 kilometers (87 miles) from Shanghai. The world famous Beijing-Hangzhou Grand Canal runs through the town, which endows Wuzhen Water Town with rivers and canals crisscrossing the whole area.
Wuzhen Water Town is mainly divided into Xizha and Dongzha
Xi Zha (West District)
Xi Zha has been rebuilt and renovated in the original styles with many unique architectural features, such as colonnades, small bridges, balconies, piers, wooden windows and doors, and gray stone walls and paving. With a main waterway and a good amount of side alleys, bridges, ancient docks and secondary waterways, Xizha is really a fascinating place for tourists to stroll around. Xi Zha has few local residents and is instead given over to accommodation for visitors. There are three main accommodation providers. The largest and cheapest is Min Su (Wuzhen Guest House), with antique style wooden furnishings and all the modern conveniences including internet access and satellite TV.
Tourists need to take a short single-oar ferry ride across a man-made lake to enter Xi Zha. The streets of Xi Zha are lined with guest houses, restaurants, bars and artifact shops. Foreign would especially like to stay in Xi Zha due to the exotic atmosphere there.
The karaoke and bars at both ends of the waterway are noisy during the evening, though still little frequented, but the middle of Xi Zha is peaceful. Xi Zha is beautifully lit at night, subtly highlighting various architectural features and the bridges. There is a silent flow of skiffs making night cruises on the main waterway. Xi Zha is well-constructed, tastefully decorated and well-kept. The streets are immaculately clean and even the eaves of the buildings are given a dusting in the mornings. Xi Zha is pleasing to the eye and draws one in - into a forgotten time in China when waterways were used like road and rail, and life was simpler. This resort combines new and old really well.
Dong Zha (East District)
It is basically one waterway, about 400 meters long sandwiched between two streets of original Qing Dynasty (1644-1911) houses. The street on the entrance side has souvenir shops and restaurants and the street on the far side has various museums exhibiting beds, clothes, blue flower printed fabric, etc. There are various exhibitions showing the old way of life in this water town. In the peak season the streets are thronged with Chinese tourists (few foreigners) and the waterway is busy with single-oar skiffs carrying up to six passengers up and down the waterway. Despite being given over to tourism Dong Zha is still inhabited by the original residents who go about their lives among the tourists.
Major Attractions
Former Residence of Mao Dun
Mao Dun is a revered writer in modern China, best known for the novel Midnight. His former home is located in the middle part of Guan Qian Street, where he lived his happy childhood. The home is a traditional Chinese style house built during the Qing Dynasty.
Xiuzhen Guan
Xiuzhen Guan is a Taoist temple which was built in the Northern Song Dynasty (960-1127). It is one of three famous Taoist temples on the south bank of the Yangtze River.
Xiuzhen Guan Stage
The stage was built in 1749. In ancient times, farmers around the town came by boat to watch plays. While the play was going on, the spectators would be in boats floating on the waterway.
Roofed Corridor
A 1000-meter long roofed corridor runs along the bank of the river, which is one of the key architectural features of water towns south of the Yangtze.
Local Housing
The architectural style is from the Qing Dynasty and reflects the traditional lifestyle of the people.
Aged Ginkgo Tree
A ginkgo tree over 1000 years old has witnessed the town's history since the Song Dynasty. Formerly located in the courtyard of General Wu Temple along the river's south bank, its trunk takes three men with their arms outstretched to circle it.

Solo Adventure Tips:
Location:

Wuzhen Water Town is located in Tongxiang of Zhejiang Province, about 80 kilometers (50 miles) from Hangzhou, and 140 kilometers (87 miles) from Shanghai.
How to Get There?

Ticket Price:

Opening Hours:

More Tips:

Information accuracy:
We try to make the information on China Travel accurate when we write/edit it. If you find any outdated information, please inform us.