Brief Introduction:
Authorized by the State Department, and set up in 1978, Shaanxi Foping national nature reserve is a reserve of forests mainly for the protection of giant pandas and other wild animals, and was approved officially in March 2005 by United Nation Education, Science, and Culture Organization to join in the "network of reserve for relationship between human beings and ecosphere". Situated in northwest Foping County with and area of 29240 hectares and plant coverage of over 90%, the reserve provides an excellent and comfortable joy land for giant pandas to live and multiply. The ecosystem within the reserve is complex, and there are numerous species of animals and plants with 1583 species discovered, among which redwood on Mount Taibai, fir on Qin Mountains, water-clean tree, single-leaf grass, and so on are rare plants of national key protection. Furthermore, there are plants for medicine, starch, fiber, honey, and etc. that can be used for economic purposes.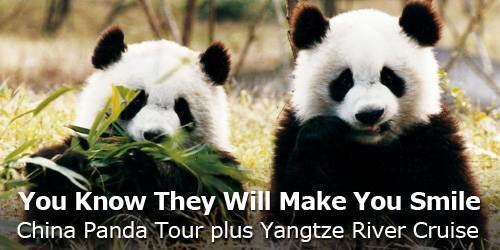 Giant pandas are the key protection targets of the reserve. There is a giant panda every 2.5 square kilometers in the core area of the reserve, the density of which ranks first in China. The colors of giant pandas in the reserve are special. In addition to black and white pandas, brown white pandas and white pandas have also been found many times. The number of precious and rare wild animals like takins and golden-haired monkeys is increasing every year. The mountains in the reserve are dense and the water clean, forests boundless, apexes grotesque, odd rocks standing in great numbers, floating fountains and flying waterfall everywhere to be seen, so the reserve is an ideal place for carrying out scientific research and in particular for eco-tour.
Solo Adventure Tips:
Location:

How to Get There?
It takes three to four hours to get to Foping through 108 national highway crossing Qin Mountains. Tourists can then take special direct tourist bus from Foping to the reserve.
Ticket Price:

Opening Hours:
June 1st to October 31st
More Tips:
Tips: It is better to contact management office of Foping Nature Reserve at 0916-8913875 before starting the tour. They arrange special buses from Foping to the reserve, or give you guidance so that tourists can see the pandas safely and quickly and the guidance can also make your stay for the night at the camps of the observation stands more convenient.
Information accuracy:
We try to make the information on China Travel accurate when we write/edit it. If you find any outdated information, please inform us.