Mount Gupo National Forest Park is located about 25 kilometers almost due north of the city of Hezhou, just slightly more than halfway between the city of Hezhou and the border with Hunan Province directly north of Hezhou. The park, which covers an area of some 8000 hectares (80 square kilometers), is characterized by chains of mountain peaks that rise up one after the other alongside deep valleys. It contains the tallest peak in the eastern part of Guangxi Zhuang Autonomous Region (Guangxi Province, for short), Tiantang Peak (aka Heaven's Summit) at 1846 meters above sea level, and in fact, the park has 25 peaks that range over 1000 meters above sea level.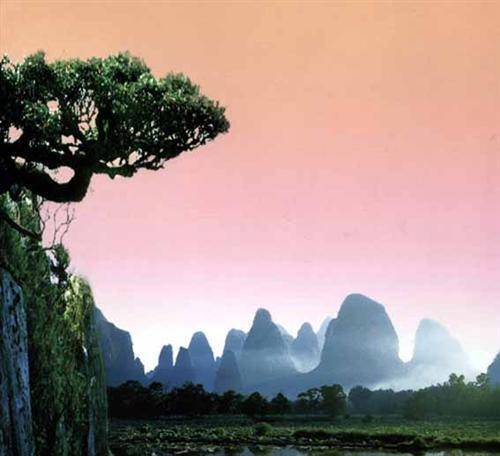 Beautiful Gupo Mountain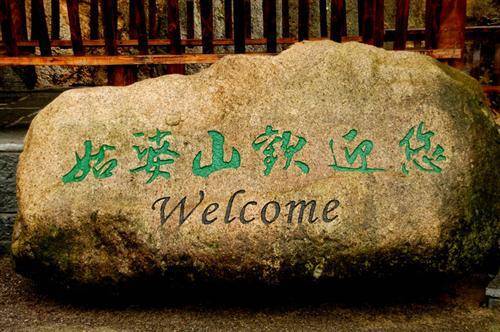 Welcome to Gupo Mountain
Mount Gupo National Forest Park is an exceptionally verdant, lush park, clothed primarily with broadleaf deciduous trees that make up dense, pristine forests that are broken here and there by exotic rock outcroppings and numerous streams, with the occasional - and occasionally spectacular - waterfall, some of which are spectacularly noisy, producing a deafening roar. The park's most notable waterfalls are Wayaochong Dashing Horse Waterfall, Fairy Lady Waterfall, Arhat Waterfall, Milky Way From Heaven Waterfall, 2 ½ Millimeters Waterfall, Mother And Baby Waterfall, and Mandarin Duck Waterfall. The park also has natural springs, including thermal springs, where many tourists stop up to relax and soothe their feet in a warm, therapeutic bath.
Mount Gupo National Forest Park is also home to a richly varied plant and animal life, with many animals, such as squirrels and monkeys, that have become accustomed to the presence of humans. The latter are so accustomed to the presence of humans among them that they will often not move off the path and out of your way - unlike most such animals that would scurry for cover at the sight of humans - and will sometimes even approach humans to beg for food (peanuts and fruits being their favorite free lunches), something that is sure to delight children especially. There is also a plethora of birds in the park, including many songbird varieties.
There are over 40 special scenic areas in the park, with many paths that facilitate the climb that snakes its way up and then along the mountain range, with spectacular views of the valleys below, dotted with colorful village houses, most of them with dark, shiny slate tile roofs. There is also a cable car for those who prefer the less strenuous view of the mountain range.
Mount Gupo National Forest Park consists essentially of two parks, a low-lying park that is more accessible and which is located near to a village of special holiday villas set among fruit orchards - especially plum trees - replete with all the modern conveniences, including hot springs, and the other park, which lies at a higher elevation, being more spectacular in its views, and more serene, in spite of the din of wildlife, including the many singing birds.
But whether you choose the lower-lying park or the more elevated park, you will be blessed with a mild temperature that averages 18 degrees Celsius year round. Mount Gupo's weather is cool in the summer and warm in the winter, making it something near the ideal clima for out-of-doors activities.
Solo Adventure Tips:
Location:

How to Get There?

By bus - There are sightseeing buses which depart Hezhou Bus Station directly for Mount Gupo National Forest Park. The journey - itself a picturesque experience - takes about 1 ½ hours in all. There are two departures from Hezhou Bus Station: 8:00AM and 3:00PM. Unless you plan to overnight at the park's lodging facilities, you should take the 8 o'clock bus, since the last bus back to Hezhou departs Mount Gupo National Forest Park at 5:30PM. The price of a bus ticket is between 10 and 15 Yuan, depending on the season (the peak summer season reflects the more expensive price).
By taxi - You can take a taxi from anywhere in Hezhou to Mount Gupo National Forest Park. The price will vary betweeen 30 and 40 Yuan, depending on your point of departure in Hezhou.
Ticket Price:

Opening Hours:

More Tips:

Lodging - Mount Gupo National Forest Park Hotel is situated inside the park. Standard single rooms cost 60-70 Yuan per day for a double bed. You can also rent a tent for outdoor sleeping, and there are rustic log cabins for rent at the secluded Plum Manor, which is nestled within a plum tree orchard some distance from the hotel, across a chain bridge. The price is 100 Yuan per day for a cabin.
Food - You are advised to bring along a lunch - with plenty of water or other beverages - for your climb into the park. There are a few restaurants located on the mountain, but they may not be near when you decide to break for lunch, or when you get thirsty, therefore it is best to pack a lunch and to bring along beverages if you plan to make a long jaunt up into the mountain range. However, there are small restaurants and snack bars near the main attraction area at the base of the mountain where you can purchase chicken, fish and bean curd - they are quite delicious! The water quality on the mountain is superb, so it imparts freshness to the chicken, fish and meat dishes. If you would like to treat your taste buds to something uniquely different, try the local rice wine - it is pure and mellow.
Onsite snacks - There are quite a few stands near Fairy Lady Waterfalls, a goodly way up the mountain, that sell beverages and fruits to tourists, so if you forgot to bring along lunch or a water supply, be sure to stock up here. Artificial refrigeration is not necessary, since the chilly waters of the nearby brooks keep the beverages as cool as would an electric cooler in a restaurant or a snack bar - and is at the same time environmentally friendly!
Local ethnic minorities - There are two such groups represented on the mountain: the Tuyao and the Panyao of the Yao ethnic minority; and the Hakka (aka Ke-Jia) ethnic minority (the Hakka/ Ke-Jia are in fact a sub-group of the Han ethnic majority). The folk culture and wedding traditions of these minority groups are rich and colorful. The Hakka/ Ke-Jia have their own folk songs, just as the two Yao branches each have their folk song traditions. The Hakka/ Ke-Jia observe wedding traditions such as the "Colorful Wedding Speech" and the "Darkening Of The Bridal Chamber", while the Panyao celebrate wedding traditions such as the "Examining The House To Get Engaged", "Crying For Bridal Daughter" and "Hugging Relatives In A Dark Room" and the Tuyao celebrate "Lover's Room" and "Relatives Festival" wedding traditions.
Highlights of the park - There are many scenic sights at Mount Gupo National Forest Park. If you can only stay for a short period, you might want to briefly see the following highlights: Wayaochong Waterfall, Milky Way From Heaven Waterfall, Arhat Waterfall, Lover's Woods, and Bull Head Stockaded Village. However, you will almost certainly regret that you did not plan to stay for at least one day, once you see the natural beauty of Mount Gupo National Forest Park (you can always change your mind at the last minute, even during the peak season, since you can always rent a tent), but if you want to take it all in at a leisurely pace, you will need at least two full days. Note also that Milky Way From Heaven Waterfall, the park's largest and most spectacular, is located at the top of the mountain, so transport (see immediately below) is advised if you do not plan on overnighting.
Miscellaneous Tips
1 - There are electric buses within the park area that you can take if you like, thus combining walking with riding. If you are pressed for time and would like to see as much as possible in as short a time frame as possible, you can also hire (charter) a taxi for the day, which will set you back only 80 Yuan, and gives you total freedom.
2 - Note that the temperature on the mountain is cooler than in the valley, meaning that layered clothing (sweaters, light jackets/ wind jackets) is in order.
3 - The Wayaochong Waterfall area is a monkey hangout, so beware if you walk along aimlessly with a snack in hand, as you might well be robbed by one of the cheeky monkeys. Of course, you might consider it fun to deliberately feed the monkeys, in which case you should bring along special snacks such as fruits or peanuts - but don't expect a bow, a curtsey or any other outward sign of appreciation!
4 - Deep within Lover's Woods lies Lover's Lake. It is the ideal place for a summer swim. You might even run across ethnic Yao boys and girls singing to each other here.
Information accuracy:
We try to make the information on China Travel accurate when we write/edit it. If you find any outdated information, please inform us.