Located in Zhaoping County, Hezhou City of Guangxi Province, Huangyao Ancient Town is renowned for its picturesque scenery and long history of over one-thousand-year. It is crowned as one of the China's 5 Most beautiful Water Towns and also called "Small Guilin", which makes it a popular tour destination among visitors at home and abroad.
History
Huangyao Ancient Town was founded during the Song Dynasty and reached its heyday during Emperor Qianlong Period of Qing Dynasty. It lies at the lower reaches of Li River. There are two main families live in the town: Families Huang and Yao. So the town is called Huangyao (黄姚).
Huangyao Ancient Town shares a total area of over 360,000 square meters. It lies in a river bend because locals believe it can prevent the Good Fortune from flowing away.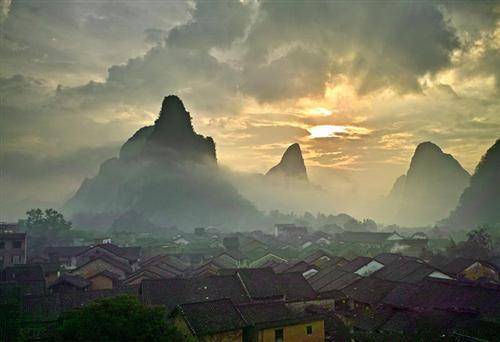 Beautiful Ancient Town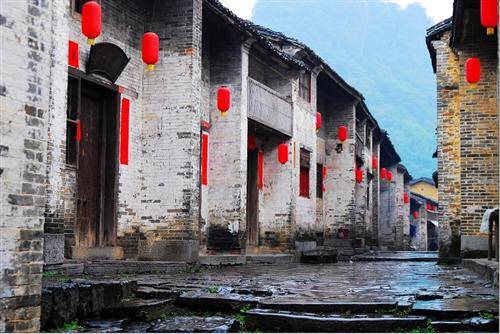 After Raining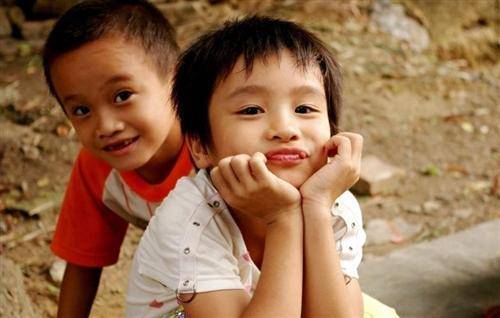 Kids in town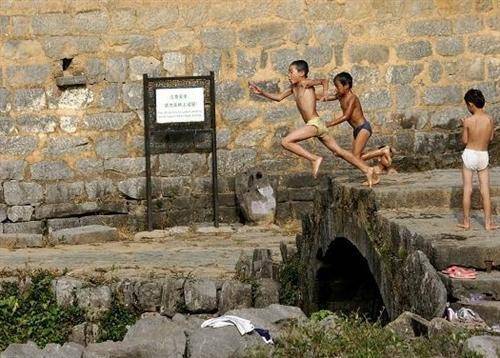 Swimming Time
Highlights
As one of the China's 5 Most Beautiful Water Town home to 600 families. Huangyao Ancient Town incorporates the natural attractions and cultural attractions perfectly. It is surrounded by steep karst mountains, which owe a number of caves open for exploration.
There are 8 flagstone-paved streets along by over 500 ancient buildings of Lingnan Style (South China architectural style). Taking a stroll at these old streets, visitors can find delicate temples, pavilions and drama stages as well as stone bridges along the streets.
There is a saying goes in Huangyao: "Mountains go with water, water goes with bridge, bridge goes with pavilion, pavilion goes with couplet, and couplet can not go without tablets." There are over 20 temples and 10 pavilions and pagodas of dynasties of Ming and Qing around the town. Beautiful tablets and couplets can be easily found on the walls or gates of the local buildings.
Wenming Pavilion
It is a small temple located at a hill for locals to worship the immoral beings. And there is a platform that locals using it to pray for rain. Visitors can enjoy an idyllic surroundings from the top of the hill.
Besides, there is a grassland along Wenming Pavilion where people usually get there to have a barbecue or firework party. And it is a nice place to enjoy the stars.
Kongming Cave
Located at the Sanbao Mount, Zhongdong Village, 8 kilometers from Huangyao Ancient Town, Kongming Cave is a magnificent cave full of beautiful stalactites, stalagmites and stone pillars. It is a priceless cave open for exploration.
Zhoujia Reservoir
It is a beautiful reservoir located around 3 kilometers away Huangyao Ancient Town where visitors can get there by local pedicab. There are free bamboo rafts that visitors can borrow one of them to float on the reservoir.
The Ancient Drama Stage
It is a delicate drama stage built during Ming Dynasty with a history of over 400 years. There will be wonderful performances performed by local artists, especially during the local traditional festivals such as Ghost Festival(the fourteenth day of the seventh month on Chinese lunar calendar) and Zhuang People's Song Festival(the third day of the third month on Chinese lunar calendar).
Local Delicacies
Huangyao Tofu is the most famous local dish. Huangyao Bean Sauce and stuffed tofu are popular among visitors. Huangyao Bean Sauce is used to flavor foods. Dumplings and roast sweet potatoes here are tasty.
Visitors can buy these dishes from the individual stall-keepers those who scattered on the streets throughout the town or at stores.
How to Get there
Visitors can take bus from Guilin Bus Station to Huangyao Ancient Town, which runs twice a day at 9:00 am and 13:30 pm respectively.
Tips
Market Hotel is the tallest building in Huangyao and is the best place to enjoy the town's panorama and the sunrise.
Huangyao people are warm-hearted and hospitable. Visitors are very likely to be invited to have dinner in their homes.
Opening Hours: 8:00 am-20:00
Ticket Price: RMB 68/person
Nearby Attractions
There are some wonderful scenic spots such as Gupo Mountain National Forest Park and Hezhou Hot Spring around Huangyao. Gupo Mountain National Forest Park is a nice holiday resort famous for its magnificent and grand scenery. While Hezhoou Hot Spring contains many minerals like zinc,iron and manganese etc those which are helpful in curing skin disease and rheumatism and boost blood circulation.
Solo Adventure Tips:
Location:

How to Get There?

Ticket Price:

Opening Hours:

More Tips:
★Tips: 1、Few hotels can be found in Huangyao Village. Among the few only one that is named Market Hotel is relatively known. It is the best place to overview the entire village and to view the morning son. The price is very cheap, only within 10 Yuan for each person. In holidays and festivals the price rises to about 15 Yuan. 2、Specialty in Huangyao is lobster sauce. The dish Lobster Sauce with Rib is very delicious. It sells 5 Yuan for three bags. Huangyao Bean Curd is the special cuisine of the local area, including Bean curd and brewed bean curd. Both are worthy of having a taste. 3、Apart from those, what needs to mention is that Huangyao people are warm-hearted and hospitable. You are very likely to be invited to have dinner in their homes if you chat with them for a moment. You are to be invited at any time, from breakfast, lunch to super, and for any food, from snacks like red potato, porridge, rice noodles, and rice cake to dinner dishes. If you are determined to have a try of the rural dinner, you'd better bring and send them some small gifts, or you can buy them some fruits. 4、You'd better engage a local tourist guide, 30 Yuan for two hours, because there are many antiques and folk stories that need to be expatiated. 5、Thousands of egrets fly to Huangyao every autumn, which is magnificent. 6、Since Huangyao Village is so beautiful, it is an ideal place for photographers to shoot pictures there.
Information accuracy:
We try to make the information on China Travel accurate when we write/edit it. If you find any outdated information, please inform us.