Yuanyang Rice Terraces is unique rice field that often looks like belt-shaped, long and narrow. It is located southern slopes of the Ailao Mountain in Yuanyang County, south of Yunnan Province. It is a popular destination with photographers due to its picturesque terraced rice areas and idyllic scenery.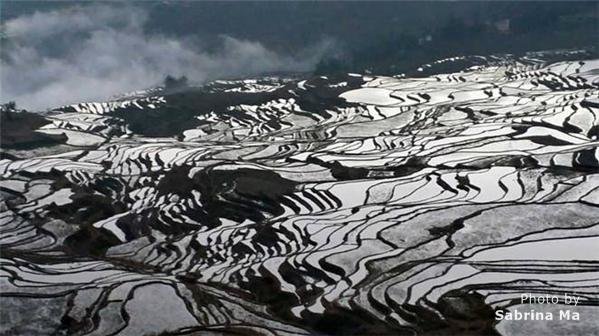 Every year in the storage period, nearly 1800,000 mu (1,000,000 acres) of paddy rice terraces look like thousands of mirrors of different sizes, which change with reflections and shadows, forming overwhelming scenery continuously.
Introduction to Yuanyang Rice Terraces
Hani Rice Terraces is regarded as "The Sculpture of the Land". People living here are mainly Hani minority. These terraced rice fields, like ladders, were built in mountains by the Hani minority for centuries. These rice terraces have a history of over 1,300 years.
Honghe Hani Rice Terraces is absolutely a masterpiece of the Hani people. It has been being officially acknowledged by UNESCO as a World Cultural and Natural Heritage site. With an area of more than 170,000 mu (9,444 acres), Yuanyang Rice Terraces is widely regarded as the core scenic spot of Hani Rice Terraces.
Yuanyang Rice Terraces, the splendid stretch of constructed wetland was still in obscurity and few people from outside world knew it. Travelers can easily find that the rice terraces are natural and primitive.
Taking a mountain slope as an example, from the valley over 300 m above sea level to the summit with an elevation of 2,000 m, the rice terraces of this mountain slope are composed of over 3,700 steps at most. Travelers can easily find that some terraces are as small as table while some are even 2 acres.
Yuanyang County is mountainous. There are rare farmlands for locals to cultivate crops for making a living. Honghe Hani Rice Terraces is built on the hillsides from the bottom of mountains to the top with a slope varying from 15 degrees to 75 degrees. Rice terraces show the Hani people try their best to make a better use of the limited land resources.
Attractions
Honghe Hani Rice Terraces is magnificent and grand. It stretches to a lot of towns alongside the south bank of the Red River, such as Yuanyang County, Lvchun County and Jinping County etc. Honghe Hani Rice Terraces is divided into three major scenic areas: Duoyishu Scenic Area, Bada Scenic Area and Laohuzui (Tiger Mouth) Scenic Area.
Bada Scenic Spot
It commands a broad view of Yuanyang Rice Terraces. And it is the largest scenic area among Yuanyang Terraced Fields and the best place to photograph the sunset scenery and the cloud hanged over terraces. The main terraced rice fields here include Quanfuzhuang, Mashu Village, Bada, Shangmadian and other scenic spots with a total area of more than 950 hectares.
Laohuzui Scenic Spot
It is regarded as the most typical rice terrace with its steep terrain and grand. It looks like the Chinese ink painting painted by the greatest artist. The rice terraces look like thousands of horses galloping over fields with a total area of 850 hectares. It is the typical one of "The Sculpture of the Land".
Duoyishu Scenic Spot
It is the best to photograph the sunrise scenery. The main rice terraces here include Huangcaoling, Pugao Old Village and Duoyishu etc with a total area of over 650 hectares. The sunrise is beautiful. The changing color of water during the early morning sunrise reflects the trees, cloud and sky perfectly, which makes it a overwhelming place to enjoy sunrise scenery.
Legend of Hani Minority
The terraced rice fields are a nonverbal epic that showing the ancestors of Hani people fight against under the pressure of nature and society. According to a legend of Hani Minority named "The Legend of Heaven, Earth, Human", the universe and the first couple were created by Dayu.
The man named Zhita while the woman named Tapo.
Tapo had 22 children and the third child is a dragon and finally become the King Dragon of ocean. The King Dragon sent three things to Tapo, his mother for the love and care Tapo gave him. One of the three things is rice seed. In other words, the Hani people hold that there is rice seed when the earth was formed.
The Four Unique Features of Yuanyang Rice Terraces
The first feature is that the terraced rice fields are on a large-scale. A variety of terraces stretch on hillsides and most rice terraces fields are with an area of thousands of acres. Secondly, the terrain here is steep, with a slope varying from 15 degrees to 75 degrees. Thirdly, the terraces are built at high hillside. The highest terraced rice field rise by 3,000 steps, which is rare seen both at home and abroad. Fourthly, the terraces range at an elevation from 10 meters to 2,000 meters.
The Ecosystem of Yuanyang Rice Terraces
Water has remained the lifeblood for Yuanyang Rice Terraces, while trees/forests enjoy a holy and high status. Paddy fields can't work without water all the year round. Hani Rice Terraces have existed for more than 1,300 years, with the depth of water raging from 20 to 25cm.
The mountain tops forests stretch on the top of Hani villages, while lots of picturesque terraced rice fields locate below villages. The forests provide water and wood, while the terraced rice fields provided the basic conditions, like food, for Hani people to survive and develop.
In the middle of the villages are a cluster of mushroom-shaped cottages that make the villages full of vigor. The rivers, forests, villages and terraced rice fields forms a sustainable ecosystem, which people live in harmony with nature. It is the beautiful homeland that Hani people have lived for thousands of years.
Irrigation System
Yuanyang Rice Terraces are constructed wetland, which unlike other wetlands. It is located in the hinterland of Ailao Mountains with inconvenient transportation. The traditional farming system is currently well-preserved and robust. The forests on the mountains tops are the lifeblood of the rice fields in seizing and sustaining water that needed for the irrigation.
Folk Customs
The Long Street Banquet
Angmatu in local language, also called the Hani New Year, is the most important festival for Hani people. It comes every year after the autumn harvest. On the day, there will be a big banquet in the center of the main street. The banquet called Long Street Banquet for the tables are laid end to end without a gap along the street like a long dragon.
Long Street Banquet is held in Hani village once a year. All people are dressed up with their traditional costumes. During the banquet, there will be singing and dancing performances performed by local performers around the stage. People have fun and drink in turn. It shows the cultural features of Hani people. Travelers are welcome to join in.
Traditional Wedding Ceremony
The wedding ceremony here is both simple and unique. In the early morning, the newly-married couple will come to the farmland to work. The wife will help her husband do some auxiliary work. After doing some work repeatedly several times, the mother in-law of the wife will take out glutinous rice from a pack basket and distribute it to all people around farmland.
The wedding ceremony is finally ended when people finished the glutinous rice and go home. It is the marriage custom that peculiar to Hani people. This ritual indicating that the wife and her family's following life will be focused on the rice terraces.
Market days here is very colorful when different nationalities like Yi, Hani, Miao and Dai people each in their traditional costume come together to do business and communicate.
Local Delicacies
Paddy Fish Fried in Fermented Soya Beans
It's pungent and a little bit spicy. The fish are caught from rice terraces. When Hani people transplant seedlings, they put fish fries into rice terraces at the same time. When paddies ripen, the fish is caught. So the fish also named Paddy Fish. It is known for its sweet and nutritious meat.
Snails of Hani Style
The snails here are meaty and big. Cooked with ginger, shallot and chilli, the finished dish is pungent, spicy and very delicious.
Tips
The best time to enjoy the beautiful scenery of Hani Rice Terraces is from November to the following April, which the rice terraces having no paddies. It looks like thousands of mirrors shining.
It is a little bit cooler in morning and evening. But the sun is strong at noon. Pay attention to sun-proof and it will be better to take a jacket. If one wants to have a better understanding of Hani Culture or just want to enjoy the idyllic surroundings, it is no matter how long he wants to stay here.
People here are friendly and hospitable. But please bear in mind that respects local folk customs.
Transportation
There are buses run day and night from Kunming Bus Terminal to Yuanyang County. When arrive at Yuanyang County, travelers can find the non-stop bus to the rice terraces. Taking a stroll or bike at the rural roads also can enjoy the splendid rice terraces and the real tranquil of Hani villages.
From Kunming South Bus Station: There are several buses from Gejiu City to Yuanyang County. Get to Gejiu City about RMB 80 and it takes about 4-5hours. Then take a bus from Gejiu to Yuanyang New Town about RMB 20, which taking 1 hour. The buses to Gejiu City Departure are from Kunming Eact Bus Station.
And there are at least two buses everyday departure from Kunming South Bus Station to Yuanyang County, which the first leaving at 10:30 and other ones at 13:00. It takes about 7hours to get access to Yuanyang Rice Terraces, which costing about RMB 150.
Accommodation
There are many hotels along the streets in Xinjie Town, Yuanyang County. Visitors can stay at these comfortable and not expensive local hotels. And also there are small hotels lie in Hani villages, which are full of folk customs.
Solo Adventure Tips:
Location:

How to Get There?
There is a special bus line to the Terraced Fields at the Yuanyang Bus Station.
Ticket Price:

Opening Hours:
24 hours
More Tips:
Recommended Travelling Time: One day
Information accuracy:
We try to make the information on China Travel accurate when we write/edit it. If you find any outdated information, please inform us.