The rimed trees in Jilin are commonly called snow willows. From late November to early March, ice crystals form on the trees along the Songhua River (about 50km).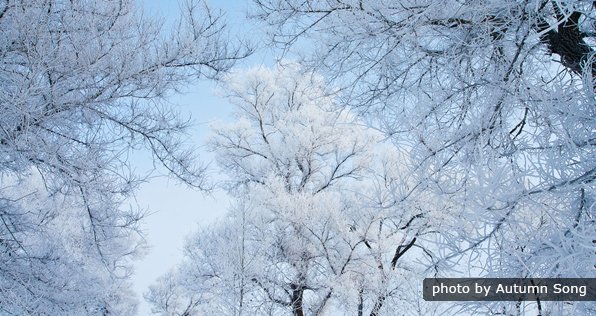 How rime materializes?
Cold climate, sufficient moisture and clear sky are conditions for rime to occur. It often happens on mountain slopes and river valley. Jinlin is an ideal place for the rimed trees formation.
The Songhua River keeps flowing through Jilin despite the subfreezing temperature, and the vapor rising from the surface of the river freezes when it meets the pines and willows ashore. Thus encrusted with layers upon layer of ice, the tree branches and twigs look transparent and form a spectacular crystal world that never fails to attract visitors.
When to see rime?
From December to February, Jinlin celebrates this phenomenon each year with the Jinlin International Rime Ice and Snow Festival. Rime most appears in January. What makes Jilin Rimed Trees different from other natural wonders is its unpredictability. The coming and leaving of the rimed trees are all silently and quietly without any foreboding. Even in January, the sightings of rime are not guaranteed, which only appears for an average of 9 days.
By late morning, the rime begins to melt. So, spot rime in the early morning before 7 a.m.
How is the rime like?
Rime is opaque and pure white, unlike ice or frost's transparence. It looks like snow, but far more dedicate. Whenever the rime come, the ten mile long bank of Songhua River appears a landscape as: the willows are full of silver flower and the chrysanthemum is hanging on the pine trees which bring people into a beautiful fairyland.
Tips:
Jinlin's local news stations give daily rime reports during the peak season. Listening to the radio, you can find the best places to spot rime that day.
If you are a rime chaser or just want to see this natural wonder, you can contact us to customize a tour meeting your requirements.
You may also like Harbin Snow and Ice Sculpture Festival.
Solo Adventure Tips:
Location:

How to Get There?
If you start from the train station, you can take No.3 bus to get off at Jiangcheng Square, and then walk for a while to get there. If you start from the bus station, walk out of the station to turn left, and walk along the road till the crossroad, go across it, you can find the Taoyuan Square. There are many buses to pass by Jiangcheng, you can take any of them to get off at Jiangcheng Square.
Ticket Price:

Opening Hours:

More Tips:
1. Beat travel time: December, January, February 2. Jilin Rimed Trees Hotel is located in the North Country Jiangcheng which is adjacent to Longtan Mountain in the east, Songhua River in the west. You can appreciate the beautiful river and willow in winter and the extending the green mountain here. With its convenient transportation and predominant geographical position, the hotel is the only four star level tour hotel in Jilin