Songhua Lake Ski Resort in Jilin City is a famous ski spot in China. It lies along the Songhua Lake and against the foot of Qing Mountain which is 20 miles southeast of the Jilin city. It covers an area of 35 0000 square meters. Construction of the ski resort began in 1965 and finished in 1982. Songhua Lake Ski Resort held China's Sixth Winter Sports Competition. The freezing season in the resort can last for 150 days with little pollution, adequate snow and stable atmospheric pressure. The moisture which evaporates from the freezing-free Songhua Jiang River is blown to the Qing Mountain region and become snow after meeting cold air. Therefore, the resort is covered with a new layer if snow every single day. The snow in the middle of the Mountain can accumulate to more than 1 meter. The skiing starts at 8 am to 3pm.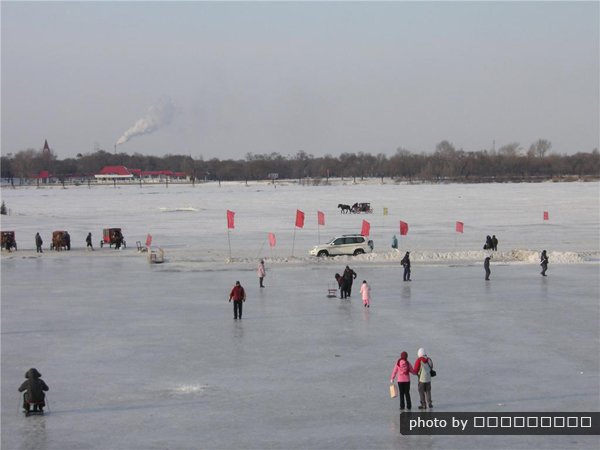 Songhua Lake Ski Resort now possesses a 3000-odd meters long, 50- meter wide ski run. The highest slope is 32 degrees and the average slope is 15 degrees. The ski resort is favored by athletes for its straight run, long length, and low slope wide scope. There also exists a cross-country trail, half of which stretches into the forest. Both of the trails meet the national requirement of holding competition. In 1986, a diving tower is built according to the international standard. From 1981 to 1986, three cables are established. No.1 cable totals 1776 meters long and possess 80 seats. It can travel at a speed of 1.6 meters per second. Consequently, it will only take 15 minutes to get to the mountain peak. Apart from that, mini-trails are in place to serve the beginners.
Solo Adventure Tips:
Location:

It is located in the Songhua Lake area, 20 kilometers away from JIlin City.
How to Get There?

At Chalu xiang Bus Station which is near Jilin city's railway station, special bus will take you to Songhua Lake Ski Resort for 20 yuan.
Ticket Price:

Entrance ticket price: 10 yuan/per person,
skiing 25 yuan/per person
Cable 10 yuan/per person
Snow motor 50 yuan/per person
Plow driven by dogs: 5 yuan/per person
Plow driven by horses: 6 yuan/ per person.
Snow sled: 10 yuan/person (30 yuan/ the whole day);
Coach Guidance: 30-60 yuan
Opening Hours:

More Tips:

Information accuracy:
We try to make the information on China Travel accurate when we write/edit it. If you find any outdated information, please inform us.