Dadieshui Waterfall is also called "Flying Dragon Waterfall" which is the tributary of Nanpan River. It is one of the most biggest and famous waterfall in China. Dadieshui Waterfall is about 90 meters high and 30 meters wide. And when it stands its full water capacity, it could reach the width of 60 meters at least.
During the dry season, the waterfall seems to be covered by a piece of misty gauze, full of mystery.While during the rainy season, the water pours down with great velocity, sending out a thunderous noise audible for several kilometers like a howling dragon, whose sound shocks the whole valley. In the sunshine, colorful rainbows often appear. These colorful rainbows, jagged rocks, the sparkled water, and the mountains associate a picture which is so beautiful and spectacular.
The pool under the waterfall is clear and shining that many people like disporting here very much. All in all, Dadieshui Waterfall is a ideal place for people to relax.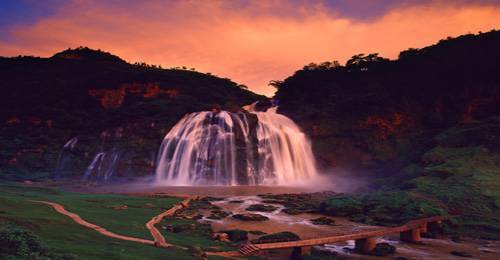 Dadieshui Waterfall
Solo Adventure Tips:
Location:

The Dadeshui Waterfall Scene Areas located at 18.5 kilometers southwest of the Silin county and 27kilometers from the Major and Minor Stone Forests.
How to Get There?

It will cost visitors 2 hours to come and fro between Dadieshui Waterfall and Shilin county by taking special tourist cars .
Ticket Price:

18RMB
Opening Hours:

whole day
More Tips:

It is very safe, conviniect, enjoyable and confortable to take cable car to have panoramic view of Dadieshui Waterfall. It costs 15 yuan for single trip and 20 for double trips yet. walking down the stone steps digging along the hill is also a good choice to lead to the destination.
Accommodation: The Dadieshui Waterfall Scenic Area provides perfect services and tourism facilities with shops and restaurants.
Information accuracy:
We try to make the information on China Travel accurate when we write/edit it. If you find any outdated information, please inform us.