Kunming Local Products:
The handcraft products in Kunming is delicate and special, such the Glass Painting and Woodcarving. Besides the Kunming wild mushroom and Yunnan Tobacco are also good gifts for friends.
Xuanwei Ham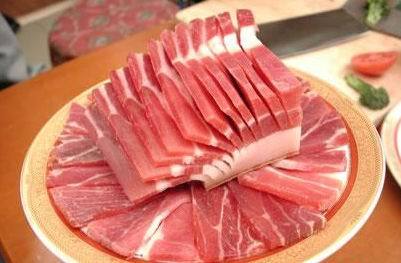 Produced in Xuanwei County in northeast Yunnan, the ham, also called Yunnan Ham, is fresh and delicious, with thin skin and thick fresh. The ham used to be packaged in cans. Nowadays the cut slices are sold in plastic wrappers, and the other parts are sold in plastic bags, box, bamboo tube or bottle. You can fry, cook, decoct, or braise the ham and make a very delicious dish. As a rule, Xuanwei ham is processed during winter. Select the best pork leg and press out the blood completely. Rub it
Yunnan Tobacco

Yunnan tobacco is a high quality tobacco quite popular among the cigarette smokers in China. In Yunnan, there are 16 tobacco brands, altogether 21 kinds of tobacco products, including Yunyan, Hongtashan, Ashima, Shilin, Gonghexinxi, Hongmei, and so on. Yunnan is the hometown of Chinese tobacco. Yunnan tobacco has been highly applauded for its golden color, fragrant aroma, mild effect and pure taste. Yunnan tobacco has been exported and applied as raw materials in 84 tobacco factories outs
Yunnan Go (weiqi) Chess Sets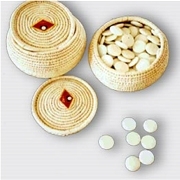 Yunnan Go Chess, abbreviated as Yun Chess (Yun stands for Yunnan), is a treasure of the go chess lovers at home and abroad. It was originally produced in a place located in Yongcang Prefecture (now Baoshan Prefecture in Yunnan Province), so it is also called Yong Chess. It has a history of more than five hundred years. In both Ming (1368-1644) and Qing (1616-1911) dynasties, it was a tribute to the Emperors. The white chess is as pure as jade while the black one is as black as agate. The
Glass Painting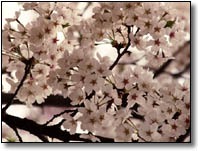 Kunming glass painting refers to the painting done on the reverse side of a sheet of glass by adding details to a designed pattern. The glass painters use the painting skills of traditional Chinese painting, canvas and gouache to paint the sceneries of mountains and rivers, places of historic interest, birds, animals, fish, rare flowers and grasses. After the painting is done, a layer of gloss varnish is used to coat the painting without affecting the transparency and the depth of color. Kunmi
Jewels And Jades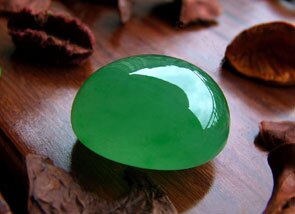 In Yunnan, there are many master jewels and jade carvers. They carved the jades, mainly from Myanmar, into ring decorations, bracelet, necklace, and other things in the form of chicken heart, horse eye, silver ingot (used as money in ancient China), lantern and flowers. They also carved the jades into eight treasure (ba bao) pieces symbolizing happiness (Fu in Chinese), wealth (lu), longevity (shou), auspiciousness (xi). They carve 9 Buddhist statues symbolizing longevity and wealth. They also
Ganba Mushroom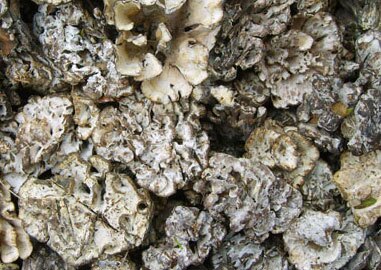 Ganba Mushrooms are the rare wild edible fungus that can only be found in Yunnan. Ganba Mushrooms grow in the pine tree forests in central and west Yunnan. The mushrooms look ordinary, but they taste very delicious. They can be fried with green peppers or eggs. The price for 1 kilogram of fresh Ganba Mushrooms is about 100 yuan.
Woodcarving Craftwork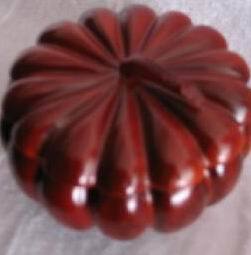 Yunnan people are famous and gifted wood carvers. They create a wide range of wood items in the form of animals, birds, human portraits or other craftwork out of the fine teak wood. The craftworks look very primitive and special. If you like them, you can buy some to take home and use them as adornments in the room.
Spotted Bronze Craftwork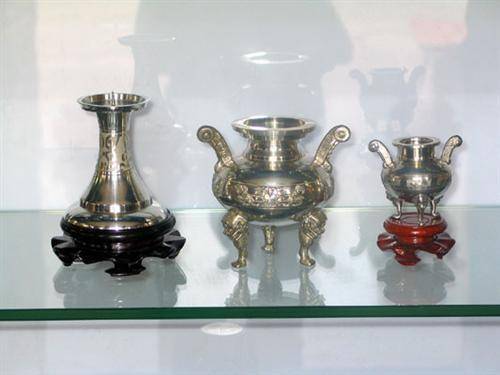 The spotted bronze craftworks are made of the spotted bronze of mixed bronze and other metals by special techniques dating back hundreds of years. Some typical spotted bronze craftworks include the bronze ox, tiger, peacock and the fighting tiger and elephant. They are very vivid.
Kunming Shops and Stores:
Shopping is really convenient in Kunming because there are many shopping malls, department stores, supermarket and exclusive agencies. Qingnianlu Commercial Street, Zhengyilu Shopping Street and Dongfenglu Commercial Street are the best places for shopping.
Night Market In Kunming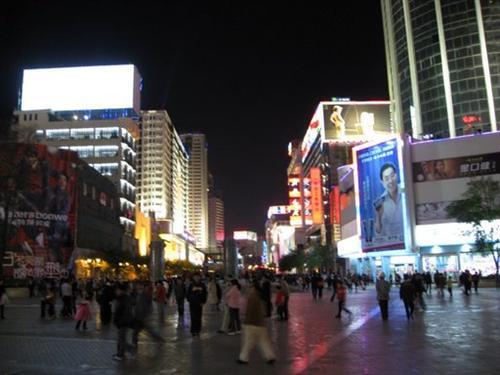 Kundu is on the intersection of Guofang Road and Xinwen Road, Wuhua District (right beside the Yunnan University). Eating and entertaining around the the center of Kunming are the main pleasure after dark in Kunming. For those people who is enthusiastic about nightlife, Kundu Night Market will be the most wonderful place where dining, tourism, shopping as well as cultural places are concentrated. Here you can find teahouses, coffee shops, Internet bars, local snacks and so on, which serve different
Zhengyi Road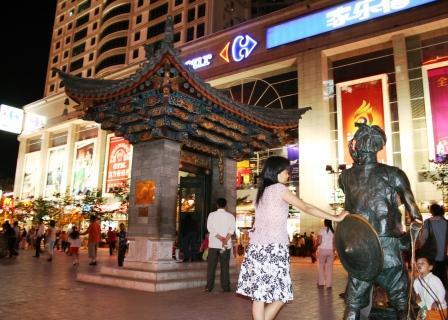 With the length of almost a thousand-meter, Zhengyi Road, in the center of Kunming, consistes of four commercial districts, namely, Wenming District, Weiyuan District, Xiangyun District, and Shuncheng District. This commercial center with some facilities for leisure and entertainment gathered there plays the roles as entertainment center, business center, relaxation center, shopping center, stores center, and supper markets center. Modern retail stores,several hypermarkets and supermarket chains,
Luosiwan Retail Market
Luosiwan retail market, familiar to Kunming people and many visitors , is located on the crossroads of Xichang Road and Haigeng Road, Yunfang commercial district in Kunming. Luosiwan retail market has been planed rationally and developed well since September, 1989. Household products and daily necessities can be easily found and bought at low prices in the Luosiwan retail market. In this street, various kinds of household appliances and delicate ornaments, toys, clothes, shoes, etc..are sold.
You might also be interested in:
Recommended Tours:
Top Things to Do in Kunming
Travel Confidently with Us

10,000 Satisfied Customers

50 Years in China Travel Industry

Quick Response within 24 hours

Secured Online Payment

Group Tours with Solo Adventure

No Hidden Fees and No Traps