Kunming Transport
Last updated by david at 2015/11/4
The Kunming Changshui Airport is a fairly new airport built in Kunming City, China. It officially began its operations on June 28, 2012. It is also known as Kunming New Airport.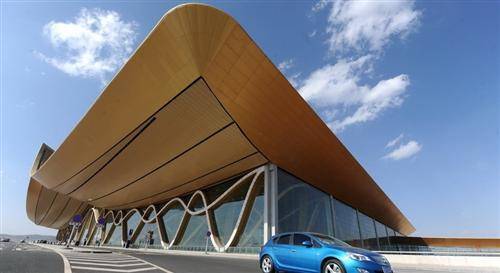 Kunming Changshui International Airport
Address: Changshui Village, Guangdu District, in the northeastern Kunming City
Chinese address: 昆明市官渡区长水村
IATA Code: KMG
Telephone no.: 0871-7116114/0871-7114277
Flight inquiry hotline: 0871-96566
More details about Kunming Changshui Airport
Kunming Railway
There are two railway stations in Kunming , the Southern Railway Station (the main railway station, also called Nanyao Railway Station) and the Northern Railway Station. The southern Railway Station is located at the southern end of the Chinese trunk railways. Three railways, Chengdu -Kunming, Nanning (in Guangxi )-Kunming and Guiyang (in Guizhou ), connect Yunnan with other provinces in China. The railways within the province lead from Kunming to Hekou, Yuxi and Dali. One railway, Yunnan-Vietnam Railway, leads to Vietnam. The terrain in Yunnan is complicated, so the trains are slower in Yunnan than in other parts of China. Tourists can appreciate the scenes along the railroad, which adds to the fun of the trip.
The enquiry telephone for the information of Kunming railway transport: 9630566666
Southern Railway Station (Nanyao Railway Station)
The Southern Railway Station is 4 km from the city center. A 10-yuan taxi ride that takes 15 minutes. No. 68, 80, and 23 buses run to the railway station, too. The cost is 1 yuan.
Trains leave for Dali and Yuxi everyday. Most Hotels in Kunming offer railway ticket booking services. The main railway ticket office is situated at No. 19, Kunshi Road. Tourists can book tickets in advance (8 days at most). The office hours are: 8:00-17:30. Yunnan tourist trains: Kunming to Shilin (Number 202): 8:28am-9:55am Returning (Number 201): 3:20-4:47 (20 yuan for a one-way ticket and 30 yuan for a round-trip ticket); Kunming to Dali (Number 213): 10:10pm-6:45am Returning (214): 7:42am-10:50pm (50 yuan for a hard seat ticket and 85 for a hard sleeper middle bunk); Kunming to Yuxi (Train 208): 5:48pm-7:58pm Returning (Train 207): 10:54am-8:31am. Telephone: 0871-3145495
Northern Railway Station
The station is 3 km from the city center; a 10-15 yuan taxi ride that takes 10 yuan. Tourists can also go there by bus (No. 25, 64 and 78 run to the railway station).
The railway leading from Northern Kunming Railway Station to Hekou, the frontier city in Yunnan, is a narrow gauge railway. It also extends to Vietnam. That is one of the so-called "eighteen oddities in Yunnan"-Trains go abroad but not inland. A narrow railway from Kunming to Hanoi in Vietnam was built at the end of the Qing Dynasty (1616-1911) by the French. Up till that time there was no domestic railway in Yunnan. Of course this is no longer the case.
Telephone: 0871-5172522
Kunming City Transport
Kunming boasts a convenient highroad network. The high roads are not only connected with the road network of China, but also stretch to Vietnam and Burma. There are several bus stations in Kunming. The following ones are some of the well-equipped and well-managed bus stations there.
The South Bus Station
The South Bus Station is directly opposite to Nanyao Railway Station on Beijing Road. Buses start for various places in Yunnan . The station is undoubtedly the first choice of many tourists because it provides good service and is managed well. This bus station offers bus routes to most regional destinations. There are two classes of bus generally available here: the cheaper Regular and the faster and more luxurious Gaokuai (literally "Highway Express").
Address: No.24, Nanduan, Beijing Road, Kunming
Telephone: 0871-3544574
Dongju Bus Station:
Address: 65, Dongjiao Road
Telephone: 0871-3340594
Xiyuan Bus Station:
Address: near Xiyuan Overpass, Liangjiahe, Kunming
Telephone: 0871-8217331
West Bus Station, Kunming
Address: near the overpass near the West Railway Station, Kunming
Telephone: 08715326258
The North Bus Station
Address: near Fumin Hotel near North Railway Staion, Kunming
Telephone: 0871-5717302
The East Bus Station
Address: Jinma Temple, Kunming
Telephone: 0871-3820484
Tips:
It is convenient to take buses at the square in front of Kunming Railway Station. Although these buses are not scheduled, they run to every part in Yunnan. Most of the buses are ordinary ones, so they are cheaper. These buses stop on request. It costs 20 yuan and takes about 4 hours to get to the Stone Forest. And the tourists are usually asked to buy a round-trip ticket. Therefore, if you are going to stay in the Stone Forest during the night, please tell them that.
Bus
The buses in Kunming do not have any conductors. Passengers pay by inserting one yuan (That's the fare for public buses throughout Kunming) into the slot of the fare-collecting box at the door of the bus. No. 5 and No. 3 buses run from south to north through Dongfeng Road and Beijing Road, the busiest streets in Kunming. Dongfeng Square, which is at the center of the city, is a place for people to transfer buses. If people want to go sightseeing in the suburb, they go to the bus stations situated at the four ends of the city (east, south, west and north) and change the scheduled buses to the suburb. Tourists should know where the scenic spot is located, and then go to the corresponding bus station to change bus. For example, if the scenic spot is located in the east suburb, people should transfer at the East Bus Station.
Taxi
The taxis in Kunming are Santana, Jieta and Xiali (brand names of cars). Taxi fares for Santana and Jieta cars are 8 yuan for the first three km, and 1.8 yuan for each additional km. Fares for a Xiali car is 7 yuan for the first three km, and 1.6 yuan for each additional km. A 50% additional fee is charged if the distance exceeds 10 km. It is 9.6 yuan for the first three km, and 2.4 yuan for each additional km after 10:00 pm.
Supervision telephone: 0871-3312533
Tips:
In Kunming, there are always a pattern of animal and a number printed in the taxi. One kind of animal represents a special taxi company. Pay attention to what the animal is when you take the taxi. It will be very convenient to find the car if you happen to leave something on the taxi.
Car rental
Car rental is another option in Kunming. It costs 250 yuan (including the insurance expense for the car) per day to charter a Fukang car, or 300 yuan to charter a Santana car. The distance limit is 230 km, and 1 yuan for each of the additional km. Tourists should pay the road toll and the fuel needed. There are some cheaper cars. For example, Yueda-Kia (200 yuan per day) and Changhe (120 yuan per day). What's more, it is advisable to hire a driver when you rent the car. The cost is 50 yuan per day (not including the dinner and accommodation fee). If you hire a driver, you only have to deposit 500-1,000 yuan on the car. Otherwise, you should deposit at least 5,000 yuan. The driver can also work as the guide. Tourists should rent cars from the regular car renting companies.
Tips:
Foreign tourists should leave their ID cards and the ID card of one local person as a pledge when renting the cars. Foreign tourists should also show their International driving license, the ID card, and their passport. They should also get registered at the Transport Management Center.
Bicycle rental
It is convenient to rent bicycles in Kunming. There are bicycles for rent in Kunhu Hotel (44, Beijing Road, 0871-3133737) and Camelia Hotel (No 96, East Dong Feng Road, 0871-3163000). Generally it costs 2 yuan per hour or 15 yuan per day. Those who rent the bicycles should deposit 200 yuan for an old bicycle or 400 for a new one. Since Kunming is not so large a city, bicycling around it is convenient, economical and environmentally good. As more and more tourists are renting bicycles nowadays, it is necessary for you to telephone them beforehand. What's more, if you want to stop for a while when bicycling around, you'd better put the bicycle at a place where there are people taking are of bicycles. Otherwise, if you lose the bicycle, you can't take back your deposit.
Tips:
1. It is convenient to buy air tickets and train tickets in Kunming. You can go the ticket office and buy the tickets by yourselves. You can also telephone the travel agencies to reserve your tickets.
2. You should book your ticket in advance during the Water Splashing Festival (a major festival of the Dai nationality that comes about two weeks after Qingming Festival in early April) and the golden weeks [Golden weeks refer to the May Day holiday, the National Day holiday and the Spring Festival (January 1st of the lunar calendar) holiday, when Chinese people all have a week off. Many people go traveling or go hometown. Then it will be very crowded].
3. During the Spring Festival holiday, the fees for the long-distance buses rise for about 30%. Tourists should also choose to take those buses of the regular bus companies.
You might also be interested in:
Recommended Tours:
Top Things to Do in Kunming
Travel Confidently with Us

10,000 Satisfied Customers

50 Years in China Travel Industry

Quick Response within 24 hours

Secured Online Payment

Group Tours with Solo Adventure

No Hidden Fees and No Traps