Laibin Transport
Last updated by fabiowzgogo at 2016/3/23
In Laibin City you can go to Chongqing , Zhanjiang, Shanghai, Kunming, Nanning, Guilin, Beijing, and Guangdong by train.
Telephone of Laibin Railway Station:0772-6688222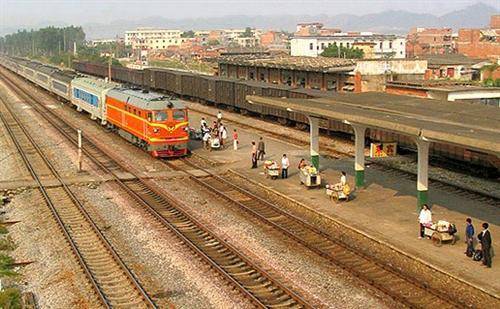 Laibin Railway Station
Laibin owns a special advantaged location. There are only 69 kilometers away from Liuzhou, an important industry city in China, 152 kilometers away from Nanning, the capital of Guangxi , and there are 78 kilometers Guilin -to-Beihai speedway section located in Xingbin County.
Telephone of Laibin Bus Station:0772-4214406
The Red River cross 11 towns in Laibin, and it is also a traffic hinge connecting central south China, southwest China and central China. By water you can reach Guizhou , Yunnan in the west, and Guangzhou , Hong Kong in the south.
Telephone of Laibin Water Way Management Center:0772-4250481
There are seven bus lines in Laibin City. Bus number 1 start from the railway station to Electricity Factory; Bus No. 2 from Square to Cai Village; Bus No. 3 from Square to Ertang; Bus No. 4 from Jianbin Market to Lianghao Jiang Town; Bus No. 5 from Pingxi to Putiang; Bus No. 6 from Square to Vocational Middle School; and Bus No. 7 from Square to Smelting Factory Garden.
You might also be interested in:
Top Things to Do in Laibin
Travel Confidently with Us

10,000 Satisfied Customers

50 Years in China Travel Industry

Quick Response within 24 hours

Secured Online Payment

Group Tours with Solo Adventure

No Hidden Fees and No Traps