Lishui Featured Food:
Huang Mi Guo
Firstly, a special frutex got from the mountain is burned to ash which is wrapped in a cloth; then the wrapped cloth with ash is put into the water and the ash water has formed; the sticky rice is dipped in the ash water for some time; later braise the clean sticky price which was smashed to conglobation in the stone mortar; then they are chopped into pieces; lastly they are pressed into flat and round or strip. The color is crystal and the taste is fragrant. Once it is stir-fried with greengrocery, pork, bamboo shoot, the taste is better. It is a kind of food to entertain honored guest or be used on the traditional festivals in Songyang County, Suichang County, Longquan County, Qingyuan County, Jingyuan County and so on.
Shan Fen Yuan
Composed of sweet potato faecula, dasheen, gravy of cooking chicken, dogmeat and seasoning, it is cooked in the steam box. It is chopped into pieces or bars when it is eaten. Now the sweet potato faecula is often used.
Mushroom Feast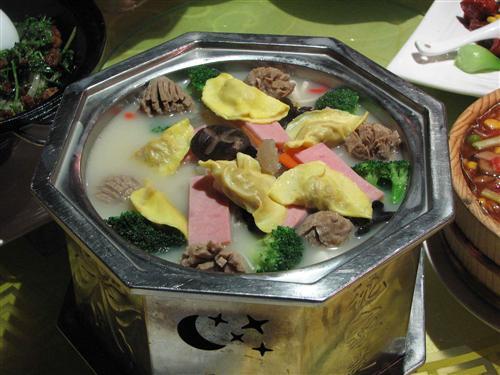 Taking edible mushroom and venison as main material, it is cooked in many ways, such as, frying, stir-frying, quick-frying, braising, and so on. It has more than two hundred kinds of tastes combining the pleasant fresh taste enjoyed by southern persons and .the salty and hot taste enjoyed by northern persons. It is high-grade in color, taste, appearance and is a kind of green food. It also has the efficacy to keep healthy.
Anren Salmon Head Chaffy Dish
Taking salmon head caught in the Asgard Lake near Anren Town of Longquan County as main material, it is cooked with farmhouse pickle, ginger, garlic, capsicum together. In the same way with the traditional chaffy dish, you can eat while it is braised. The taste is funny and it is also very interesting.
Yu Bao Xia Qiu
Taking Minced Fish, minced shrimp and Crab spawn as material, it was awarded the Golden Medal on the second Cate Festival of China due to its fresh taste, crisp appearance and tender inside.
Top Things to Do in Lishui
Travel Confidently with Us

10,000 Satisfied Customers

50 Years in China Travel Industry

Quick Response within 24 hours

Secured Online Payment

Group Tours with Solo Adventure

No Hidden Fees and No Traps