General Situation:
Located in the city center at the northern bank of Liujiang River, Marquis Liu Park is a national AAAA class tourist scenic spot. Founded in 1906, it is a place in commemoration of Liu Zongyuan, a famous thinker, writer and politician in Tang Dynasty, containing historic sites such as Marquis Liu Temple, Tomb of Liu Zongyuan's Clothes and Luo Pool etc. Through enlarging, remedying and adding, it has developed into a comprehensive cultural park occupying an area of 15.5 ha. It is divided into three scenic spots, namely, southern, northern and central ones. The south consists of cultural and historic sites, such as antiques of Tang and Song Dynasties and stone inscriptions of Ming and Qing Dynasties. Buildings of past dynasties blend into towering and old trees, smacking of antiquity. The center is an area for entertainment activities, including children's playground, artificial lake and zoo etc. Among them, the children's playground, with full items and new equipments, is the largest children's playground in the city. The north is a district of flowers and miniascapes. Located in the north of this part, the miniascape garden named "gathering water and hills" is not mannered at all though it is manmade, containing cloisters, water-side pavilions, clear pools, stone hills, lawns, streams, stone inscriptions, couplets and plaques, which is full of characteristics of Lingnan garden. Besides, Liu Zongyuan's Four Achievements Area has been newly built, northeastern slope of Yellow Mud Hill altered and various ornamental rocks of 550 ton lied around. Newly planted lawn covering over 2,000 sq. m and 230 plants of over 20 varieties as well as a group of newly built waterfalls in style of three layers in Yiqing Garden, form the beautiful scenery containing lawn, flowers, shrubs, ornamental rocks and overlapped water. In recent years, people have built human landscapes under the theme of Liu Zongyuan culture and held exhibitions of flower plastic, such as tulips and "golden fields" etc.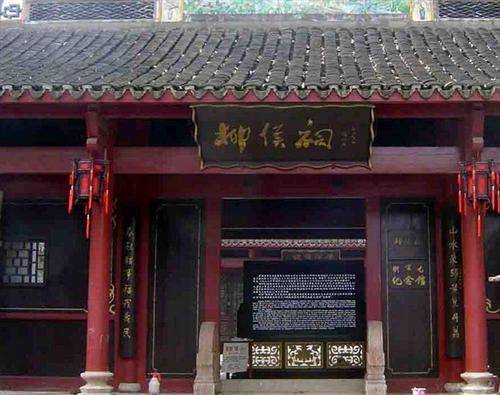 Liuhou Temple
Attractions:

Marquis Liu Temple
Liu Zongyuan, styled Zihou (A.D773-819), was from Hedong (presently Yuxiang Town, Yongji City, Shanxi Province). He was a council of the Ministry of Rites in Tang Dynasty, he was demoted because he participated in the political reform and failed it and lived in Liuzhou in his old age (A.D 815-819). During his stay in Liuzhou, he did many good deeds beneficial to the people. So, 3 years after his death, Luo Pool Temple was built for holding memorial ceremony for him. Meanwhile, Song Huizong posthumously offered him as "Wenhui Marquis" at the late North Song Dynasty, so the temple to memorize Liu Zongyuan is called Marquis Liu Temple. The present Liuhou Temple is rebuilt according to the construction features of Qing Dynasty, many cultural relic and historical materials are displayed in the temple, which describe his biographical notes and political achievements.
Litchi Stele
Hanyu, an eminent writer in Tang Dynasty, had ever composed a poem in memory of Liu Zongyuan, which was copied and engraved in a stele by Su Dongpo of Song Dynasty, which has a history of over 700 years. The name of "Litchi Stele" comes from the line of "litchis red and bananas yellow". Furthermore, since Hanyu, Su Dongpo and Liu Zongyuan are all members of "eight prose masters of the Tang-Song period", gathering poem of Hanyu, handwriting of Su Dongpo and story of Liu Zongyuan, litchi stele has the fame of "three unique treasures". Therefore, later generations also call this stele as San Jue (three unique treasures in Chinese) Stele.
Stone Inscription of Dragon City
There is a "Stone Inscription of Dragon City" displayed in the temple, fonts on which are the original handwriting of Liu Zongyuan. The stele was unearthed in the 3rd year of Tianqi period in Ming Dynasty (A.D 1623). A dagger was dug out together with the stele, so people also call it "Dagger-Engraved Stele". In 1933, Zhou Yaowen, a local person, sketched the existing "Stone Inscription of Dragon City" according to the book of rubbings handed down among the people. The third line of the temple is the main hall, where statue of Liu Zongyuan sitting in center, who is concentrating on a book, wearing brown kerchief and official dress and holding a brush in hand.
Citrus Pavilion

There is a six-angled pavilion on the left of Marquis Liu Temple, next to Luo Pool, and this is Citrus Pavilion. In those years, Liu Zongyuan had ever planted yellow citrus here and composed "Poem of Planting Citrus", which spread widely. Hence, people of later generations built this pavilion, green tiles blending into red poles, ornaments on the ridge highly sticking and elaborate windows decorated with beautiful flowers. The pavilion and sweet-scented osmanthus set each other off, which is considerably characteristic.

In Marquis Liu Park, there are also artificial lake, miniascape garden, rockeries, bowers, flexural bridges, cloisters and children's playground etc for people to relax and amuse themselves.
Solo Adventure Tips:
Location:

How to Get There?
It is accessible by bus No. 5, 6, 9, 12, 25 and 26.
Ticket Price:

Opening Hours:
Opening Hours:8:00-17:00
More Tips:
(1)People who are interested in ancient poems and stele inscription can go for a visit. (2)There are many small coffins made in Liuzhou wood sold as gifts in the park, which implies winning promotion and getting rich.
Information accuracy:
We try to make the information on China Travel accurate when we write/edit it. If you find any outdated information, please inform us.