Located in the north of Guangxi, 120 km away from Liuzhou, Rongshui Miao Autonomous County is the residence of many nationalities, including Miao, Yao, Dong, Zhuang and Han etc. It features green hills, clear water and abundant national customs. The picturesque scenery of Bei River and the Miao Villages alongside it, various Miao songs and dances, blood-and-thunder horse-fight, strange wedding customs, peculiar Miao Diaojiao Building, colorful minority costume and interesting minority meal etc form a beautiful picture of minority customs. The picturesque scenery of Miao mountains is composed by lofty Yuanbao Mountain, flourishing forest sea, waterfalls, deep pools and caves. The clear water of Bei River is accompanied by the iron chain bridge called "flying rainbow over Bai River" and sights, such as Longevity God Rock Temple and etc. It is a natural botanical and zoological garden, where people newly discovered more than 200 Guangxi Firs, a kind of relic plant of the fourth glacial stage and rare tree species. Next to Bai River Iron Chain Bridge 19 km away to the city, people newly built the first national tourist village in Sirong Town. Main roads in the village are made free, Lusheng and Douma Flats rebuilt and a wooden building of national features for reception newly built. The seventy families living in the village are all Miao Nationality, who keep strong Miao characteristics in customs, house-building, language and costume etc. Its unknown customs include Lusheng Caitang Dance, Mangge Dance, Lagu Dance, Toasting Dance, Horse-Fight, Horse Race and Bird-Fight.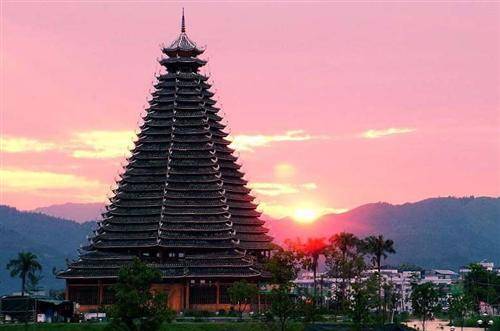 Rongshui Town
Solo Adventure Tips:
Location:

How to Get There?
You can take bus at Liuzhou bus station at the price of about 20RMB per person, there are many runs everyday.
Ticket Price:

Opening Hours:

More Tips:
(1)Please respect the national customs when touring in national districts. (2)Recommend you with Yubu Village, where Miao live in compact communities. Take bus to Xiangfen at the place 100 m on the left of Rongshui bus station, which takes 5RMB per person and 1.5 hours. Then, take motor, which takes 5RMB and 20 minutes, or charter a bus.
Information accuracy:
We try to make the information on China Travel accurate when we write/edit it. If you find any outdated information, please inform us.