As one of the most popular places to experience authentic Dong minority culture in China, every year millions and millions travelers are drawn by Sanjiang's charm. When visiting Sanjiang, below attractions are must-visit. More enjoyment will get if plus visiting Sanjiang county to Guilin trips.
No.1 Chengyang Wind and Rain Bridge
Back in the days, rainy and windy days in Sanjiang can be really dreadful. Dong people build up a particular bridge called Wind and Rain Bridge (程阳风雨桥) so that they will have a shelter during such nasty weather. There are a number of wind and rain bridges in Sanjiang and Chengyang Wind and Rain Bridge is the most famous one.
Dating back to 1916, the bridge has been renewed several times and now it is stretching over the Linxi River and it is the main gateway for residences living inside Chengyang Eight Villages. The bridge is also known as Yongji Bridge, Panlong Bridge. It is 64.4 meters (73.43 yards) at length, 3.4 meters (3.72 yards) at width and 10.6 meters (34.78 feet) at height.
Most of the bridge is constructed with stones and wood. On each of the 5 bridge piers, there's a wooden pavilion-shaped towers. Once walking inside the bridge, you can see every tower has its interior built like a small assembly hall. The walkway inside the bridge is paved with enormous flat flagstones and installed with wooden railings on the side.
Specialty
One remarkable thing about the bridge is no nail or rivet was used during construction. Almost every piece of stone and wood is jointed in dovetail. It has been standing over the river like an everlasting rainbow. It also symbolizes a dragon guarding the villages. All the Dong-style wind and rain bridges are built at downstream of a river. This act is believed to protect the villagers from losing good fortune as the river flows into their neighboring villages.
Location: Chengyang Wind and Rain Bridge, Chengyang, Sanjiang County, Liuzhou, Guangxi
Getting There: Take a coach to Chengyang at Hexi Bus Station in Sanjiang County and get off at Chengyang Bridge (about 1 hour)
Ticket: RMB60/Person for entrance (The ticket allows visitors to enter Chengyang Eight Villages via Chengyang Wind and Rain Bridge and plus an ethnic custom show)
No.2 Chengyang Eight Villages
Entering from Chengyang Wind and Rain Bridge, you will see these eight stockade villages (程阳八寨) have been living a self- sufficiency and self-preserved life for God-knows-how-long. Scattering on the area of over 12.55 km, eight villages of over 9,000 people are proud to keep their traditions alive a flourishing.
The eight villages are: Ma'an, Pingzhai, Yanzhai, Pingtan, Dongzhai, Chengyang Dazhai, Pingpu and Jichang. And Ma'an, Chengyang Dazhai, Pingyan and Pingzhai are closest to the main road and more open to outsiders.
Special Architectures
When walking into the complex of eight villages, visitors will not only see typical Dong-style stilt houses, but also some important gathering spots for the locals. In the center of the complex, you can see a huge Ma'an Drum Tower, located on the Ma'an Stage Square. As Linxi River flows into the villages, it also breeds the land and people and a pleasant view is presented as you walk through Huilong Bridge.
A singing and dancing show is on for four times a day at Pingzhai Stage Tower and the actors will invite tourists up to the stage for dance-along. On a clear day, it is rewarding to climb up Jing Mountain and take a bird's view at the villages. At the Tingye Tower at the top of Jing Mountain, you can see the Linxin River tenderly hugs the villages in her arms.
Unique Lifestyles
Besides the architectures, its bigger charm lies in the humble yet jovial lifestyles. You can see kids playing in the rivers as old grandmas are sun-bathing themselves at their doorsteps. On special festivals, people will dress up and pull out all the dining tables onto the roads, thus the famous Thousand-Family-Feast.
Location: Chengyang Eight Villages Scenic Area, Chengyang, Sanjiang County, Liuzhou
Getting There: Take a coach to Chengyang at Hexi Bus Station in Sanjiang County and get off at Chengyang Bridge (about 1 hour) and enter the villages
Admission: Free (covered in the ticket of Chengyang Wind and Rain Bridge)
No.3 Sanjiang Drum Tower
It is important for Dong people to build a drum tower inside their villages. The drum tower is a symbol of solidarity of people with the same family name. A big drum made of birch is stored up the top of the tower. In case of war, important celebrations or big events needing discussion, "Tou Ren" or the leader of the village will get up to the tower top and beat the drum loud enough for every villager to hear and get together in front of the drum tower.
During the Spring Festival, a grand singing and dance party will be held here. In ordinary days, the square in front of the tower is a place for people to hang out.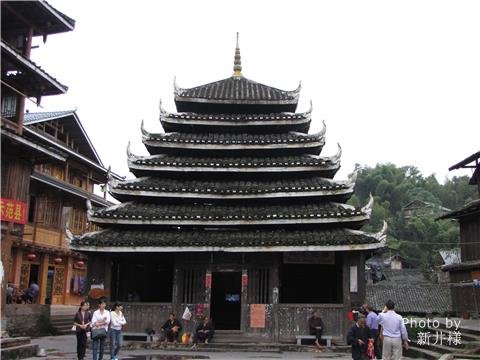 Sanjiang Drum Tower (三江鼓楼) was built in 2002 on the central square of Sanjiang county. The tower is 42.6m high and covers 600 square meters. Despite its short history, the tower itself stands up as an example for all Dong-style drum towers. The 27-storied tower has 60 pillars and 4 of them, the major supporting pillars, are made of cedars that are over 100 years old.
Viewed from the exterior, the tower looks like a wooden pyramid. Once inside, you will be amazed by the lively relief sculptures illustrating Dong people's daily life and important events, such as housewives weaving, cock fighting, making oil tea and antiphonal singing.
Walking on the stairs, you can climb up to 4 observation decks and the highest one is on the 25th floor, where a panoramic view of the town is beautifully presented. All the scenes carved on the sculptures will become live if you come during festivals.
Location: Center Square of Sanjiang County, Liuzhou
Getting There: Start from Hedong Bus Station, 60m along Xingyi Street and turn left and get to Guyi Bridge, cross the bride and walk along Furong Avenue for 310m and turn right to Dongxiang Avenue, walk along Dongxiang Avenue for 310m and turn right to Guangchang Nan Road and walk 200m to Sanjiang Drum Tower. (about 10minutes by taxi, RMB10)
Admission: RMB40/Person
NO. 4 Mapang Drum Tower
Mapang Drum Tower (马胖鼓楼) is located in Mapang Village of Bajiang Country, 26km from Sanjiang County. If you have more than 1 day in Sanjiang, the older and more rustic Mapang Drum Tower is something definitely worthy an-hour-drive.
The tower was built in 1943 and has become Guangxi's only drum tower under state protection in 1963. With 15 meters at height, square-sized and 11 meters at both width and length, the tower holds its legend of its architect Lei Wenxing. Lei was a brilliant Dong architect and at his 18th, he drew out the tower's draft on bamboo, without any blueprint or accurately calculated data.
The young and brave team of 12 architects managed to build up a 9-storied tower with no nails and rivets. Even nowadays, people will be awed by the perfect accuracy how the tenons conformed the mortise on the main supporting pillars from different angles.
A steeple decorated with a crane tops the tower. Inside the tower, 4 main supporting pillars structure a square and 24 pillars stand also firmly on the diagonals and sidelines. All the pillars are placed on giant bluestones with elaborate sculptures. The same as other drum towers, Mapang Drum Tower is also an assembly spot for grand events and occasions.
Location: Mapang Village, Bajiang Country, Sanjiang County, Liuzhou
Getting There: Take a bus from Hexi Bus Station and get off at Mapang Village, walk through the village for 10 minutes to get to the tower (Bus fee RMB10/Person, drive for about one hour)
Admission:Free
No.5 Danzhou Ancient Town
Amongst all the ancient towns in Guangxi, Danzhou Ancient Town (丹洲古镇) might not be the most famous one. Thanks to its isolation and out-of-way, it keeps the essence of an ancient town should have.
Brief Introduction
Danzhou Ancient Town is located to the south of Sanjiang County. It's 140km away from Liuzhou. The town is built up on an island surrounded by the Rong River, covering 239.61 km2 with 67.3% of the land forest. Home to Miao, Yao, Dong, Zhuang and Han nationalities, it has over 400 years of history dating back to the Ming Dynasty.
Boat Ride
Boat is the only means for entry. Some years back, local government proposed to build a bridge between the mainlands to the island. "There will be no Dan Zhou once the bridge is built", the local dwellers rejected the proposal with strong belief to keep their home a remote paradise.
After a boat ride, visitors will step onto the island densely covered with pomelo trees, which is the supporting industry here. During spring, pomelo blossom emanates a mind-easing aroma and autumn comes a harvest that is much joyful to your eyes and taste buds.
History
History can be traced upon the ancient ruins of city walls that were built during the Ming Dynasty. The 879-meter-long, 5.3-meter-high and 3.6-meter-thick wall had protected the town from wars and a severe flood in the Qing Dynasty. The best preserved part lies at the north gate. Here you can read some of the history carved on the steles. Another historical site is Danzhou Academy, present's elementary school . It was built in the late Ming Dynasty and an gateway for ordinary people to crack their way to higher class.
Location: Danzhou Island, Sanjiang County, Liuzhou
Getting There: Take bus from Liuzhou City Bus Station (3 hours and a half) or Sanjiang Bus Station (2 hours) and get off at Danzhou Pier and take a boat trip (RMB20/Person for 10 minutes).
Admission: Free (boat trip is RMB20/Person)
Solo Adventure Tips:
Location:

Sanjiang Autonomous County, Liuzhou City, Guangxi Zhuang Autonomous Region.
How to Get There?

Take a bus at Guilin Qintan Coach Station from Guilin City to Sanjiang County.
Ticket Price:

The bus fare is about 70 Yuan.
Opening Hours:

All day.
More Tips:

Two or three days will be enough to visit Sanjiang attractions and experience local culture.
Information accuracy:
We try to make the information on China Travel accurate when we write/edit it. If you find any outdated information, please inform us.