Longyan Local Products:
Yongteng Cane Ware
Yongfu County in Zhangping Town is a main origin of cane wares. Each family here is good at making cane wares, for which the county is called "Cane County". Bamboos and firs are used to make frames while Longxu cane, which is teemed with in Yongfu County is used to weave various forms of cane wares. For instance, there are about ten series of wares including cane chairs, cane desks, cane tea wares, cane cushions and so on. Each ware has a strong flavor, elegant style, lasting color and smooth touch, winning much and wide favor.
Changting Dry Bean Curd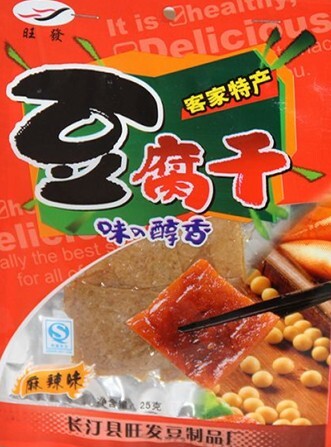 Changting Bean Curd tastes fresh and delicate. It is neither sour nor bitter and could be used to make various delicious food such as Dongpo bean curd, stewed bean curd, thin pancake, bean curd dumpling, quick-boiled bean curd ball, as well as Huizhou meat balls. They taste unique and never make you feel tired of them. The Changting dry bean curd, which tops all other seven kinds of dry food, is well-known at home and abroad for its delicate processing, special seasoning, unique flavor and fragrance.
Mingxi Dried Meat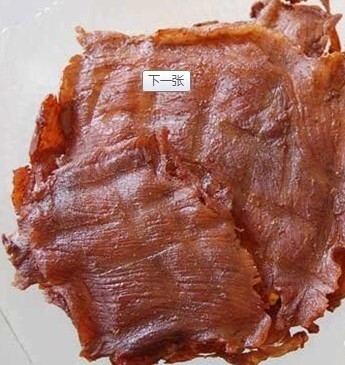 Mingxi dried meat is made of muscle beef, which is preserved in sauce made from flour and then added with seasonings like clove, fennel, cassia and sugar. The preserved muscle should be taken out a week later from the sauce, put up in ventilation for airing and then baked. The finished product is perfect in color, smell and taste. It is sweet and fragrant, and easy to chaw.
Wuping Dried Pig Gallbladder
Wuping dried pig gallbladder has a purple-brown color. It tastes sweet and fragrant as a famous cold dish for banquet. Wuping dried pig gallbladder contains many kinds of saccharide and vitamin, which is cool, antidotal and good for stomach. It should first be steamed and then covered with a layer of sesame oil; spread some slices of garlic when it became cool and then cut it into thin slices. After that you will smell the strong fragrance surrounding you.
Liancheng White Duck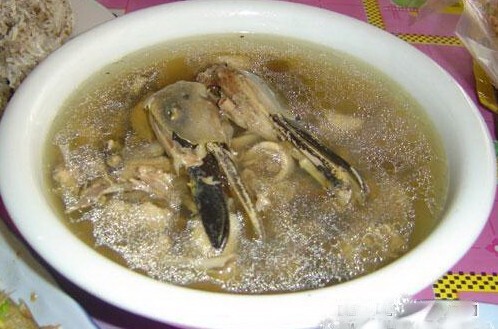 Early in Daoguang period, Qing dynasty Liancheng white duck was listed as an article for tribute. It is not only a delicious dish, but also of medical value. For instance, it is good at detoxification, getting rid of phlegm, improving kidney, soothing the nerves and stimulating the appetite. Therefore it is reputed as the only kind of duck for medical use nationally and has been listed as a nationally protected pest and bird resources.
Qingxi Dried Bamboo Shoot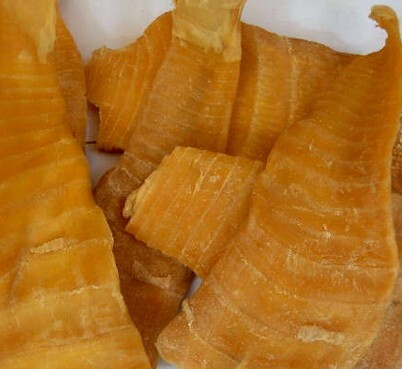 Qingxi dried bamboo Shoot is made of fresh bamboo shoot in spring and is called "Min Bamboo Shoot tip". It is golden yellow and translucent, famous for its crispness and sweetness. In Ming and Qing dynasties, Qingxi Dried Bamboo Shoot was listed as an article of tribute. Many famous dishes, like "Shredded Chicken and Cucumber", "Imperial Furnace-baked Meat", need to have the dried bamboo shoot as a seasoning.
Liancheng Dried Pachyrhizus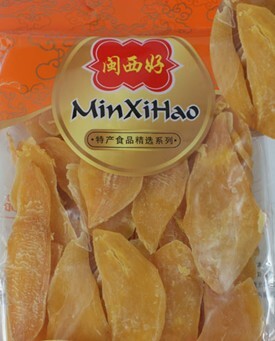 Dried Pachyrhizus is usual in many counties of Minxi, but Liancheng dried pachyrhizus is famous for its unique material and processing method. It is made of red pachyrhizus cultivated in places like Getian, Gechuan, Jiele, Daping, Liwu and Hongshan, so it is also called red dried pachyrhizus.
Ningha Dried (field) Mouse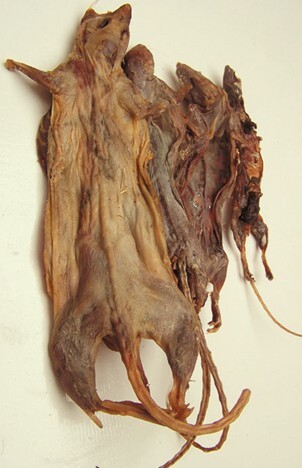 Ningha dried mouse is in fact made of the field mouse which is caught in field and then processed. The dried field mouse not only tastes good but also contains rich protein. It has some medical value, for instance, it can improve one's kidney and treat the bed-wetting habit of children with notable curative effect.
Shanghang Dried Turnip
Shanghang County is the major producing area of turnips in Minxi (west Fujian Province). There are red and white turnips produced in places like Shuinan, Zhangtan and Tupu in the suburb of the county. The turnips are fresh, crispy and sweet; the processed dry turnips taste delicate and sweet with a golden color and fragrance. It can be fried, cooked or stir-fried; the dried turnip could also be first soaked and then added with some white sugar and vinegar as a cold dish in a banquet.
Liancheng Rice Paper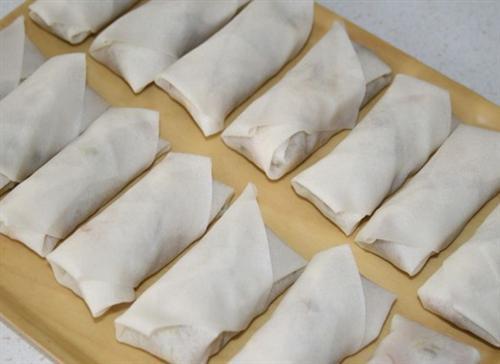 Liancheng Rice Paper was first exported in the period of Emperor Jiaqing, Qing dynasty. With rich local bamboo resources and unique craftwork, Liancheng rice paper is thin, white and strong in water-drinking. It has become a very good material for edition binding, printing, copying, painting, and upholstering.
Narcissus Tea Cake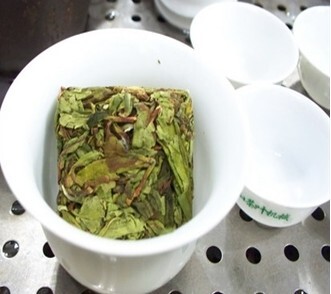 Zhangping narcissus tea cake, also called "Paper covered Tea", is a kind of famous tea in Fujian Province. It is represented by Shengjing narcissus tea cake, which has a square shape, a shining and black color, dark-brown juice, orchid fragrance and mellow taste. It is produced on high mountains without being polluted by any pesticide and is therefore a kind of green food.
Yongding Dried Vegetable
Yongding dried vegetable has a long history of over 4000 years. It is not only famous in and outside the province but is really popular among overseas Chinese in Nanyang. The master of Tiger Balm, Hu Wenhu, often asks his fellows to bring him the Yongding dried vegetable at his hometown.
Longyan Shops and Stores:
Top Things to Do in Longyan
Travel Confidently with Us

10,000 Satisfied Customers

50 Years in China Travel Industry

Quick Response within 24 hours

Secured Online Payment

Group Tours with Solo Adventure

No Hidden Fees and No Traps