Luzhou Travel Guide
Last updated by fabiowzgogo at 2017/6/19
Luzhou Overview
Luzhou Prefecture, a city in the southeastern part of Sichuan Province, can be found where Sichuan Province connects with Chongqing Prefecture, Guizhou Province, and Yunnan Province. Luzhou is located in a very important position as it guards the strategic point where the Yangtze River and the Tuojiang River intersect.
As well, the city is the communication center of Yunnan Province, Guizhou Province, Sichuan Province, and Chongqing Prefecture. With a population of over 4.5 million people spread over 12,243 square kilometers, Luzhou is a vast modern city with 7 counties and districts under its jurisdiction.
History of Luzhou
It was not until 1960 that Luzhou officially became a city of Sichuan province, making it a considerably new and emerging city. It is well known for its advanced agriculture and rich resources. Other pillar economic strengths include Luzhou's industries in chemicals, machinery, wine production, and medical resources.
Luzhou's popular reputation as the wine city of China stems from its more than 400 years of wine production history. Not to mention, the city is also infamous for its 2 iconic liquor products: Luzhou Laojiao, and Gulin Lang. In fact, Luzhou is the only city in the country that produces 2 distinct kinds of famous national liquors. The annual yield of liquor in Luzhou is about 86,300 tons!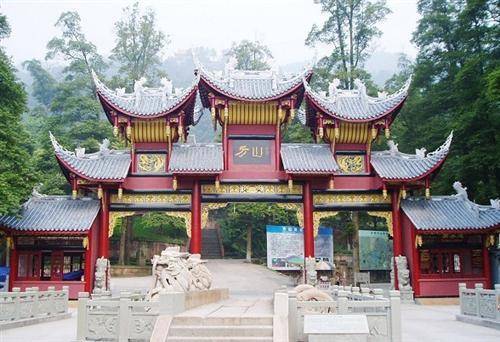 Luzhou Fangshan Mountain
Luzhou Industries
As for its medical industry, Luzhou Prefecture boasts much Chinese herbal medicine. Its history of producing prepared Chinese medicines stretches over 200 years. There are about 1,144 species of medicinal resources and 174 families of medicinal plants in the area. The rheumatism liquid produced by the Luzhou Baoguang Pharmaceutical Industry Company Limited has won the national awards, and it is a nationally-known name brand whose supply always falls short of demand.
Agriculture is one of the other main industries in Luzhou. The prefecture is the main production region of famous fruits such as litchi and longan in China. The fertile area is also a provincial and national base for producing grain, pigs, cattle, sheep, and bamboos. At present, Luzhou's agricultural industrialization is growing at unprecedented speeds.
Finally, Luzhou is famous for its long history and splendid culture. It is a national model city which supports the army, gives preferential treatment to families of revolutionary army men and martyrs, supports the government, and cherishes its people. It is also China's national sanitation city. The climate is mild and pleasant, and the scenery leaves one speechless. Countless historic sites, cultural relics, and unforgettable scenic spots continue to attract more and more visitors from home and abroad.
Luzhou Facts
Post Code: 646000

Jurisdiction: the Luzhou Prefecture area has jurisdiction over 4 counties and 3 districts. They are Lu County, Hejiang County, Xuyong County, Gulin County, Jiangyang District, Longmatan District, and Naxi District.

City Flower: the Osmanthus flower

City Tree: the longan tree