China National Geography selects China's Snow Town as China's most beautiful attractions in December. The snow here is famous for its thick, abundant, high viscosity and high-quality characteristics. In winter, it almost snows every day, becoming the largest snowfall area in China. Every year the snow period is up to 7 months and snow thickness may reach around 2 meters high. Snow hangs from eaves to the ground, forming a unique snow curtain. The residential that consist of over 100 households covered by snow looks like an interconnected igloo. Covered by snow, houses show a variety of shapes here like horses, lying rabbits, turtles, giant mushroom etc.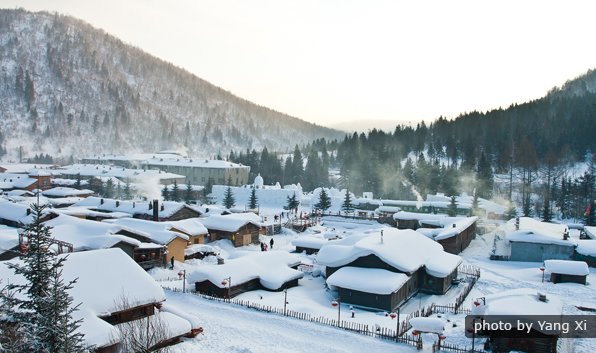 In the evening, tourists can participate in a bonfire party together with local people and sleep over at local people's homes. For photography enthusiasts, birches, cedrus, little huts, red lanterns, wattle wall, sunrise etc are all wonderful themes for photography. In addition, many famous films and TV series were shooting here, such as Chuang Guandong, Shiny Knife (Shanliang Jundao), where people can visit the film bases too.
Solo Adventure Tips:
Location:

Shuangfeng
Forest, Changting Town, Linhai County, Mudanjiang City, Heilongjiang Province
How to Get There?

Take a bus from Mudanjiang City to Snow Town at Mudanjiang Bus Station.
Take a train from Harbin directly to Changting Town, and then go to Snow Town by local buses at Changting Bus Station or take a taxi directly.
Detailed bus information about round trips from Changting Town to Snow Town every day:
Changting Town to Snow Town: 6:40; 13:30:16:50
Snow Town to Changting Town: 5:30; 6:30:12:10
Ticket Price: 16 yuan/ person
Ticket Price:

80 yuan/person
Opening Hours:

all day
More Tips:

January, February, March and December are the best time for visiting.
The average temperature in Snow Town is minus 15-30 degree Celsius, so try to keep warm.
Things to bring: Gaiter (necessity), parka, kneelet, down jacket, backpack, 2-3 liter hot drinking water in a vacuum flask, fleece jacket/trousers, waterproof hiking shoes, enough food, high-calorie snacks(such as chocolate, beef jerky), hat, gloves, flashlight, sunglasses, walking stick, knife, personal items.
Camera battery must be well prepared. Battery consumes soon because of the cold weather there. It had better put the camera in the bosom to keep it warm. Do not use hands without gloves to touch iron utensils for avoiding cold injury.
Information accuracy:
We try to make the information on China Travel accurate when we write/edit it. If you find any outdated information, please inform us.