Nanjing, a city having a charming landscape by the side of Yangtze River, is famous for its favorable geographic position. Who can imagine that there was an inhuman massacre happened in Nanjing. On December 13rd. 1937, the Japanese troops occupied Nanjing and tens of thousands of civilians were killed cruelly in this city. This is a highly recommended 'attraction' which no visitor to Nanjing should miss.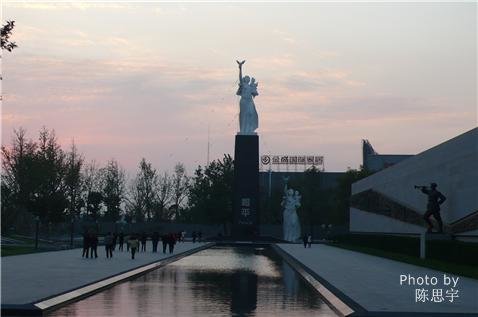 What to Do
Remember the History
Visitors come to Nanjing, the Memorial Hall to the Victims in the Nanjing Massacre (南京大屠杀纪念馆) is absolutely a must-see in Nanjing. Because it records the bloody and cruel history happened in this picturesque city. The memorial hall is located in the Site of "Mass Grave of 10, 000 Corpses" and on the ground where the victims were buried.
The building is made of the grey marble. When walking close the hall, a sense of heaviness will comes out of the visitors' heart. The most impressive image is when seeing the number of victims. Visitors can see the number 300, 000 on several walls in the hall. Some vivid statues can be seen unfolding the situation at that time before visitors' eyes.
Every statue told a story: a man whose wife was raped and killed; a young boy whose grandmother was killed; a baby which did not know that his mother had been killed; people in despair when war turned humanity into beasts who did unimaginable things. Walking among the statues feels like walking in the history and witness the massacre.
The Graveyard Square, covered with cobbles with no grass, implies the 300, 000 victims' bones. Maybe the number 300, 000 cannot give visitors directly perceived through the senses, there is a black several-storey-high shelf containing all of the victims' data. The photos and pictures also truly record the bloody battle.
The memorial hall was not build to hate the aggressors forever, but to remember the bloody history and avoid happening again. Although we cannot go back to change the history, we still have to step forward to keep the peaceful life.
Nearby Attractions
Nanjing is a famous historical and picturesque city. The Qinhuai River and Confucius Temple also show the deep culture heritage.
Solo Adventure Tips:
Location:

418, Shuiximen Road, Nanjing city, Jiangsu province
How to Get There?

Bus 7, 37, 61, 63, 161, 170 or 807 to get off at Jiangdongmen Station
Ticket Price:

Free
Opening Hours:

8:30-16:30 (except Monday)
More Tips:

Information accuracy:
We try to make the information on China Travel accurate when we write/edit it. If you find any outdated information, please inform us.