The Purple-Golden Mountain (紫金山), also called Tzu-chin Mountain, Zijin Shan, or Bell Mountain, is located in out of the Zhongshan Gate, Nanjing, Jiangsu province. It is known as the "lung of Nanjing". Away from the muggy and polluted city center, the forested mountain boasts fresh and cool air.
A small mountain with an area about 20 square kilometres, the Purple-Golden Mountain is a mountain related to many historical events of both ancient and modern China. More than 200 heritage and scenic tourist sites are located in or around the mountain, among which include three national historical sites, nine provincial historical sites, and 33 prefectural historical sites.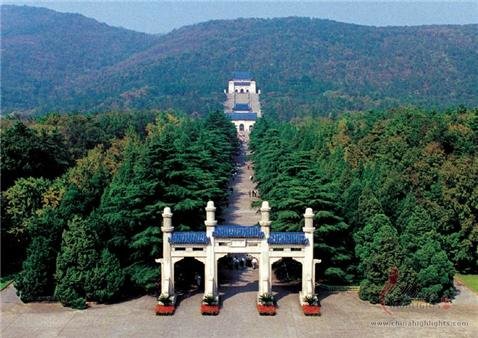 What to Do
Climb the Mountain
One way to climb the mountain is to go hiking. There is a huge network of paths on the mountain. There are several entrances from the bottom of the mountain and all the paths criss-cross to the top of the mountain. It is suit for the visitors who would like to feel the nature by mainstreaming themselves in the forest.
Another way is to take the cable car up to the top of the mountain. The cable car runs from 9:00am-4:30pm Monday to Friday and 8:30am-5:30pm Saturday and Sunday. The ride takes about 30 minutes to reach the mountain top and about 15 minutes to reach the observatory. Taking the cable car, visitors can feel the wind and enjoy the landscape below.
The Purple-Golden Mountain Observatory
The observatory was built in 1934, which was the only observatory before liberation. In 1937, the Japanese army invaded China and destroyed almost all the equipments except the ones protected by the astronomy workers.
After liberation, the astronomy workers made great efforts to restore and collect the precious instruments and equipments. So you can find it a comprehensive agency for astronomy research. In this observatory, the astronomers made great contribution well-known in China and the research made here offered many precious materials to many important projects.
Besides the research function, you can enjoy the beautiful scenery from Zijinshan Observatory, where you can overlook the whole Nanjing city and view the steep and lofty peaks. In addition, there is the longest glider cableway with the length of 2350meters and the drop height of 330 meters.
Nearby attractions
The Mountaintop Park is on the top of the Purple-Golden Mountain. It is a good place to get close to the nature. Linggu Temple is one of the entrances to climb the mountain. Before climbing, it is convenient to take a visit to it.
Solo Adventure Tips:
Location:

It lies on the west peak of Zhong Mountain
How to Get There?

You can take No. 3 travel line bus or No. W20 bus.
Ticket Price:

The Tzu-chin Mountain: Free
The Tzu-chin Mountain Observatory: 15Yuan/person
The cable car: 60Yuan for return ticket, 45Yuan for one-way ticket.
Opening Hours:

The Purple-goldem Mountain Observatory: 08:30 to 16:30
More Tips: