Overview
The Museum of Guangxi Zhuang Autonomous Region, which is called Guangxi Museum for short, has the largest quantity of bronze drums in the world. The main exhibitions in the museum mainly include Guangxi revolutionary cultural relic exhibition, Guangxi cultural relic exhibition, Guangxi folk-custom exhibition and ancient bronze drums exhibition. The whole museum covers an area of about 32,757 square meters. Guangxi Museum is located in the east of Qiyi Square in Nanning City of Guangxi Zhuang Autonomous Region. The first, second and third storey are used for display and exhibitions, and the fourth storey is used for handling official business. Behind the exhibition building, there is a cultural heritage center with rich local characteristics covering an area of 24,000 square meters.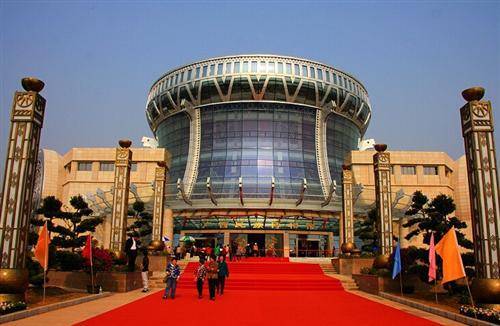 Guangxi Museum
History and Origin
Guangxi Museum was originally Guangxi Provincial Museum built in Nanning in 1934. It began to take shape at that time, collecting over 20,000 cultural relics, a large number of carved stone rubbings and various kinds of new and old book materials. It also had held various exhibitions at that time. During war years, Guangxi Provincial Museum was relocated several times with heavy loss of cultural relics. The name of the museum was changed for many times. After the founding of the Republic of China, after several years of preparation, the museum was renovated completely. In 1958, the museum was named Museum of Guangxi Zhuang Autonomous Region (Guangxi Museum for short).
Cultural Relics
According to data display, there are over 50,000 pieces of cultural relics at present, including 152 pieces of first-grade cultural relics and 1,791 pieces of second-grade cultural relics. As Guangxi is one of the main distribution areas of ancient bronze drums which contain all kinds of bronze drum remains, Guangxi Museum has the largest quantity of bronze drums in the world with over 360 bronze drums. Among these, a bronze drum with the surface diameter of 165 centimeters and the weight of 299 kilometers is honored as "the king of bronze drums". There are a large number of unearthed cultural relics, such as a hand axe with the history of 800,000 years, the mysterious great stone spade in the Neolithic Age, the inscribed wooden tablet in the Han Dynasty, lacquered bronze basin with fairy tales on it, lacquered bronze canister, big bronze horse with the height of 115.5 centimeters and a bronze ox in unity of form and spirit. Besides, there are a variety of national cultural relics, revolutionary cultural relics, antiquated calligraphy and paintings and relics handed down from ancient time. The museum has a large collection of books and reference materials that are rare and precious.
Basic Exhibition
Ancient Bronze Drums Exhibition: Bronze drum is the representative historical and cultural heritage of ancient ethnic minorities in South China. The bronze drums of Guangxi are famous all over the world for large varieties and large quantities. There are 60 bronze drums on display altogether, which cover various periods.
Guangxi Folk Custom Exhibition: The exhibition assembles the folk customs of 11 ethnic minorities including Zhuang, Yao, Miao, Dong, Shui, Hui, Yi, Gelao, Mulao and Maonan.
Characteristic Activities
There are rich and colorful folk performances in cultural heritage center. You can watch or participate in antiphonal singing, dancing with performers, making bean curd, making wine, making soya-bean milk and other ethnic manual demonstration.
Cultural Heritage Center
Covering an area of 24,000 square meters, Cultural Heritage Center boasts dwellings with rich national characteristics, shelter bridges, drum-towers, stockade village gates, drama stages and national manual workshops of various ethnic minorities. In the dwellings, there are agricultural implements and national handicrafts on display.
Customize a Tour to Guangxi Museum
If you'd like to visit Guangxi Museum while traveling to China, China Travel can customize a tour to Guangxi Museum in Nanning, which can save your time and money and trouble-free. Please feel free to tell us your idea!
Tips
Address: No.34, National Avenue, Nanning City, Guangxi Zhuang Autonomous Region
Opening Time: 9:00 to 17:00 from Tuesday to Sunday
Bus Route: Bus No. 11, 23, 30, 33, 63, 205, 211, 6, 34, 79, 213
Solo Adventure Tips:
Location:

How to Get There?
Many buses are for visitors to take to Minzu Gucheng stop which faces with the Guangxi Museum, including No.6, 30, 34, 39, 47, 205 and 213.
Ticket Price:

Opening Hours:

8:00-17:00 (only on Sunday) 8:00-11:00, and 5:00-18:00 in afternoon
More Tips:

.The Guangxi National Heritage Court in the museum has an area of 24000sq.m. Located in the park and equipped with a nation dining room, the bamboo house can provide many kinds of national snacks and other dishes for tourists. Stepping into the heritage court, the national folkway is just in front of you. Visitors may visit and accommodate in the houses of Zhuang, Yao and Miao nationalities as well as get to know the colorful and interesting national histories. In addition, coming out of the museum and walking on the National Avenue to the end in the west, visitors will find a delicacy street in Nanning, Zhongshan street where you can enjoy all kinds of snacks both inside and outside Guangxi.
Information accuracy:
We try to make the information on China Travel accurate when we write/edit it. If you find any outdated information, please inform us.