General Introduction
Jiulong Waterfall Forest Park is a typical original ecological forest park with the area of 1,639 hectares. It is 5.5 kilometers long from east to west and 5.7 kilometers wide from south to north. The elevation of the park ranges from 400 meters to 700 meters. The parks enjoys a south subtropical monsoon climate, featuring abundant rainfall, sufficient sunshine, moderate climate, moist summer and dry winter. The forest park enjoys lush vegetation with the forest coverage of 87.8%. It has 960 varieties of plants and over 150 varieties of wild animals. It can be ranked as a natural air anion bar with fresh and moist air. The forest park boasts a number of streams and over 20 waterfalls of a variety, forming a landscape of waterfall group, peculiar peaks, deep ravines and green jade pools. The main streams include Shizi stream, Pingtian stream, Bailong stream, Liyu stream and Jiulong stream. At present, there are more than 10 waterfall scenic spots that are open to the public, such as "Dragons Greeting Guests", "White Dragon Coming out of Pool", "Nine Dragons Entering Palace", "Purple Dragons Meet" and "Two Dragons Playing a Ball". With the constant improvement of the infrastructure construction, Jiulong Waterfall Forest Park was evaluated as one of the top scenic spots of Nanning in 2004.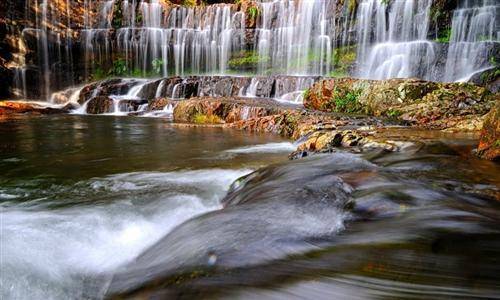 Nanning Jiulong Waterfall
Biology Landscape
The lush vegetation, abundant forest types and a large number of plant communities form different landscape effects, such as subtropical evergreen monsoon forest, China fir, camphor tree and azaleas. The characteristic monsoon forest landscape, vast lush green artificial forest landscape, tall arboreal forest and relatively short flowers and shrubs constitute an immense forest landscape. The seasonal variation of the forest vegetation in the park is very obvious, which presents different scenery in four seasons. There are 4 vegetation varieties in the park, including forest land, flowers and plants land, bushes and bird habitat.
Astronomical Phenomena Sight
As Jiulong Waterfall Forest Park enjoys peculiar geomorphic type and flourishing forest vegetation, the relatively abundant rainfall, fog, frost and cloud create an ever-changing astronomical phenomena sight which varies with seasons. There are altogether 2 types and 2 astronomical phenomena sights, including aureole phenomena area and cloud and mist area.
Landscape
Bainiaoyi Sculpture and the Legend of Bainiaoyi (Hundred Bird Coat)
Bainiaoyi refers to a love story between a phoenix fairy named Yili and an archer of the Zhuang minority named Guka. According to legend, in order to defeat the black dragon's wreak havoc, a phoenix fairy was incarnated a young girl of the Zhuang minority and helped the archer Guka. Tramping over hill and dale, they begged for hundreds of birds' feathers sincerely and made a hundred bird's coat. While wearing the hundred bird's coat, an ordinary person can fly. Guka dressed in the hundred bird's coat flied to the sky and shot arrows at the black dragon. The black dragon was surrendered and the local people of the Zhuang minority had a bumper grain harvest and lived and worked in peace and contentment from then on. After that, the young girl named Yili became a phoenix and flied up to sky, followed by hundreds of birds. The beautiful phoenix fairy was eulogized everywhere and people made a huge sculpture of her on Bainiaoyi Square in memory of her. The sculpture was named Bainiaoyi (Hundred Bird Coat) Sculpture, which is 21.8 meters long, 16 meters tall and 6 meters wide. It's the theme sculpture in the park.
Log Cabins in Forest
There are a few holiday log cabins on mountains in the forest, which includes 10 cabins for visitors containing 16 bed spaces. The log cabins are simple, unsophisticated and natural, with foundation pillars made of reinforced concrete, framework made of China firs and roof made of fir barks, which fuse together with the surrounding forest environment.
Tips
Admission Fee: 30 yuan per person
Address: Zhenlong Village, north of Heng County, 118 km from Nanning City
Transport: You can firstly take shuttle buses from Nanning's Langdong bus station to Heng County, which operate every 30 minutes from 7:00 to 19:00 every day. Then transfer a bus from Heng County to Jiulong Waterfall Forest Park.
Customize a Tour to Nanning Jiulong Waterfall Forest Park
If you'd like to visit Nanning Jiulong Waterfall Forest Park while traveling to China, China Travel can customize a tour to Jiulong Waterfall Forest Park in Nanning, which can save your time and money and trouble-free. Please feel free to tell us your idea!
Solo Adventure Tips:
Location:

How to Get There?
Visitors can first take a bus at Huaqiang Passenger Station to Heng county where they can transit to the park.
Ticket Price:

Opening Hours:
A whole day
More Tips:

The best time to visit :spring and summer
Information accuracy:
We try to make the information on China Travel accurate when we write/edit it. If you find any outdated information, please inform us.