Air
Nanning Wuxu International Airport is located in Wuxu Town of Jiangnan District in the south of Nanning City, 31 kilometers from downtown area. There are direct flights to major domestic cities such as Beijing, Shanghai, Hong Kong and Guangzhou, and a number of oversea cities such as Hanoi of Vietnam and Bangkok of Thailand. Every day, there are shuttle buses operating between the downtown area and the airport, with the ticket price of 20 yuan per person. The shuttles buses depart from 5:30 to 19:00 each day, and their running time depends on the time of the scheduled flights. Passengers can get off a bus halfway, but picking up passengers halfway is not available.
The station of departure from the urban area to the airport is at Nanning ticket office of civil aviation (near Nanning railway station). Besides, many hotels provide picking up service between the hotels and the airport with special buses. Of course, you can also take bus No.301 between the urban area and the airport, with the ticket price of 3 yuan per person. As for a taxi, it costs about 110 yuan and takes about 40 minutes from the urban area to the airport. As for ticket price, you can have a bargain with drivers.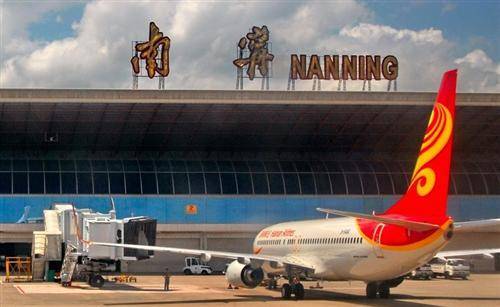 Nanning Wuxu Airport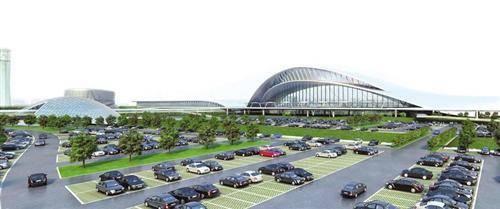 The New Airport of Nanning will be built soon
Railway
In Nanning City, there are a few trunk lines collecting many other trunk lines throughout the country. There are direct trains to domestic major cities, such as Beijing, Xi'an, Shanghai, Chengdu and Guangzhou. To the east, there are trains to Zhanjiang City and Guangzhou City of Guangdong Province. To the south, there are trains to Qinzhou City, Fangchenggang and Beihai City. To the southwest, there are international trains to Hanoi of Vietnam.
Nanning Railway Station is located in the downtown area on Zhonghua Road, enjoying convenient transportation. At the railway station, you can take bus No. 5, 6, 7, 8, 9, 10, 21, 31, 32, 33, 41, 52, 66, 212, 80 or 804 to Plaza of Nations, Chaoyang Square, several long-distance bus stations and all the main regions in the city.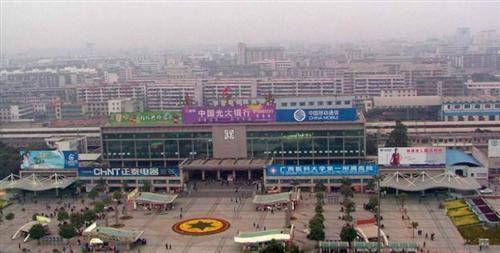 Nanning Train Station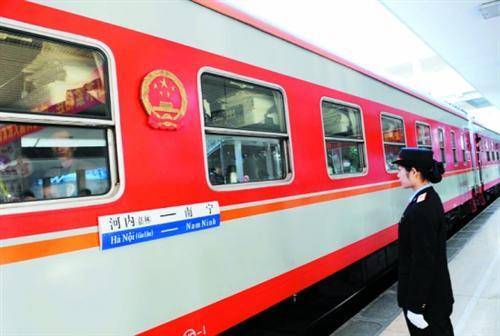 Train from Nanning to Hanoi
Highway
Nanning is 204 kilometers from Beihai City, 104 kilometers from Qinzhou City, 172 kilometers from Fangchenggang City and about 180 kilometers from Sino-Vietnam frontier region. There are 8 national highways that converge in Nanning, which can reach all the cities and counties of Guangxi Zhuang Autonomous Region and all the major cities and regions of the country, such as Chongqing, Guiyang, Zhanjiang, Hengyang and Kunming.
In Nanning City, there are 7 long-distance passenger stations, including Xixiangtang passenger station which is the largest station of Guangxi, Anji passenger station, Nanning Jinqiao passenger station, Nanning Langdong passenger station, Nanning Jiangnan passenger station, Beida passenger station and Dashatian passenger station. Among these, the bus terminal and Langdong passenger station are the two major stations. The operating time is mainly between 6:00 in the morning and 23:00 at night. The buses to Guilin, Liuzhou, Yulin, Beihai, Fangchenggang, Qinzhou, Guigang and other cities in Guangxi operate ever 15 to 30 minutes. As for cities of other provinces, there are relatively more buses to Guangzhou and Shenzhen, but one or two buses to other cities such as Chengdu, Zhuhai and Chongqing.
City Transportation
Bus
The public transit of Nanning is extremely developed. Now, there are 6 bus companies in Nanning, which manage 143 bus routes and thousands of buses. Most of the buses are self-service ticketing with the ticket price of 1 yuan for ordinary buses and 2 yuan for air-conditioned shuttle buses. You need to prepare small changes in advance. The local buses usually operate from 6:00 in the morning to 23:00 at night every day.
Taxi
In Nanning, there are thousands of taxies, and they are all equipped with taximeters. The boarding fee for ordinary taxies is 6 yuan, and an extra 1.2 yuan will be added for each kilometer. In taxies, you can see complaint phone number obviously.
Motorcycle
Nanning has the largest number of motorcycles of the whole country, which is called "the city on motorcycle". The convenient local motorcycles charge relatively low price.
Car Rental
For renting a car in Nanning, you need to pay a guarantee deposit of 5,000 yuan and show your identification card, driving license and some other valid documentation. The minibus which can carry 5 to 6 persons charges 150 to 200 yuan each day. Renting a car with a driver charges an extra fee of 30 yuan each day. For charging by hours, it charges 20 yuan per hour and you need to rent at least 4 hours. For saloon cars, the rent is from 450 yuan to 600 yuan each day (containing a driver). If charging by hour, it charges 120 yuan per hour. The cars need being validated before being handed, and the time of validating cars is from 8:00 to17:00.