Tianyi Pavilion is the oldest private library in China and the oldest library in Asia. Tianyi Pavilion is also one of the three earliest family libraries in the world. Built in the year 1566, Tianyi Pavilion used to be the private building of Fan Qin of the Ming Dynasty for private collection of books.
Tianyi Pavilion was selected as the national key cultural relic protection unit by the State Council in 1982 and was reputed as the 4A-rated tourist attraction in 2007. It's also reputed as the provincial-level patriotism education base and top ten scenic spot of Ningbo.

Tianyi Pavilion Museum covers an area of 26,000 square meters, which features the culture of collecting books. It integrates the research, protection, management, display, social education, tour and sightseeing of the collection of books. At present, it has collected more than 300,000 ancient books. Tianyi Pavilion consists of three major functional areas, including the cultural region of collecting books, landscape leisure area as well as display and exhibition area.

In recent years, Tianyi Pavilion develops rapidly and some new halls are newly increased, such as China local chronicles collection hall, Yintaidi official residence museum and the exhibition hall of mahjong' birthplace. China local chronicles collection hall collects 6,730 local chronicles of different levels and kinds throughout the country, which accounting for over 80% of the total.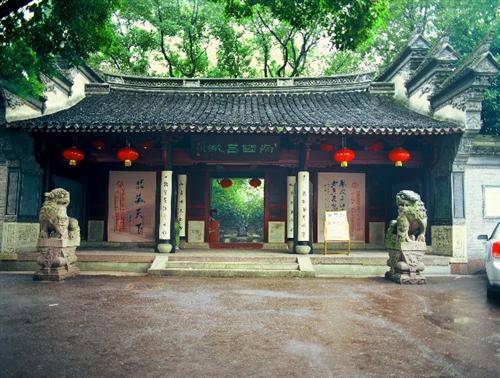 Yintaidi official residence museum displays the housing and accommodation art and architectural art of the official families in the Qing Dynasty. The exhibition hall of mahjong' birthplace displays the origin of mahjong and the tracing historical source of Ningbo City in three-dimensional space. Besides, there are a large number of calligraphies, paintings and rubbings from stone inscriptions. Tianyi Pavilion Museum holds a variety of painting and calligraphy exhibitions and cultural exchange activities all year round.
Customize a Tour to Tianyi Pavilion
If you'd like to visit Tianyi Pavilion while traveling to China, China Travel can customize a tour to Tianyi Pavilion, which can save your time and money and trouble-free. Please feel free to tell us your idea!
Tips
1. Visitors need to wear gloves (provided by the museum) while reading a book and put down gently.
2. Scribbling, punctuating or annotating is forbidden.
3. Visitors can only read books in designated sites of the museum.
4. Readers need to fill in reading registration form or call slip in the first place.
Solo Adventure Tips:
Location:

No. 5, Tianyi Street, Ningbo City
How to Get There?

Bus No. 2, 9, 10, 12, 14, 15, 19, 821 and 371
Ticket Price:

30 yuan for adults; 15 yuan for students; free for the people over 70 years old
Opening Hours:

8:30 to 11:30; 13:30 to 16:30
More Tips:
Recommended time for a visit: Two hours
Information accuracy:
We try to make the information on China Travel accurate when we write/edit it. If you find any outdated information, please inform us.