Overview
Qingxin Hot Mineral Spring Tourism and Holiday Resort is a large-scale provincial-level AAAA tourism and holiday resort authorized by the Guangdong Provincial Government. It is located in the southwest of Qingyuan County in Guangdong Province, which is 25 kilometers southwest of Qingyuan County.
Covering an area of 5.6 square kilometers, the resort integrates going on vacations, exercise and fitness, ecological tourism, health maintenance and agricultural sightseeing. It's equipped with hot spring, grass skating, cross-country club, field operations, hotel villa, field and garden amusement as well as other leisure projects.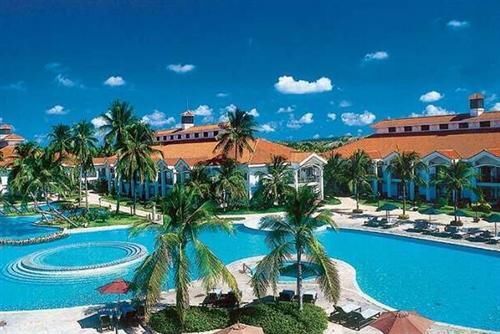 Qingxin Hot Mineral Spring Tourism and Holiday Resort features hot spring culture and it provides hot spring swimming pool, aristocratic hot spring of Northern Europe style as well as dynamic stimulating American hot spring.
Besides, it's also equipped with the first alpine grass skiing base of international competition standard in China, the second national football training base in China, tennis court, basketball court, badminton court, table tennis training hall and many other kinds of sports facilities. Tourists can enjoy themselves by going angling, shooting arrows, barbecuing, open-air karaoke and admiring the beauty of flowers.
Distinguishing Feature
According to the inspection report from the trace element analysis room of Sun Yat-sen University of Medical Sciences, Qingxin mineral spring is sulfur-free and contains strontium, metasilicic acid and calcium sulfate, which has various special health care effects to human bodies, such as relieving pain from rheumatism, alleviating cardiovascular disease, allaying tiredness and improving sleep quality.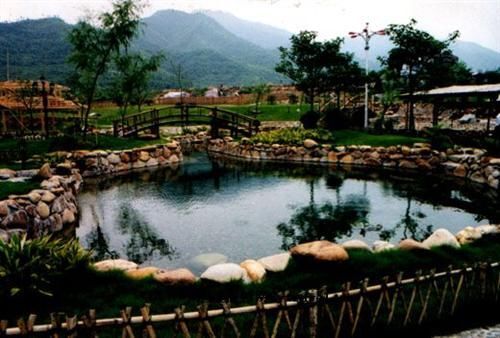 Qingxin Hot Mineral Spring Tourism and Holiday Resort is characterized by large-scale open-air hot spring of oriental garden architecture style, including 68 hot spring ponds of various sizes and water temperature. The temperature of the hot springs ranges from 30°C to 60 °C.
It's also equipped with health physiotherapy massage center and dessert shops. The water of Qingxin mineral spring meets the standard of China's drinking natural mineral water quality, which is rare all over the world. Qingxin mineral spring is hailed as the head of top 10 high-quality hot springs in Guangdong Province.
Facilities
Besides varied recreational facilities, Qingxin Hot Mineral Spring Tourism and Holiday Resort is equipped with hot spring hotel, private independent villa, garden hot spring hotel, Japanese Tatami and international sports youth hostel, with over 700 guest rooms.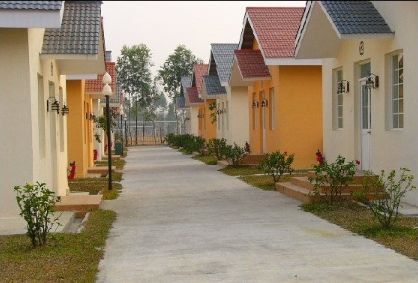 As for cuisine, the resort has some restaurants of different flavors, such as Yuquan Western Restaurant, Fumanlou Chinese Restaurant, Qianxi multifunctional banquet hall and countryside food village.
Customize a Tour to Qingxin Hot Mineral Spring Tourism and Holiday Resort
If you'd like to pay a visit to Purugangri Glacier while traveling to China, China Travel can customize a tour to Qingxin Hot Mineral Spring Tourism and Holiday Resort for you, which can save your time and money and trouble-free. Please feel free to tell us your idea immediately!
Solo Adventure Tips:
Location:

How to Get There?
There are many shifts of luxury buses in the bus station of Guangdong Province directly to Qingxin Hot Spring Tourism and Holiday Resort. The price is 38 Yuan per person. There are also specials and taxies in the bus station of Qingxin City to the scenic spot. When you decide to go there by taxi, please remember to bargain with the taxi driver because of no standard price. The generally price is about 60 Yuan. If there are four persons, you can get to the city from the scenic spot spending 10 Yuan per person. Driving by yourself: you can set off from Guangzhou, pass across national highway 107 and Guangqing Expressway to Qingyuan, and then cross Beijiang Bridge alone Siqing Highway for about 2 hours to the scenic spot.
Ticket Price:

Opening Hours:

More Tips:
1.Food: freshwater fish of Beijiang, mushroom banquet, deer banquet, Shitan bean curd, Feipo porridge, Zhouxin roast chicken, goose soup. 2.Lodging: there are many mountain houses and holiday village with good condition in the holiday resort. You can enjoy a discount of 80% in lodging and steeping in the hot spring (90% discount during holidays). 3.Shopping: air-dried sweet potato, glossy ganoderma and hedgehog hydnum mushroom.
Information accuracy:
We try to make the information on China Travel accurate when we write/edit it. If you find any outdated information, please inform us.