In Sanya, you can taste all kinds of seafood, tropical fruits, characteristic drink and the local flavors of all the counties in Hainan. Furthermore, you can enjoy the authentic four famous dishes of Hainan in restaurants in Sanya. Sea cucumber, abalone, and shark fin are three precious and nutritious seafoods with various cooking and eating methods. Except those rare seafoods, there are countless seafoods in Sanya including shrimp, crab, fish, conch, seashell, sandworm, and so on and so forth. The local flavors of Li and Miao minorities are also part of the delicacy of Sanya. They are full of ethnic features. In addition, you can taste the Korean food, Islamic food, wheaten food of Northern China, and etc.
Sanya Featured Food:
Wenchang Chicken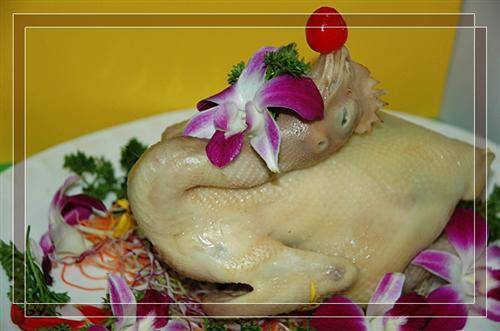 The authentic Wenchang Chicken is so named because it is produced in Wenchang City. It is made with the meat of home fed chicken which are carefully selected and fed with particular food. After being cooked with refined skills and particular ingredients, the authentic Wenchang Chicken looks oily and smells fragrant. If you have a taste, you will find that the bone is soft while the meat is very delicate. It tastes smooth but not oily, it smell fragrant but not ordinary. It is so delicious that you will not get tired of it however much have you had. It is well received by customers both domestic and abroad and you can have a taste of it in any hotel of Sanya.
Chitling Like Rice Noodles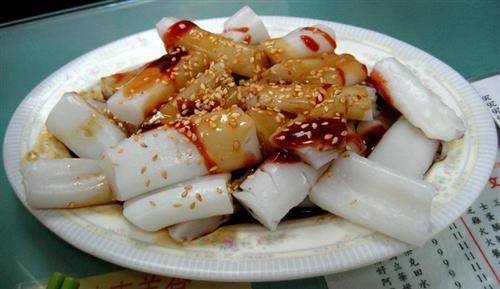 Rice that has been stored for half a year is selected and is pestled into plasm and then steamed into thin pieces which are rolled into the shape of chitling. As to the accompanying ingredients, red sugar is sliced into pieces and then put into the water with sweet or salty sauce, orange skin powder and flicium powder. And then it is boiled for several hours with small fire. After all this is done, the rice wine vinegar locally made, garlic and cooked peanut oil are accompanied with fired shrimp rolls, fried peanuts, baked pork and shallot puddings. Before being ready be served, the chitling like rice noodles are cut into small burls and put in the bowl and added the ingredients listed above in order. After being mixed well, it tastes fragrant and smooth.  
Nanshan Vegetarian Food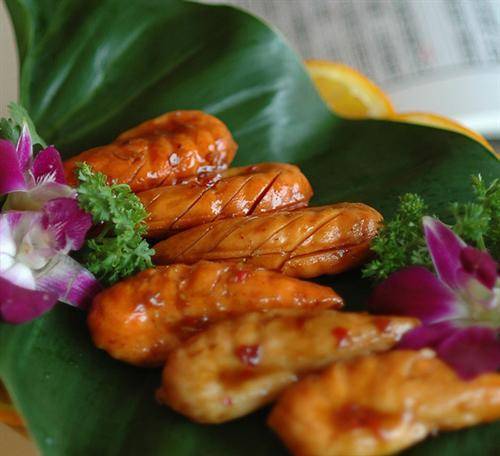 Nanshan Vegetarian Food is a wonder in the world. Collected the essences of all vegetarian diets of different temples, combined with royal and folk ones and all kinds of favors in the country, it forms a unique Nanshan catering culture with modern cooking. Hainan Provincial Government also has appointed Nanshan as a "Guest Reception Point".
Material selection for "Nanshan Vegetarian Food" is very strict and the procession is very refined. In addition to the wild vegetables and in season vegetables, the wild fungoid, amorphophallus, bean made food, mushroom, blumea lanceolaria and all other fungis that are rich in plant protein, various vitamins, fibers and carotenes as well as all kinds of amidocyanogens. It is not only rich in nutrition but also full of high medical value. Eating this kind of vegetarian food frequently, you can maintain the facial beauty and slow down the caducity and strengthen the immunity of the body. Apart from this, it can help prevent Cardiovascular and Cereb
Jiaji Duck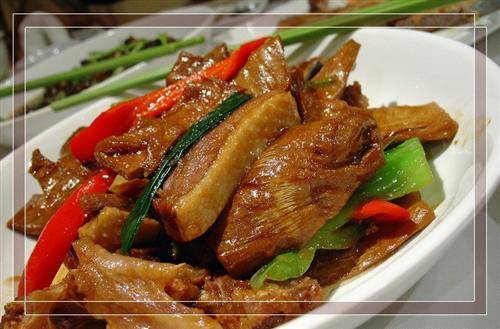 Jiaji Duck is also named "Fan Duck" and is featured with red coronet, yellow web and white and black feather. Thanks to the unique feeding method of Jiaji Area in Qionghai City, the grown "Fan Duck" is featured with big chest, thin skin, soft bones and delicate meat. When you eat the meat, you will find it fat but not oily and is honored with the name "Jiaji Duck" in order to be distinguished from other variety of "Fan Duck" raised in other areas. There are altogether three cooking methods of this kind of duck. It can be cooked into Steamed Duck Pieces, Preserved Duck and Roast Duck with every one delicious and special. You can enjoy it in any hotel or the snack bars by the side of the streets in Sanya.
Hele Crab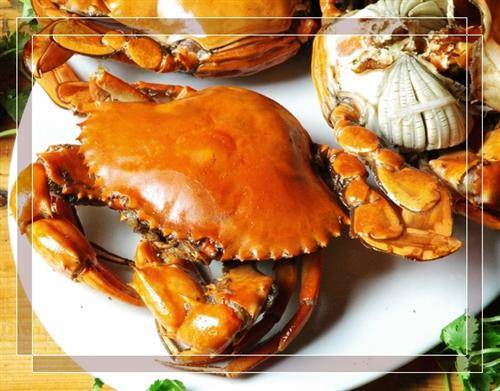 It is so named because it is produced in the joint water region of the fresh water and the salty water in Hele Town of Wanning City. This kind of seafood is featured with full crab extract and tender meat which is a characteristic other crabs don't have. The crab extract is in the color of golden yellow and looks oily with special fragrance. Hele Crab tastes best if steamed and accompanied with ginger and garlic together with vinegar. It maintains the original taste of the crab and tastes especially fresh and delicate. If you want to have a try, visit any seafood hotel of Sanya.
You might also be interested in:
Recommended Tours:
Top Things to Do in Sanya
Travel Confidently with Us

10,000 Satisfied Customers

50 Years in China Travel Industry

Quick Response within 24 hours

Secured Online Payment

Group Tours with Solo Adventure

No Hidden Fees and No Traps