In Sanya, you can taste all kinds of seafood, tropical fruits, characteristic drink and the local flavors of all the counties in Hainan. Furthermore, you can enjoy the authentic four famous dishes of Hainan in restaurants in Sanya. Sea cucumber, abalone, and shark fin are three precious and nutritious seafoods with various cooking and eating methods. Except those rare seafoods, there are countless seafoods in Sanya including shrimp, crab, fish, conch, seashell, sandworm, and so on and so forth. The local flavors of Li and Miao minorities are also part of the delicacy of Sanya. They are full of ethnic features. In addition, you can taste the Korean food, Islamic food, wheaten food of Northern China, and etc.
Sanya Featured Food:
Dongshan Mutton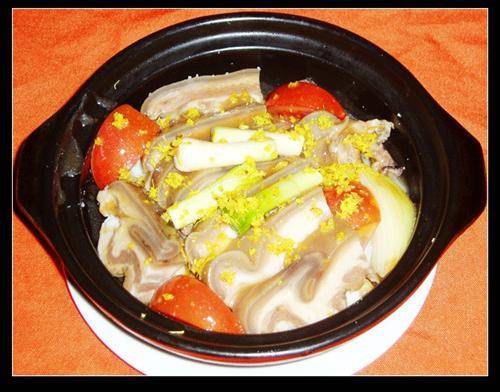 Dongshan Mutton is so named because it is mainly produced in Dongshan Mountain of Wanning City. It is featured with oily black hair. As to the mutton, it is a delicacy featured with tender meat and thick soup. It tastes fresh and is free of sheep smell and you will find it's so refreshing in your mouth. There are various cooking methods for Dongshan Mutton. Any kind of them has its own characteristics no matter it is baked, braised or steamed. You can have a taste of it in any mutton hotel in Sanya.
Sour Rice Noodle Soup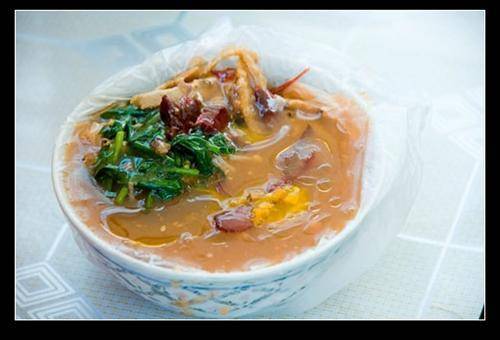 This is a kind of refined rice noodles made by some lactic acid gotton after the natural zymolysis of amylum. The technique of rice noodle making is very selective: high quality rice is pestled into powder and one day of natural zymolysis is resorted to and then it is kneaded into the shape of moon cake. After being cooked in the boiling water, it is fished out and pestled into sticky powder syrup and then it is poured into a wooden round barrel with a lot of sifting little round holes on the bottom. By doing this, the rice noodles get out of the small holes and become sour rice noodles after being fished out and cooled down. Some rice noodles are put in a small bowl and accompanied with the ingredients like fresh shark meat, shrimp cake, lobster sauce, chopped pickled mustard, cooked sesame oil, cooked peanuts, pepper and sour vinegar. The characteristics of this food are the following: sour, hot, fragrant, peppery, fresh and smooth. Once you have a try of it, you will be always attra
You might also be interested in:
Recommended Tours:
Top Things to Do in Sanya
Travel Confidently with Us

10,000 Satisfied Customers

50 Years in China Travel Industry

Quick Response within 24 hours

Secured Online Payment

Group Tours with Solo Adventure

No Hidden Fees and No Traps