Situated in Pudong New Area, Century Park is the largest park in Shanghai City. Covering an area of 140 hectares, the park is an investment of 1 billion RMB. It was open to the public in 2000. It is a recreational park, combining large areas of forests, lakes and lawns, with modern buildings like square, concert stage, children's playground and fountain. The landscape here at the park is a good combination of human and nature, traditional and modern, as well as eastern and western cultures.
There are about 45 attractions in 7 scenic areas inside the park. Amusement programs such as boating, fishing, riding tandem bicycles and sightseeing cars are also available in the park to make your visit more interesting. Century Park is an ideal place for meeting with friends, spending the weekend with family, or just relaxing and having a picnic.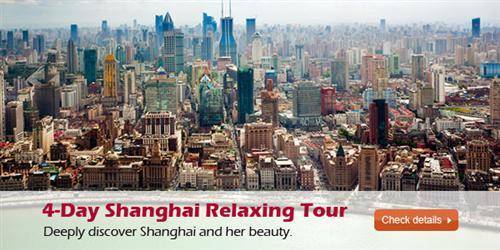 Major Attractions
The park is divided into mainly 7 scenic areas, namely idyllic countryside area, sightseeing area, lake area, lawn area, bird reserve area, international garden area and a small golf course. In these areas there are many attractions, and we will introduce some famous attractions in the following paragraphs.
Century Flower Clock
Located at the end of the Century Avenue, the Century Flower Clock is the symbolic attraction of Century Park. The clock is colorful with decoration of flowers, and is controled by accurate time-keeping apparatus, with deviation of only 0.03 seconds.
Jingtian Lake
The name means "Mirror Sky Lake" in Chinese. As you step into the park from Gate No. 1, the 12.5-hectare lake spreads right in front of you. It is a man-made lake with the deepest point at 5 meters below water surface. It is by far the largest man-made lake in Shanghai. When it is sunny, the lake water is clear as a mirror, reflecting the clouds in the sky, hence its name.
Outdoor Concert Stage
It is located at the west side of Century Park, with an area of 8,000 square meters, with holding capacity of 4000 people. It is by far the largest outdoor stage in China. With a good environment facing the water and green forests, it is a good place to enjoy some shows and performances.
Big Fountain
It is located not far from Gate No. 7. The fountain is 38 meters long and 14 meters wide, with 327 fountain heads of various sizes and over 300 lights. When the fountain is activated, the effects of lights and water can together create 108 images, and the highest water column can reach as high as 80 meters.
Bamboo Forest
It is located in the Bird Reserve Area. It covers an area of 10,000 square meters, with over 20,000 bamboos of various kinds growing in the forest.
Bird Island
Covering an area of 2 hectares, the Bird Island is located at the center of Century Park. It is surrounded by water on four sides, connecting with Jingtian Lake, More than 50 kinds of shrubs are planted here, creating a good natural environment for birds of various species.
Montreal Garden
It is located in the bird reserve area. The whole garden consists of island, lake, exhibition room, cafe and multi-media movie theater, mainly showing the multimedia high technology in Canada.
Small Golf Course
It is located on the west side of Century Park. This small golf course covers an area of 35,000 square meters, with 9 holes. There is a golf clubhouse consisting of lounge, cafe, golf equipment renting store and shower room.
Best Time to Visit
The months of April and May are the season when flowers blossom, and there will be some big recreational activities held at the park. Therefore, April and May are the best time to visit Century Park.
Eating
Eating is convenient because there are restaurants and cafes inside the park. You can also bring your own food to eat in the park.
Bike Rentals
There are tandem bicycles for rent at the park. The rental fee is charged by the hour, at 30 to 100 yuan per hour according to different bike types. A deposit of 100 or 200 yuan is required.
Solo Adventure Tips:
Location:

No. 1001, Jinxiu Road, Pudong New Area
How to Get There?

yanggao south road station and century park station for metro no.2 line; jingxiu road dock for zhangjiabang water-tourism line; tunnel line 4, yangzhu line (terminal for metro yanggao south road line) no.637 and 983, bridge line 2 (terminal for metro century park stop); no.788, 794, 640 buses pass it and dongzhou line and jiangyuan tourism line reach there too.
Ticket Price:

10 yuan ((children under 1.2 meters tall and senior citizens above 70 years old are free of charge)
Opening Hours:

March 16–November 15: 10:00-18:00
November 16-March 15: 07:00-17:00
More Tips:

Information accuracy:
We try to make the information on China Travel accurate when we write/edit it. If you find any outdated information, please inform us.