Brief Introduction
Dongtai Road (Lu) is about 586 meters long and 12 meters wide. It is located at the northeast part of Luwan District, near South Xizang Road and Middle Fuxing Road , stretching from Chongde Road in the north to Zhaozhou Road in the south. It is famous because of an antique market here- Dongtai Road Antique Market.
Although it is a famous market, it has been torn down for urban construction.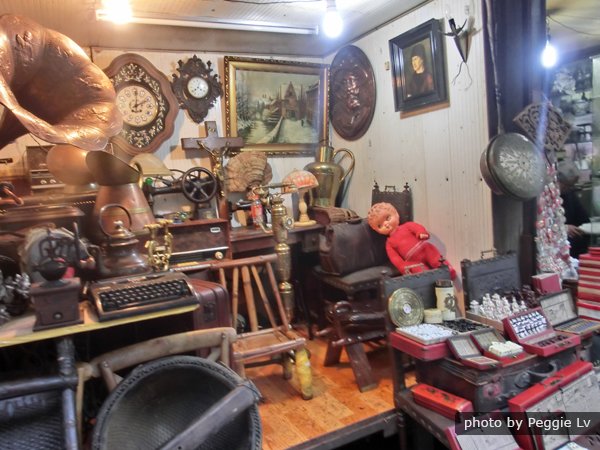 Dongtai Road Antique Market is about 200 meters long, gathering over 100 shops and stands of various sizes and features. At this outdoor flea market you can find many antiques and curios, though the authenticity of the antiques is doubtful.
Dongtai Road Antique Market sells countless kinds of old stuff beyond your imagination, such as jade articles, bamboo wares, writing brushes, paintings, bronze wares, bird cages, ancient coins, old-style fans, lighters, clothes, accessories, sculptures and badges.
Besides feasting your eyes with those dazzling stuff for sale, the bustling sound and scenes are also interesting, which reveals to you a glimpse of local life. You will come across some leisurely times where the older people playing cards or Mahjong at the corner, shouting loudly now and then from the excitement of the games. In front of stands the buyer and seller bargain back and forth for a price that could please both.
History
According to historical records, Dongtai Road was built in the year of 1902, during the reign of Emperor Guangxu of Qing Dynasty. At that time it was named Taishan Road. In 1906, it was named as Rue Hennequin after an official in the former French Concession. In 1943 it was finally named Dongtai Road and the name is still used today.
In the very beginning, this road was actually a place where people drink morning tea and have breakfast. Chinese people have been fond of collecting antiques and curios since ancient times, and a lot of customers who came for tea or breakfast would bring their own collections and exchange ideas or swap things. Some antique shops began to appear and gradually Dongtai Road became a gathering place for antique shops and stands.
Solo Adventure Tips:
Location:

How to Get There?

You can take bus nos. 17 and 864. The driver will not find it amusing if you try and haggle over the price!
Ticket Price:

There is of course no admission charge to visit the flea market.
Opening Hours:

Like many flea markets in certain exotic corners of the world, the vendors at Dongtai Lu Antique Market close when the fancy strikes them!
More Tips:

Since flea marketeers tend to haggle over the price, flea market vendors adjust accordingly. As a famous humorist once said about exaggerating the size of the fish he caught, since everyone was sure to discount his claims by at least 20%, he felt obliged to inflate the size accordingly when recounting his fishing escapades. When economists first discovered the Philips Curve phenomenon, whereby high inflation was inversely linked to unemployment (the higher the inflation the lower the unemployment), politicians sought to exploit this by generating inflation, but they forgot that workers had already figured that one out and had discounted accordingly... the result was that society got stagflation!)
Information accuracy:
We try to make the information on China Travel accurate when we write/edit it. If you find any outdated information, please inform us.