Shanghai's - and, in fact, China's - premier shopping street, a 3½-mile-long stretch of Nanjing Road, starts at the Bund in the east and ends, in the west, at the junction of Jingan Temple Metro Station (at the bottom of Nanjing Road) and Yan'an West Street. This seemingly endless stretch of Nanjing Road attracts hundreds, if not thousands, of fashion-seeking, bargain-hunting shoppers from around the world, daily.
For visitors to Shanghai, Nanjing Road is an absolute must-see, on par with a visit to the Bund itself. If ever there was a silver lining to an unhappy event, the London-inspired (one inevitably thinks of London's Soho district) Nanjing Road shopping mall is it! The shopping mall, like the Bund, lies within the former British Concession, which was eventually merged with the American Concession (the latter lay north of Suzhou Creek, across Waibaidu Bridge in the present-day Hongkou District) to form the International Settlement.
The Changes of Nanjing Road
From its inception during the Colonial Era, this International Settlement shopping mall, importing large quantities of foreign goods, became China's very first premier shopping mall (today, there are of course similar shopping malls in every major Chinese city).
Over time, Nanjing Road has been revamped and restructured, undergoing major modern changes. For example, a long section of Nanjing Road's eastern extremity, which, as indicated, commences at the Bund, has been transformed into a roofed, pedestrian-only arcade which offers carefree shopping in any type of weather.
Another positive change in the shopping street is that most of the large chain stores that formerly dominated the shopping street have given way to a myriad of small boutiques, cafés, cinemas and other enticing specialty shops - as well as a sprinkling of international-class hotels - on both sides of this bustling street, making it a shopper's paradise. Most shops opens 12 hours a day from 10:00 to 22:00.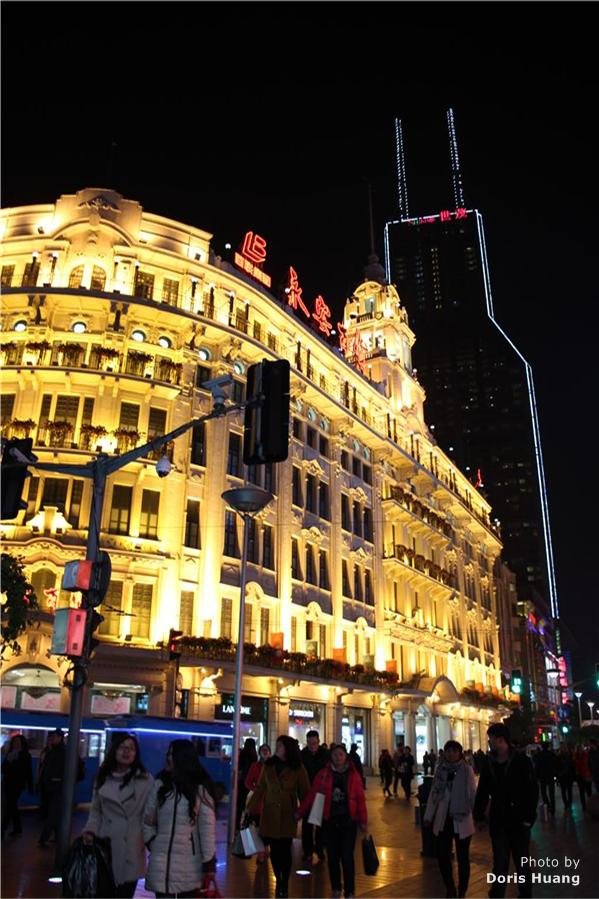 Nearby Attractions
Riverside Promenade: Riverside Promenade is located on a road along Huangpu River in the Lujiazui Finance and Trade Zone, right beside the Oriental Pearl TV and Radio Tower. Opposite is the Bund of Shanghai.
Tickets: free of charge
Hours: 8:00 am – 11:00 pm
Tips: On one end of Riverside Avenue, visitors can take a ferry to the Bund of Shanghai which is on the opposite side of Riverside Avenue. It is both cheap and convenient to take a ferry there.
Jin Mao Tower: Jin Mao Tower stands in the most prosperous part of the Lujiazui Finance and Trade Zone of the Pudong new district area.  Occupying an area of 2.3 hectares, it is 420.5 meters tall, with 88 floors above the ground, and 3 floors underground. It also faces the famous Bund of Shanghai across Huangpu River.
Tickets: 120 RMB for adults, 60 RMB for children, 90 RMB for students, 100 RMB for the elderly aged above 70 years
Hours: 10:00-22:00
Shanghai Ocean Aquarium: Shanghai Ocean Aquarium is next to the Oriental Pearl TV and Radio Tower and Jin Mao Tower. Shanghai Ocean Aquarium covering 20,500 square meters consists of 2 pyramid shaped buildings. One is the main building and another is an annexe. The main building is made up of 3 floors and a basement. There are 8 exhibition zones in this building: China Zone, South America (Amazan) Zone, Australia Zone, Africa Zone, Cold Water Zone, Polar area Zone, Sea and Shore Zone and Deep ocean Zone. It is a landmark of cultural tourism in the city district of Pudong as well.
Tickets: 160 yuan for Adult; 110 yuan for children between 1.0 meter to 1.4 meter in height and accompanied by aldult; 70 yuan for servicemen and the disabled; 90 yuan for the elderly aged above 70 years
Telephone: 021-58779988
Hours: 9:00-18:00 (Ticket sales and admission close at 17:30)

Operating hours are extended to 21:00 during the following peak seasons:Chinese New Year Holiday; National Day Holiday; Summer Holiday (July and August) (Ticket sales and admission close at 20:30)

Pearl of the Orient Tower: Dongfang Mingzhuta, or Pearl of the Orient Tower, is a 468-meter-high communication tower, making it the second highest tower in Asia, and the fourth highest tower in the world. Pearl of the Orient Tower is located in Shanghai's Pudong Park in the financial district of Lujiazui, on the edge of Pudong District, just across the Huangpu River from the Bund.
Opening Hours: 8:00-21:30 daily
Ticket Price:220 yuan for A-ticket; 160 yuan for B-ticket; 130 yuan for C-ticket.
Solo Adventure Tips:
Location:

How to Get There?

From the heart of Shanghai, one can take the metropolitan buses nos. 18 and 46, or, one can take the underground Metro, lines nos. 1 and 2.
Ticket Price:

Opening Hours:

This section of Shanghai is 'a city that never sleeps'.
More Tips: