Suzhou Creek Exhibition Hall, which is located in the old Shanghai Brewery Building, features relic and highlights the history of Suzhou Creek. The hall is divided into three floors dealing with Shanghai history, water issues, and the restoration of Suzhou Creek.
The hall was built and designed in 1930s by Laszlo Hudec, a Hungarian architect. Surrounding the building is a large Mengqing park where tourists can find examples of different kinds of vegetation available around the creek.
Things to do
A trip to Suzhou Creek Exhibition Hall will help tourists understand the history of Suzhou Creek
The creek is considered very important in Shanghai's history. It runs from the Huangpu River to Taihu Lake, making it an ideal trading route to plantations and silk factories of Suzhou. Back in the days, the creek was the main source of drinking water for people living in Shanghai.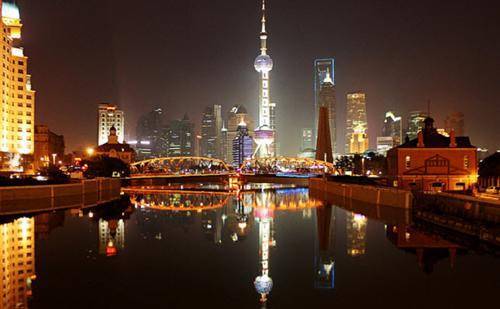 Suzhou Creek
However, due to fast developments in the area, 20 years ago, Suzhou Creek was listed as one of the dirtiest rivers in Shanghai due to pollution from factories among others. But the City of Shanghai are doing their best for the past 10 years to restore and clean up the river. Today, it is now well on its way to a full recovery.
The history of Suzhou Creek can be understood by visiting the Shuzhou Creek Exhibition Hall.
Sightseeing
Due to Shanghai's effort to clean up the river, great changes have made the area surrounding the creek worth visiting. The city has developed the banks into a cultural oasis. Old warehouses, dirty lanes, and abandoned factory buildings were replaced by riverside residence. With the help of groups of artists from China and Norway, the Sushou Creek is now a new creative home for contemporary art. This is one of the reasons why it now attracts artists and enthusiasts not just from China but from other countries as well.
In here, tourists will see 28 amazing houses, which are protected by the Municipal government. There are also 37 excellent apartments, lane buildings, and worth-preserving warehouses. A number of memorial halls, historic relics, and sites have also been constructed or renovated in recent years. Old shops and old hotels were also rehabilitated making the whole surrounding pleasing to the eyes. When visiting the place, picture-taking is simply a must.
With all of these, Suzhou Creek is now considered as Shanghai's Soho and tourist area.
Nearby Attractions
Shanghai General Post Office and Shanghai Postal Museum
Tourists who visit Suzhou Creek Exhibition Hall can also explore Shanghai General Post Office and Shanghai Postal Museum. Situated at Sichuan Road Bridge, the post office, which was built in 1924, is an imposing building in the area partly because of its unusual structure. It is an English classic structure with eight-storied Baroque style tower. It also has four-storied main building where Shanghai Post Museum can be found. The first of its kind in China, it covers 8,000 sq.m. A horse cart used to carry postal matter in 1909 can be found on the first floor together with two car models bought in 1917 and a model plane used on July 8,1929.
The second floor houses old photos and rare stamps that are of great historic value. Large-scale stamp collections are exhibited here.
Going on top of the building, visitors will be able be treated with unobstructed view of the beautiful Suzhou Creek and Huangpu River as well as the Lujiazui CBD area and Bund.
Solo Adventure Tips:
Location:

Yichang Lu 130, Jing'an District
How to Get There?

Ticket Price:

Free
Opening Hours:

Saturday and Sunday 9:15-11:15 (no admission after 10:45)
More Tips:

Information accuracy:
We try to make the information on China Travel accurate when we write/edit it. If you find any outdated information, please inform us.