Shanghai is located in north subtropical area, enjoying north subtropical monsoon climate. Shanghai has four distinct seasons, which is warm in spring, burning hot in summer, cool in autumn and gloomy and cold in winter. Spring and autumn are short; while winter and summer last long. 60% o f the rainfall concentrates in the flood season from May to September. Due to the influence of the monsoon, there is prevailing northwest wind from November to the following February every year and it's very chilly and dry. From April to August every year, there is prevailing southeast wind and it's hot and humid. Meanwhile, in July and August, controlled by the northwest Pacific subtropical high, high temperature and dry weather may last for a time. In March and September, cold and rainy weather is frequent. The annual average temperature is about 16℃. The highest temperature falls in July and August, with the monthly average temperature of 28℃. The lowest temperature falls in January, with the monthly average temperature of 4℃. The annual average rainfall is about 1,200 mm.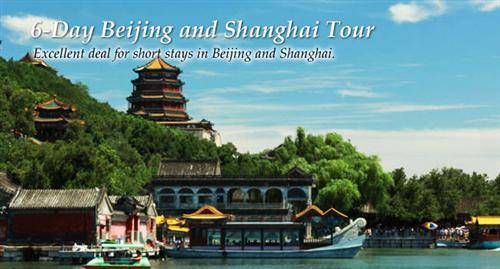 Snow is absent in Shanghai and sometimes there is no snow in Shanghai all the year round. From March to May every year, the weather is comfortable with in full boom, which is the best time to visit Shanghai. However, the rainy season lasts from mid-June to early July when it's overcast and rainy, which is not suitable for travelling to Shanghai. From the end of August to mid-September, most areas of Shanghai suffer from typhoons with pouring rain.
Best Visiting Time
Spring and autumn are the best seasons for visiting Shanghai when the weather is comfortable and pleasant, not very cold nor hot.
The Annual Temperature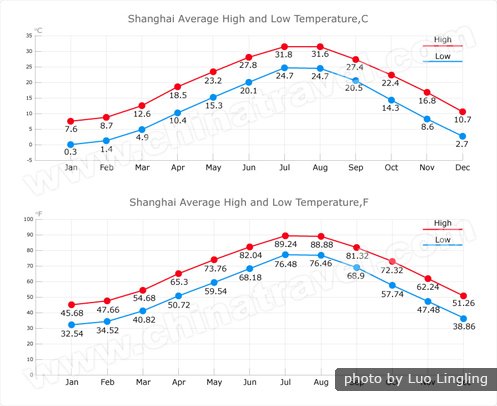 Spring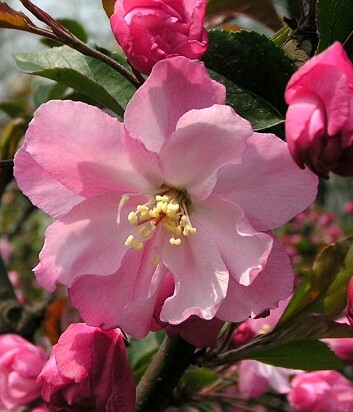 Spring lasts from March to May in Shanghai every year, which is the best season for visiting Shanghai. The whole city looks beautiful decorated by various flowers in full bloom. The temperature averages at about 20 ºC (68 ºF) and sometimes there is some light rain. The temperature ranges from 5 ºC (41ºF) to 12.22 ºC (54ºF) in March, 10.56 ºC (51ºF) to 18.33 ºC (65ºF) in April and 15.56 ºC (60ºF) to 23.33 ºC (74ºF) in May. Long-sleeved coats and T-shirts are enough for this season.
Summer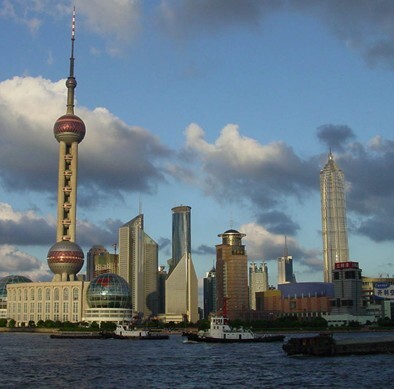 Summer last very long in Shanghai, from June to September. It is burning hot and has sufficient rainfall. During this period, it's sweltering in the whole city. Meanwhile, there is frequent heavy rain and typhoons. The highest temperature falls in July and August, which is about 31.11 ºC (88ºF). The temperature ranges from 20 ºC (68ºF) to 27.22 ºC(81 ºF) in June, 24.44 ºC (76ºF) to 31.11 ºC(88ºF) in July and August and 20 ºC(68ºF)to 27.22ºC(81ºF) in September. Tourists need to bring short-sleeved shits, shorts, sunbonnets, umbrellas and sunscreen.
Autumn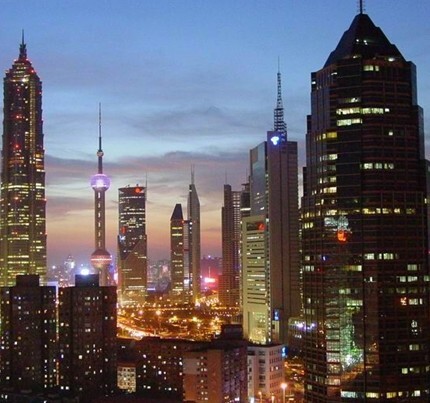 Autumn lasts from October to November in Shanghai when the weather is cool and comfortable, which is suitable for traveling to Shanghai. However, it always rains. The temperature ranges from14.44 ºC (58ºF) to 22.22 ºC (72ºF) in October, from 8.33 ºC (47ºF) to 16.67 ºC (62ºF) in November. Autumn is also the best time to enjoy the delicious crabs in Shanghai. During this season, tourists should bring long-sleeved coats and light sweaters.
Winter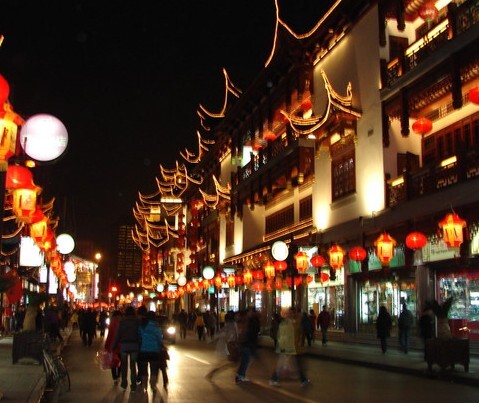 Winter lasts from December to the following February in Shanghai. The coldest time falls from the end of January to early February, with the lowest temperature below zero. The temperature ranges from 0 ºC (32ºF) to 7.22 ºC (45ºF) in January and from 1.11 ºC (34ºF) to 8.33 ºC (47ºF) in February. The winter of Shanghai features humid chilly north wind, bringing much inconvenience to travelers. Thus, in this period, tourists had better bring very warm clothes, such as down jackets, thick sweaters and thermal underwear.
Avoid Peak Traveling Periods
It is strongly suggested that tourists should avoid peak traveling periods in China, when there are numerous Chinese people traveling, bringing inconvenience to tourists, such as transportation and accommodation. During peak traveling periods, it's very difficult to get a flight or train ticket and hotels rise their prices a lot. Shopping malls are crowded with people.
The peak traveling periods include some traditional Chinese festivals, including New Year's Day (January 1st to 3rd), Spring Festival ( late January or early February), May Day( May 1st to 3rd) and National Day holidays( October 1st to 7th).