Shantou Featured Food:
Cauterized Oyster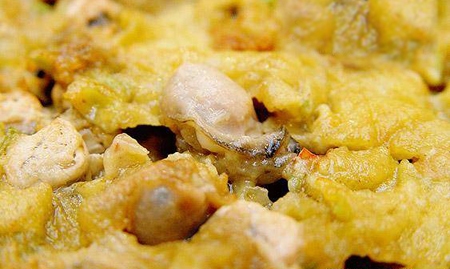 Materials: oysters and eggs.Feature: The oyster is delicious and tender. It tastes really refreshing. Tip:You'd better eat it after fry. It will taste better if you eat it with chilli sauce or Shantou fish sauce.
Chaoshan Lao Cake
Feature: Sunan Lao cake of Denghai County is the best among the Lao cakes. The Lao cakes look white and moist and taste sweet. They are made by glutinous rice, white sugar, lard and sesames. The fresh Lao Cakes are absolutely white and as crystal as the amber. It tastes refreshing, tender and not greasy at all. It will taste better if you sprinkle some fruit syrup on the cake. The fragrance of the cake mixes with the sweet taste and the aftertaste will linger in your mouth.
Beef Meatball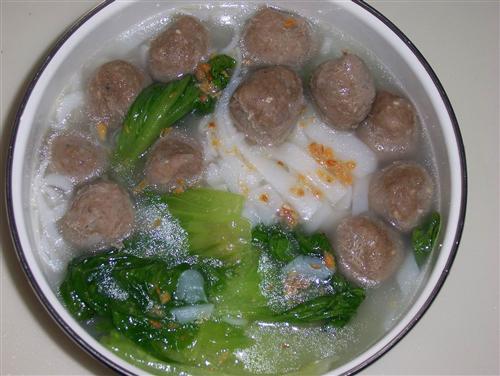 Material: prime veal.Feature: The beef meatballs are savory, delicious, tender and refreshing. The aftertaste will linger in your mouth for a long time. The meatballs are full of flexibility. The best meatballs could bounce a lot after being thrown to the floor.
Lettuce And Lobster
This dish is carefully cooked with lobsters, ham, tomatoes, eggs and caraway. Material: lobsters.Feature: The lobsters are tender and fine. The color of this dish is bright and the taste is delicious as the lobsters are cooked with ham and eggs.
Nan'ao Seafood
Materials: seafood, like sleeve-fish and etc. Feature: Nan'ao County is the only island county of Guangdong Province. The county is surrounded by water and famous for the seafood. The seafood here is very fresh since local people sell them as soon as they fish them out of the sea. The expert chef will cook the seafood more delicious.
Page 1 of 1 First Previous 1 Next Last
You might also be interested in:
Top Things to Do in Shantou
Travel Confidently with Us

10,000 Satisfied Customers

50 Years in China Travel Industry

Quick Response within 24 hours

Secured Online Payment

Group Tours with Solo Adventure

No Hidden Fees and No Traps