The Yandangshan Mountain takes roots in the East Sea. The landscape is noted for peaks, waterfalls, caves and shield-like peaks and enjoys a reputation as "a famous mountain on the sea" and "beautiful scenery in the world".
The Yandangshan Mountain is one of the first national-level key scenic resorts and historic sites and one of the top famous mountains in China. The mountain acquired the name of bird as "there is a lake on the top of the mountain which are overgrown with reed and inhabited with autumn wild geese.
The Yandangshan Mountain came to being 120 million years ago. It is a typical ancient rhyolite volcano of the Cretaceous Period. The whole mountain covers a total area of 450 square kilometers. It has more than 550 scenic spots and is composed of eight large scenic areas, of which the Lingfeng Peak, the Lingyan Rock and Large Kettle Giant, where the pick of the basket assembles, are called "the top three sceneries of the Yandangshan Mountain".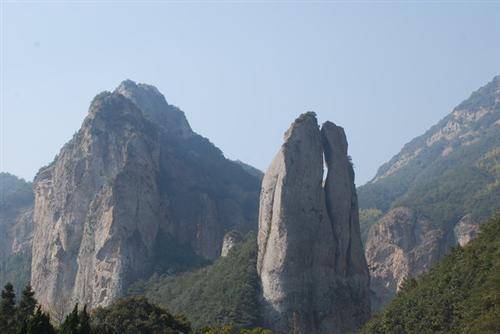 The Yandangshan Mountain has unique characteristics. "The view in the day time is a feast for the eyes and the night view attracts and delights you." "You can view and admire the mountain landscape while savoring seafood." "The view is shifty and changes when you move steps." Those are the three features which differentiate itself from other famous mountains and rivers of China.
Solo Adventure Tips:
Location:

How to Get There?
Traffic: There are air-conditioned tourist coaches heading for the Yandangshan Mountain at the New South Coach Station, which is opposite to the Wenzhou railway station. It leaves at 7:30, 9:30, 10:30, 13:30 and 15:30 every day. The fare of the coach is 27 yuan. Coach Setting out from Ningbo, the whole trip covers 220 kilometers (80 kilometers of fast highway and 140 kilometers of first-class highway). It takes about four hours. You can get off at the Yandang Town (Baixi) along the country road 104. There are many shuttle coaches. Setting out from Hangzhou, the Yandangshan tourist coach station is located beside the Yandang Hotel in Xianglingtou. There are express high speed shuttle buses between the Yandangshan Mountain and the East Coach Station of Hangzhou City, which leave every day at 7:00 and 14:00. The whole trip covers 350 kilometers. The coaches basically run on the fast highway. The trip takes about five hours. The fare is 85 yuan (including a fast food).
Ticket Price:

Opening Hours:
The whole day
More Tips:
1.Lingyan waterfall generally starts to put on a show every afternoon around 15:00 pm as long as the weather is wonderful. The show time is less than one hour. 2.The best time for a tourist visit is the rainy seasons, namely, May, June, August and September (Wenzhou is at times hit by typhoons at this time). You may choose a fine day after the rain for a visit. You had better arrange your hours when traveling in the scenic area of Lingyan Rock. In this way, you can view and admire the three beautiful sceneries of the Yandangshan Mountain. 3.The Yandangshan Mountain has another feature. If you want to view and admire the mountain landscape, you don't have to use too much physical energy to climb up the arduous mountain paths. You only need to walk slowly along an even stony road to have a bird view of exotic peaks and rocks of all shapes because these peaks mostly rise steeply from the flat ground. It can be called a blessing for tourists. 4.Recommended time for a visit:Two days