Located in the city center, the Zhongshan Park was the old Beishan Mountain which called Chashan Mountain. In the 14th year of the Republic of China(1925), the Beishan Mountain was built into a park and was named Zhongshan Park, which is the oldest park in Wuzhou city. The earliest Sun Yat-sen's Memorial Hall in the country is situated on the top of Beishan Mountain, a municipal historical relic reservation which was proposed to build by Li Jishen in March, 1925. The Memorial Hall mainly tells visitors Sun Yat-sen's three visits to Wuzhou between late 1921 to early 1922, and its contents are mainly about how he constructed the local people to build their homeland and to solve the Xijiang River's problem. The Sun Yat-sen's Memorial Hall is of imposing appearance and size. It has a front building and a back building. There is a four-stored tower building of domical style in the middle of the front building and two two-stored architectures in the east and west, all of them are showing room. The back building is a Thousand People Assembly Hall.

There are layers of steps, all together more than 340 steps begun at the foot of the mountain and ended at the gate which is in the very front of the Memorial Hall. A pleasant scenery is formed by the Totus Pool in the center of the large terrace together with the stone bench in circle and the banyan trees before the hall. The Southern Han Bronze Bell which was made in the 16th year of Ganhe period in Southern Han dynasty (958) and which is one of the oldest bronze bells in Guangxi province, is near the Memorial Hall and is hanged in the Moring Bell Kiosk. Thought it already has a history of more than one thousand year, it is still in good condition and can produce loud and long sound when it is knocked. Inscriptions of the previous dynasties, float bridge and iron poles of Guijiang River in Ming dynasty and other historical relics are presented beside the Moring Bell Kiosk for visitors.

What's more, there are a lot animals of different kinds in the park, such as tiger, monkey, bird and panther.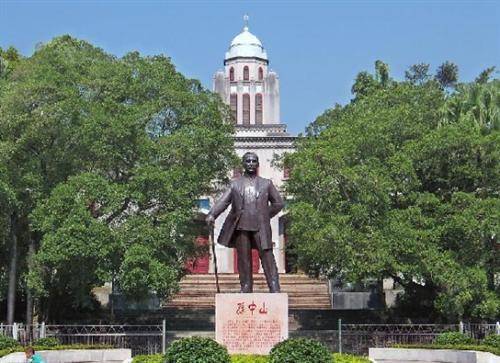 Wuzhou Zhongshan Park
Solo Adventure Tips:
Location:

How to Get There?
Located in the crowded area of Hedong district, it is a gathering places for vehicles in Wuzhou city. Visitors can take No.2, No.3, No.10 to there.
Ticket Price:

Opening Hours:

More Tips:
The best time for tourists:visitors can go there all year long.
Information accuracy:
We try to make the information on China Travel accurate when we write/edit it. If you find any outdated information, please inform us.