Mount. Li, a north-side branch of the Qinling Mountains, reaches 1256 meters and over 20 km long from east to west. From a distance, the mountain is spectacular and imposing as it appears like a bold stallion about to gallop. The mountain also has been described as being so attractive and charming that there are now many folk tales attached to it.
The mountain is home to some ancient and historic buildings. Among them is the Laojun Palace and the relics of Huaqing Palace Court. It once served as the sacred place for worshipping Laozi, the founder of Taoism.
Another is Bingjian Pavilion, a place in memory the Xi'an Incident on 12, Dec,1936, General Zhang Xueliang and Yang Hucheng ordered his army to arrest their president to persuade the leader to unite the whole country to fight against the Japanese invasion.
Standing atop the Mount. Li, one can enjoy the magnificent sunsets and sunrises that will make your visit memorable.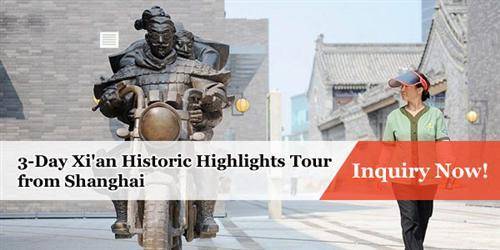 Solo Adventure Tips:
Location:

No.38, Huanqing Road, Lingtong District, Xi'an.
How to Get There?

Take No.306 and 307 bus in the Xi'an railway station, the buses run at intervals of 10 mins, or visit the park after tour in the Huaqing Pool
Ticket Price:

Entrance Ticket Price: peak period(March 1-November 31): 70 yuan/person, off season(December 1-February 28): 45 yuan/person; 40 yuan for cable car.
Opening Hours:

Peak period: 7:00-18:00; Off season: 8:00-17:00
More Tips:

1.Near the exit of the mountain cableway, there is a private-invested temple. Some parts are still under construction. It's said that on the way to the temple, one can make wish and it will come true; there are also some places for fortune telling, burning incense and other places interest .
2. There are numerous aged trees on the mountain, so please keep in mind to protect the environment, and above all, be careful not to cause a fire.
3.029-82822000 029-83820601
Information accuracy:
We try to make the information on China Travel accurate when we write/edit it. If you find any outdated information, please inform us.