Qinglong Temple (Green Dragon Temple) is located at Tielumiao Village in southern Xi'an city. It is one of the earliest Chinese Buddhist monasteries in Lushan County, and only keeps the main building now. The Qinglong main building is one of a few constructions with accurate chronology in the Yuan Dynasty.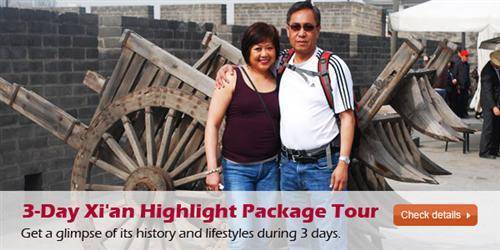 In spite of repairs in the Ming and Qing Dynasties, it keeps its original architectural characters. Qinglong Temple is a key place to research ancient buildings and local Buddhism culture in Xi'an during the Yuan Dynasty. It is one of Chinese national protected cultural relics in Shaanxi Province.
Highlights
There are hundreds of cherry blossom trees growing in the Qinglong Temple. Cherry blossoms are open in March and April every year, and it's the most beautiful picture of the temple. Nowadays, a lot of religious celebrations are held on Nov.17 which is the birth of Buddha in Xi'an.
Qinglong Temple's magnificent constructions are the same building style of the Tang Dynasty. Beautiful scenery and regional influence in Qinglong Temple has attracted a lot of travelers from the whole world.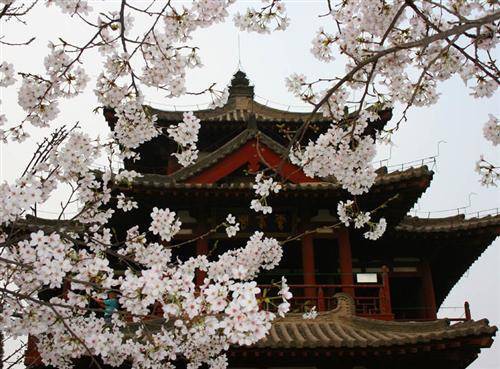 History
Qingyang Temple was formerly known as Linying Temple in Xi'an, firstly built in the Sui Dynasty. It was named as Qinglong Temple in the Tang Dynasty, and destroyed in the Song Dynasty.
Qinglong Temple was widely spread in the middle period of the Tang Dynasty, and there were a lot of foreign monks studying in the Qinglong Temple, especially monks from Japan. The most famous ones are Konghai, Yuanxing, Yuanren, Huiyuan, Yuanzhen and Zongrui from Japan. Konghai Master created Shingon in Japan after his study in the Qinglong Temple in the Tang Dynasty. Konghai Master's teacher was buried in the Qinglong Temple. So Qinglong Temple is the holy temple for Japan Buddhists, and it's the origin of Shingon in Japan Buddhism.
Qinglong Temple was destroyed in the Song Dynasty, however, its reconstruction on the original relics in the 20 century are still widely worshiped by a number of Japanese visitors.
Solo Adventure Tips:
Location:

near the intersection between Xiying Road and Yanxiang Road in Xi'an
How to Get There?

There are a lot of buses to reach Qinglong Temple including Bus 19, 25, 41, 45, 48, 118, 242, 400, 521, 607, 903, K606 and Tourist Bus 6.
Ticket Price:

Free
Opening Hours:

09:00-17:00
More Tips:

Tel: 029-85531096
The Surrounding Scenery: Qujiang Ocean Park, Tielu Temple, Guyuan Pavilion
Information accuracy:
We try to make the information on China Travel accurate when we write/edit it. If you find any outdated information, please inform us.