Southern Wutai is one of the most holy places for Buddhists. It lies 30 km south of Xian. On this lush and beautiful mountain stand five peaks, respectively named, Qingliang, Wenshu, Sheshen, Lingying and Guanyin. Driving by car to the top of the mountain takes only 20-30 mins. Tourists can enjoy the most enjoyable and outstandingly beautiful views by climbing the mountain on foot.
Experience the many streams and crossing bridges, while traversing through bamboo with views of the temple resting on its slope as birds muse above. Absorb the ancient edifices of Shengshou Temple, Shengbao Spring, Zhizhu Temple, Guanying Dais, Wufo Palace, along the peaceful ascent, as an early styled replica called "Dusong Pavillion serves as a resting place for visitors.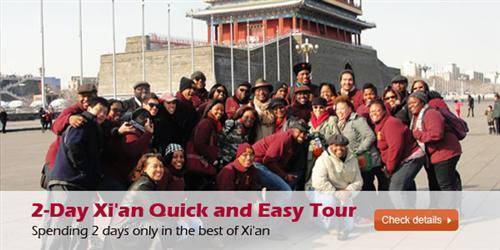 Southern Wutai has been a famous Buddhist place as well as a resort for the emperors of a series of dynasties past. It is part of the Zhongnanshan National Forest Park, which boasts the name of "Natural Park of plants and animals." Once inside, one will thoroughly enjoy the diverse range of views that the park has to offer in all of its seasons.
Solo Adventure Tips:
Location:

Ziwu Town, Southern Chang'an County, Xian.(30 km south to Xi'an.)
How to Get There?

Take direct bus to Southern Wutai at the South Gate, 5 Yuan p.p. Or take the No 15 bus at the South Gate to Weiqu Chang'an for one Yuan per person, then transfer the coach (runs at 10 mins interval) to Wutai, 2.2 Yuan per person; or take bus at the South Gate to Wutai county, 5 Yuan per person, then take a tricycle there.
Ticket Price:

Entrance Ticket Price: 30 yuan/person
Opening Hours:

8:00-17:30
More Tips:

Tel:029-87251991
There are 11.3 miles from the hill foot to mountaintop. Specialized buses for traveling to the mountaintop are available and it takes 8yuan/person. ShengBaoQuan Resort and Dusong Pavilion offer accommodation on the mountain.

Information accuracy:
We try to make the information on China Travel accurate when we write/edit it. If you find any outdated information, please inform us.